Cobb County is known for many things. As one of Georgia's most affluent and educated counties, Cobb is home to great school systems, beautiful landscapes, important historical sites, and major institutions such as Dobbins Air Reserve Base and Kennesaw State University.
But what local residents may not realize is that a number of products used each and every day by consumers across the country and around the world also are produced right here in Cobb County.
Find out what "Made in Cobb" looks like by checking out these growing local businesses.
Arylessence, Inc.
1091 Lake Dr., Marietta
Arylessence.com
(770) 924-3775
Why Cobb: Arylessence makes flavors and scents for products such as ChapStick, Burt's Bees, chewing gum, and candles. This is the 40th anniversary of the family-owned business, which is always giving back to the community.
"Arylessence is proud to call Cobb County our corporate headquarters home for the past 40 years," said Cynthia Reichard, executive vice president and director of client services. "Our creative fragrances and flavors are strategically designed and manufactured in Marietta and shipped to brand-name manufacturers around the globe. Think of us as the people who create the scent of your favorite product or the taste of your favorite flavor that has you going back for it again and again."
Reichard added that the county's ideal location, progressive leadership, excellent education options, and diverse workforce are all factors in the growth and success of Arylessence. Currently, the company is planning for a multi-million-dollar research and development center expansion.
"We are more than confident that Cobb County's economic development advancements and resolute commitment to business will support Arylessence's dynamic future," said Reichard. "It is exciting to know Arylessence's success is contributing to the outstanding business growth statistics that Cobb County represents, not only to the state of Georgia, but to the nation."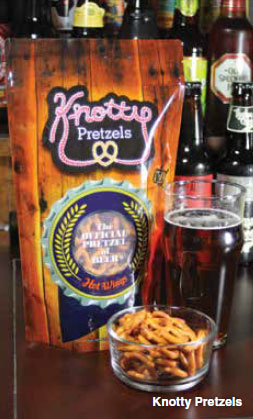 Knotty Pretzels
1930 Airport Industrial Park Drive, Marietta
KnottyPretzels.com
(404) 957-9900
Why Cobb: Casey May and co-owner Sean McSweeney founded Knotty Pretzels in 2013, using a family recipe to create pretzels designed to pair well with anything, especially beer. The two have been making pretzels since they were 13 years old, long before they officially founded the company. May and McSweeney are Cobb County natives who graduated from Kennesaw Mountain High School, and both still live and work here.
"Our family and friends always liked our pretzels, and after graduation we decided to try it as a business," said May. "Marietta is constantly growing, so we thought it was a good place for us to start. We also like being close to the new Atlanta Braves stadium."
Knotty Pretzels is located just off Highway 41 near the end of a runway at Dobbins Air Reserve Base. Their product is marketed as a great companion to the ever-expanding roster of craft brews created in Atlanta and elsewhere, with an official slogan of "The Official Pretzel of Beer."
"The pretzels are a great tailgate snack," says May. "Our goal is to be on the beer aisle in every grocery and convenience store."
Atlanta Smokehouse Products
1700 Enterprise Way, Unit 107, Marietta
AtlantaSmokehouse.com
(770) 955-2133
Why Cobb: Gary Shuel chose to operate Atlanta Smokehouse Products in Cobb County because he was able to find a great facility that fit his needs. It also helped that he'd recently moved into the area after spending several years in Jacksonville, Fla. Both Shuel and his business partner, Seva Sagalchik, live in East Cobb.
"We were looking for a facility near [Sagalchik's] house," said Shuel. "We're very glad that we are here because it's a good area to be in and many of our customers are from local areas like Marietta and Roswell."
Atlanta Smokehouse Products has been in business for more than 25 years, selling products such as smoked fish and caviar. Though their main facility is located in Cobb County, customers can and do order from across the country.
The company specializes in fish cured by smoking, with varieties including American Black Caviar, Alaskan Salmon Red Caviar, Nova Salmon, and Siberian Sturgeon.
High Road Craft Ice Cream
1730 B W. Oak Commons Ct., Marietta
HighRoadCraft.com
(678) 701-7623
Why Cobb: High Road Craft Ice Cream began as a group of chefs who wanted to make high-quality ice cream for other chefs to serve in restaurants, hotels, and resorts. The company focuses on great flavors and luscious textures in its products.
High Road's factory is open to the public on Saturdays, and its products also can be found in grocery stores and specialty food shops across North America. But the company remains firmly rooted in Cobb County.
"Cobb County is home," says Keith Schroeder, High Road's founder and CEO. "We moved here in 1994, fell in love with the area and have since raised our children here. We've been able to attract amazing talent here in Cobb — at every level of our organization. Our access to the interstate is phenomenal, and we have a world-class plant in a beautiful, mixed-use setting."
High Road purchases regionally sourced nuts, buttermilk, and berries for its products and aims to make every spoonful great. If you stop by their facility, check out flavors such as bourbon burnt sugar, cheesecake brownie, peanut butter & preserves, hazelnut latte, and white chocolate raspberry.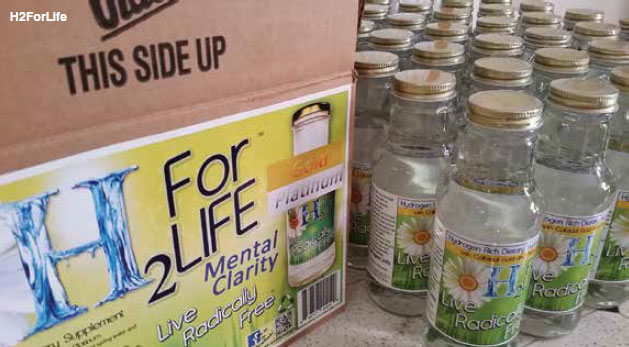 H2forLife
4374 Shallowford Industrial Parkway, Marietta
H2forLife.com
(678) 809-4319
Why Cobb: H2forLife has been in business on Shallowford Industrial Parkway since 2010. CEO Danny Day said he discovered the product while doing research on polyatomic hydrogen (hydrogen-rich water). He made a discovery that, when using a particular formula, the substance could reduce tumors in rats.
"My dad was later diagnosed with colon and liver cancer, and that's when we made the connection," said Day. "We had everything in the lab to make a product for him. Using the product, Dad's cancer shrank by 90 percent in four months."
Day began producing H2forLife for wider distribution after registering with the FDA as a dietary supplement manufacturer. According to the company's website, H2forLife is colloidal platinum dissolved in purified spring water from the Blue Ridge Mountains of Georgia and saturated with molecular hydrogen under high pressure. Business has taken off and Day plans to stay here in Cobb County for the foreseeable future.
"Cobb County is a pro-business environment and it has a good quality of life," says Day. "You add those two together and it's a great place to