Standing proudly at the intersection of Cobb Parkway and Roswell Road, "The Big Chicken" is an iconic Marietta landmark. The towering 56-foot-tall steel-sided structure is a stylized rooster, complete with a moving beak and eyes, that overlooks a KFC restaurant.
The Big Chicken was built in 1963 for a restaurant called Johnny Reb's Chick-Chuck-'N'-Shake (see below). The owner, Stanley R. "Tubby" Davis, commissioned the construction of the seven story tall Big Chicken as a way to advertise his eatery. Davis earned the nickname "Tubby" due to his feats of devouring whole buckets (tubs) of chicken.
The restaurant featured "Dixie Fried Chicken, by the sack, by the box, by the barrel.  Eat it in your car or take it home.  Try our new taste in hamburgers, our own Johnny Reb's Chuck burgers.  Other tantalizers include our creamy rich milk shakes, cheese chucks, dressed hotdogs, fried pies, banana splits, homemade ice cream."
Soon after it was complete, the 56-foot tall towering landmark became a reference point and local favorite, and phrases like "turn left at the big chicken" or "just one mile south of the big chicken" became common. A few years after construction of the big chicken, Davis sold Johnny Reb's to his brother in 1966, who later turned it into a franchise of KFC in 1974.
1993 Restoration:
In 1993, after years of deterioration and recent storm damage, the famous landmark was in danger of being torn down. When news of this plan reached the public, the outcry was so great that KFC agreed to rebuild the entire structure and restore it to its former glory.
2017 Restoration:
The Big Chicken underwent a $2 million renovation again in 2017, adding a voice to the beloved rooster in addition to the existing moving beak and wobbly eyes.
The Big Chicken is located at the intersection of Cobb Parkway (U.S. Highway Route 41) and Roswell Road (Georgia State Route 120 Loop). There is a small gift shop inside if you would like to purchase souvenirs, or you can stop by the Marietta History Center for additional Big Chicken merchandise.
Kentucky Fried Chicken – The Big Chicken
12 Cobb Parkway N
Marietta GA 30062
(770) 422-4716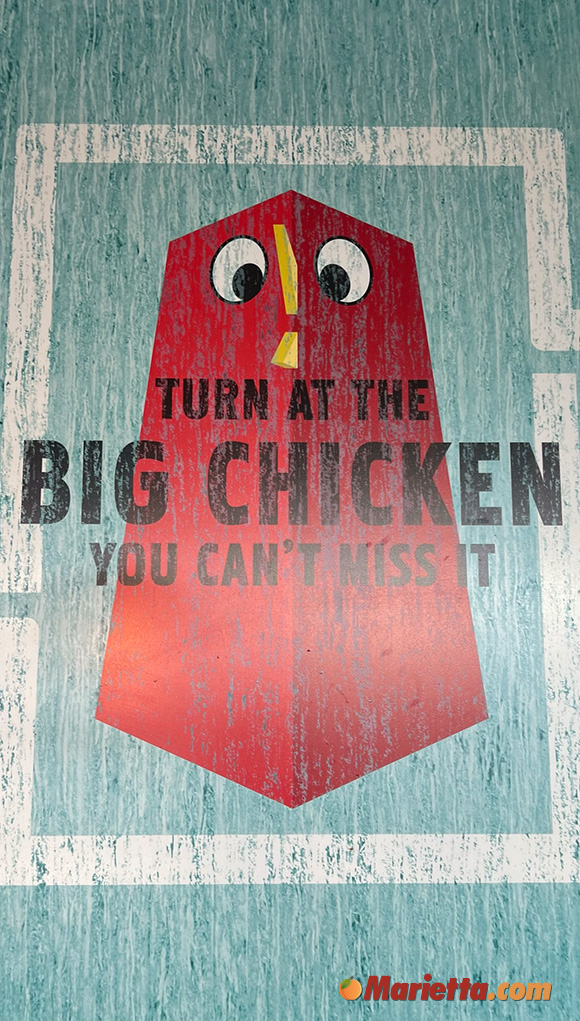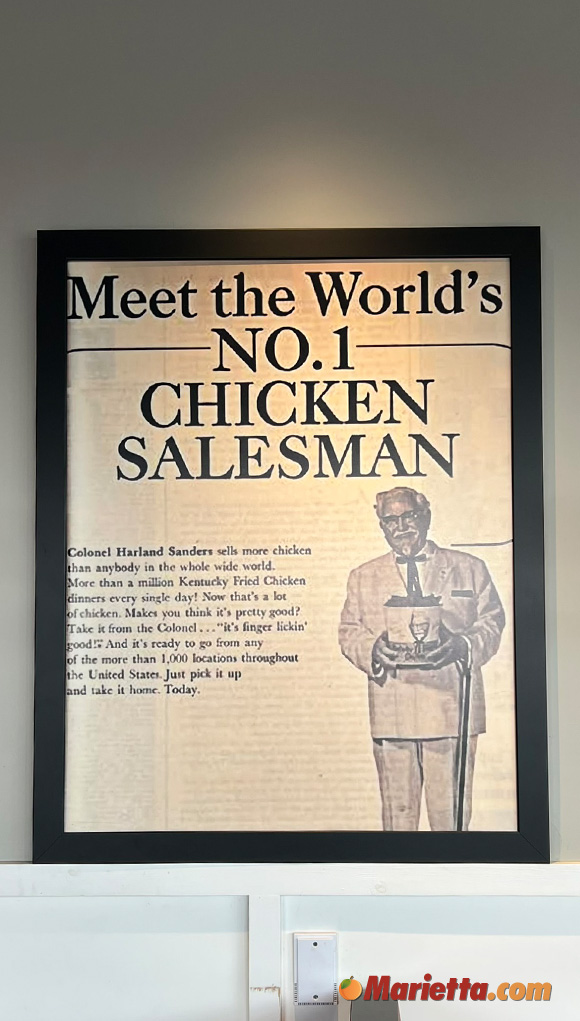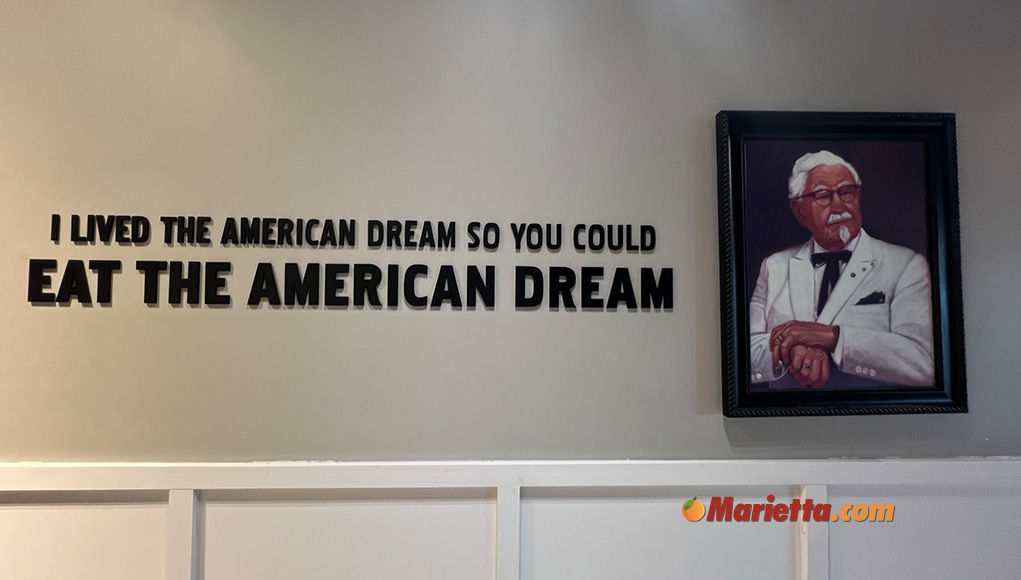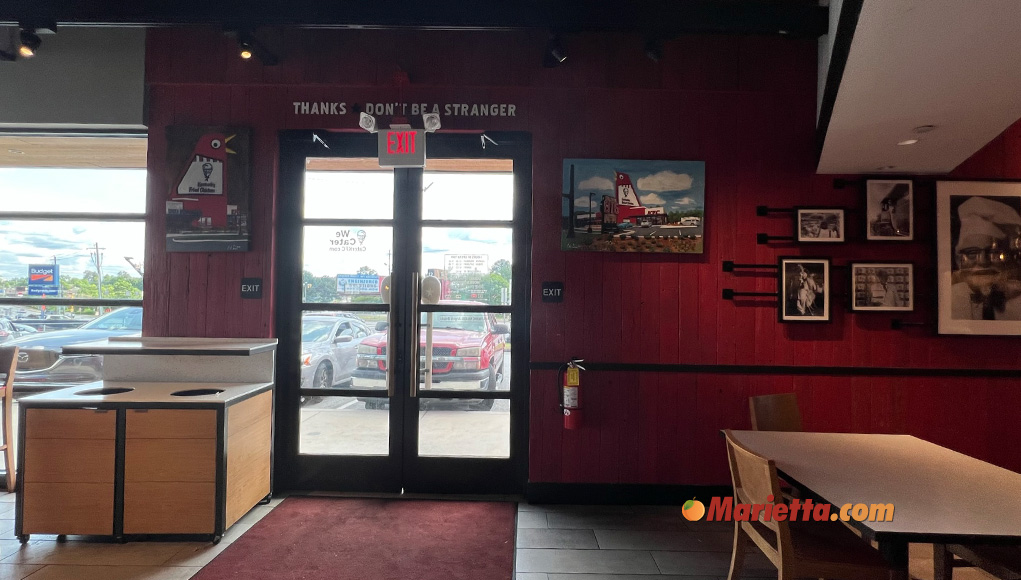 Did you know:
There was once a peach orchard where the Big Chicken now stands.
The land was purchased by the Frey family, who, in addition to the orchard along Roswell Rd, owned a cotton gin located near what is now the Big Chicken.  The road that farmers would take to get to the cotton gin is now known as Frey's Gin Ct – just down the street from the Big Chicken.
When the road formerly known as "4-Lane" was changed to "Cobb Parkway" the Big Chicken's address changed from "100 N. 4-Lane Hwy" to "12 Cobb Pkwy N."
Johnny Reb's Chick-Chuck-'N'-Shake opened on Friday, May 17, 1963 at 5pm.  Before that, it was a home to a Miss Georgia Dairy in the early '60s and a Zesto Ice Cream in the mid to late '50s.  That Zesto Ice Cream was owned by franchisee John Livaditis, and in November and December, when ice cream sales were slow, John began selling Christmas trees in the parking lots of his ice cream stores.  His tree business eventually became known as as Big John's Christmas Trees. 70+ years later, Big John Livaditis' family still runs the Christmas tree business in locations throughout metro Atlanta, as well as three remaining Zesto's locations in East Atlanta, Forest Park, and Buckhead.
The other Big Chicken in Georgia:
In 2019, the small town of Fitzgerald in south Georgia announced that they were building a slightly bigger chicken.  Mayor Jim Puckett said that the Fitzgerald Chicken would be a wire framed topiary reaching 62ft in height, making it the world's largest topiary chicken.  The creation was designed by a Tennessee sculptor known as Topiary Joe, and was designed to contain a bed-and-breakfast inside the topiary chicken. The project cost was estimated to be about $150,000, but reportedly more than doubled in price before work was stopped in late 2021.  Soon after that, Mayor Puckett was voted out of office. The new mayor, Mayor Jason Holt, stated in early 2022 that a committee would be formed to decide the fate of the new chicken.  Eventually they decided to leave it unfinished as is, plant tall grass around the base of the statue to resemble a nest, and install benches and a fence to turn the area into a new park.
"I think we're done with oversized animals"
– Mayor Jason Holt, 2023.
Big Chicken Church:
Church by the Sea was built in the 1940's and features a central tower with circular windows – features that just happen to look a bit like a chicken.

Big Chick-fil-A:
A Chick-fil-A opened just across the street from The Big Chicken on January 12, 2022.  The competing chicken restaurant is located at 1110 Roswell Rd, Marietta, GA 30062.