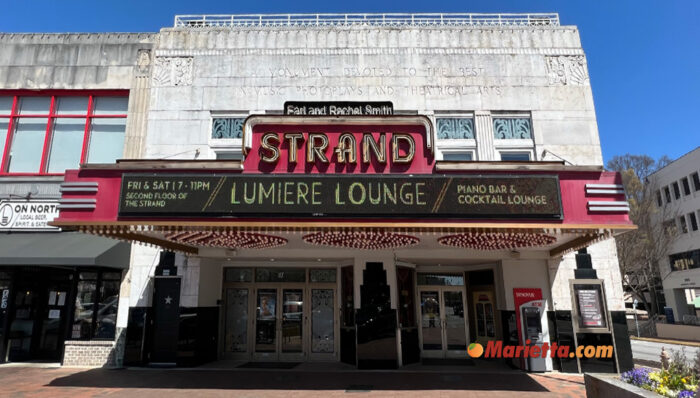 The Strand Theatre is located on the corner of North Park Square and Cherokee Street in historic Marietta Square.  The historic venue is the last remaining historic theatre in the county and features live theatre, films, concerts, comedy, private events, a piano bar and cocktail lounge, a roof-top terrace, and more.
The Strand opened on the Marietta Square on September 24, 1935 at two pm.  The Art Deco movie palace was built by the Manning-Winks Theatre Company. Costing $150,000 and seven months to construct, it soon became known as the most modern theater outside of Atlanta with heating, air conditioning, seating for 1,000, a fireproof projection room, and an excellent acoustical sound system.
The first movie to be shown at the Strand was "Top Hat" starring Ginger Rogers and Fred Astaire.  Theatre goers packed the art deco movie house to see first run films for decades. Academy Award-winning actress Joanne Woodward said that her childhood visits to the theatre were one of the reasons she decided to became an actress.
As television and drive-in theaters were quickly gaining popularity, the theatre was sold in 1947 to the Martin Theatre company.  Renovated in 1964, the theater finally closed as a movie venue in 1976 and Marietta's Herbert Goldstein purchased the building from Martin Theatres. Between 1982 and 2002, several entities attempted to reopen The Strand as a movie theatre, a club, a live music venue, and more.
In 2002, Friends of The Strand Inc. formed with the idea of bringing back the historic theater to its glory days. In 2004, the organization launched a $5 million capital campaign to restore the theater and cover start-up operational costs. The next year, the group added two reception areas and a rooftop terrace to the plans. Other fundraising included selling sponsorships for seats and a brick campaign as the demolition and restoration work continued.
By November 2008, renovations were complete and on Dec. 5, 2008, The Strand opened by showing the Atlanta Lyric Theatre's "Beauty and the Beast." The Earl Smith Strand Theatre held its official grand re-opening in January 2009. Upon completion of the renovation, The Strand was renamed The Earl Smith Strand Theatre.
Revival Spawns Rebirth
The Strand's restoration has breathed new life into Marietta's performing arts community, not only by creating a venue for concerts, traveling productions and special events, but also by increasing arts and music programming downtown.
"There's something going on at The Strand every day of the year," says Cassi Costoulas, general manager of the theater from 2008-2017. "We do our own programming about two-thirds of the time, plus we book entertainment with promoters and private events for companies and members of the community."  Annually, they handle between 350 and 400 public and private events.
The Strand typically produces three shows each year, a summer musical, a Christmas review and a show featuring high school students in early summer. Last year, it also hosted a silent film festival that was well attended. Two event spaces, in addition to the auditorium's 533 seats, offer regular entertainment and have become destinations for locals. The Lumiere Lounge, a silent film-themed piano bar and cocktail lounge on the second floor features live music, craft cocktails, and more, and is open Friday and Saturday nights from 7pm to 11pm. The roof-top Strand Terrace hosts Brew with a View Friday and Saturday nights from 7pm to 11pm. "Both have been very good additions to downtown Marietta," Costoulas says. "We've been able to add something that was missing here and it's been very successful."
Address:
117 North Park Square
Marietta, GA 30060
Directions
Parking:
Marietta Square Parking
For more information about The Strand, please call (770) 293-0080 or visit EarlSmithStrand.org