Marietta Square Market is an expansive food hall covering 18,500 square feet and conveniently situated near the Marietta Square. Boasting 20 diverse restaurants, 3 vibrant bars, and ample indoor and outdoor seating options, this revamped warehouse is a must-visit destination. Upon arrival, visitors are greeted by a charming 1922 trolley car at the entrance, with an array of dining establishments arranged around a communal dining area.  Diners can indulge in a variety of culinary delights influenced by cuisines from across the globe, along with an assortment of beer, wine, handcrafted cocktails, and delectable specialty desserts.
Marietta Square Market welcomes visitors from 11 am to 9 pm on Monday through Thursday and from 11 am to 10 pm on Friday and Saturday. Additionally, the market is family-friendly and pet-friendly, making it an ideal destination for all members of the community to enjoy.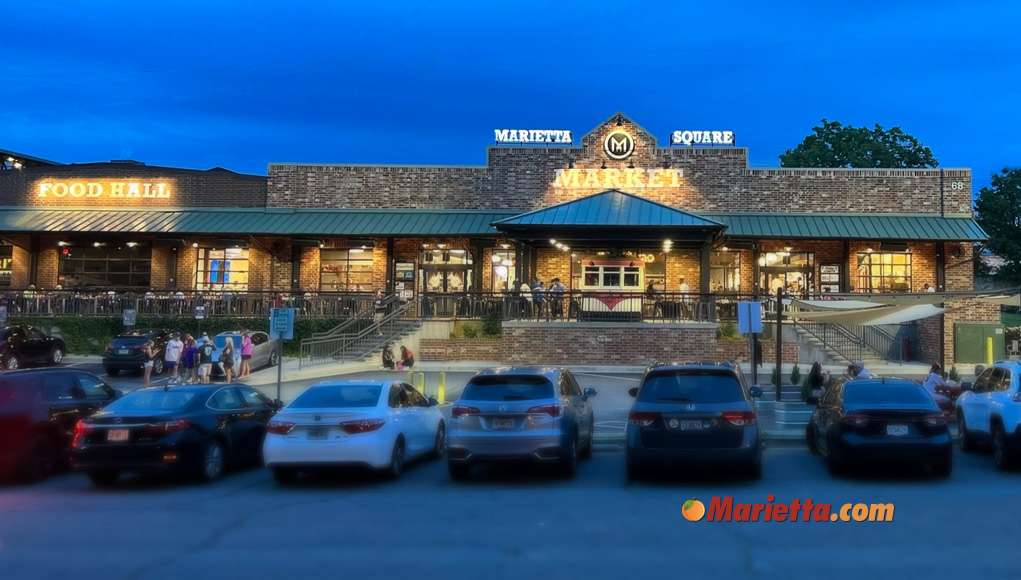 B.A.D. Gyal Vegan (Vegan Jamaican)
BullGogi (Korean fast casual) – R5
Café Bourbon St.
Cousins Maine Lobster – Y1
Crème de la Crepe – R7
D'Cuban Café – G4
Forno Vero (wood fired artisan pizza) – G3/Y4
Four Fat Cows (ice cream) – B2
Lucky's Burgers & Brew – B1
Momoiro Ramen (formerly Momosan Ramen) – Y2
Philly & Wrap – R2
Pita Mediterranean (street food) – R3
PONKO Chicken (Asian fusion) – Y3
Shai-Karr Eatery (Thai street food) – G5
Siete Tacos + Tequila – R1
Smokehouse Q (formerly Grand Champion BBQ) – G1
Tiny Bubbles Tea Bar – G2
YOM and SOL
Hours:
Sunday through Thursday from 11am to 9pm
Friday and Saturday from 11am to 10pm
Address:
Marietta Square Market
68 North Marietta Pkwy NW
Marietta, GA 30060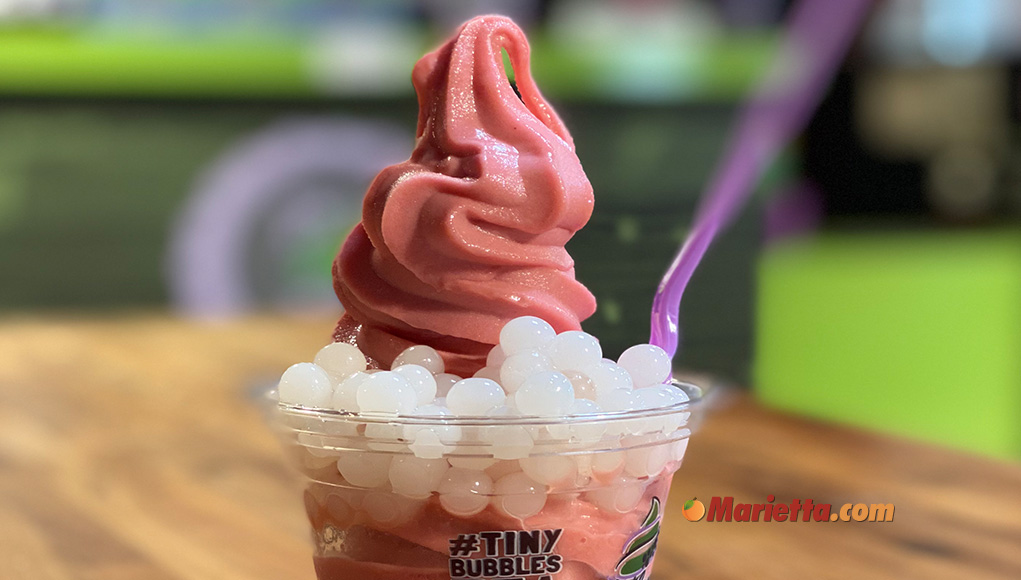 Directions from Marietta Square Market to Marietta Square:
Marietta Square is a short 3 to 5 minute walk from the Marietta Square Market. When you exit the front door of Marietta Square Market, turn left/head south towards Mill Street. Turn left at Mill Street and continue for about 1/10 of a mile to Marietta Square. While on Mill Street, you will first cross the railroad tracks and then pass Thaicoon, Stockyard Burgers and Bones, and Paul's Pot Pies.
Directions from Marietta Square to Marietta Square Market:
From the northwest corner of Marietta Square (intersection of Mill St. and Church St.), head west away from the Square on Mill St. towards the railroad tracks. On your right you will pass Paul's Pot Pies, Stockyard Burgers and Bones, and Thaicoon before crossing the train tracks. Continue past the tracks and then turn right on Denmead St. just before you get to North Marietta Parkway.