While the Atlanta Braves are gearing up for their next season in Cobb County's Truist Park, The Battery Atlanta has shown that the area around the stadium is a true year-round destination with food, fun and games for all.
"We're here all the time, even when baseball isn't," said Lauren Abernethy, director of marketing for Braves Development Co., which owns and operates the property.
To see everything that this live/work/play locale has to offer will take more than one trip. Much more. There are over 20 restaurants, many of which are managed by some of Atlanta's top chefs, plus shops and entertainment destinations such as The Coca-Cola Roxy and Punch Bowl Social.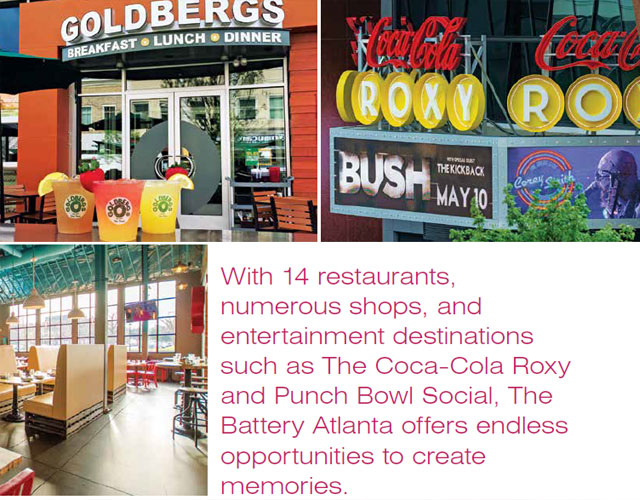 "The Battery Atlanta is most certainly active year-round with so many great things happening all the time on campus, including shows at the 4,000 seat Coca-Cola Roxy, weekly events at Live! at the Battery Atlanta, and plaza events like our corn hole and wiffleball leagues and the Movie Series," said Jeremy Strife, SVP and general manager of The Battery Atlanta.
"In the last few months, we have hosted a lot of firsts of our own, including a tree lighting and the New Year's Eve Bash. The energy here on a game day is undeniable, but the experiences throughout The Battery Atlanta have added to the excitement of those game days."
When the Braves made the move out of Atlanta and Turner Field, they did so with the intention of creating a year-round destination rather than one only frequented during the team's 81 home games. It's safe to say that goal has been accomplished via The Battery Atlanta.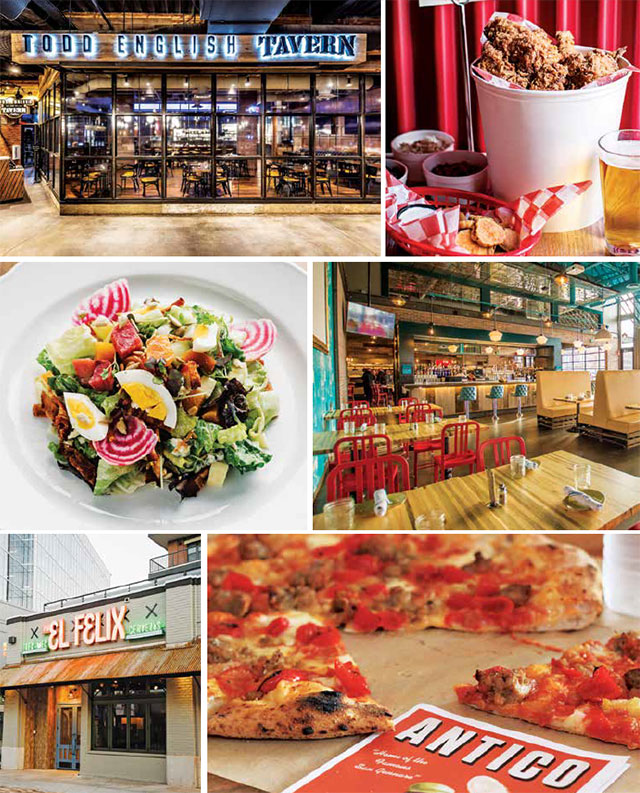 Before games begin, the area swirls with activity as fans take in food and drink at places like Antico Pizza Napoletana, Yard House, Terrapin Tap Room, and Cru Wine Bar, not to mention the fountain area and entertainment from the Braves' "Heavy Hitters" drumline and cheerleaders.
But visiting on any given weekend or even on weeknights, guests will find the development still pulsating. Not only that, parking at The Battery Atlanta's parking structures is usually free on non-game days for up to four hours.
"There is a big misconception with parking," said Abernethy. "You can absolutely come here for dinner and not pay to park."

Specifically, parking in the red, green, and purple garages is completely free for up to four hours on most non-game days, and $10 for between four and five hours. A maximum charge of $30 is assessed for stays between seven and 24 hours.
Customers parking in the red deck who spend $50 or more at a Battery merchant will be provided a validation directly from the tenant even if they stay for longer than four hours. Groups splitting checks will receive one validation per every $50 spent.

Other transportation options include Lyft/Uber and public transportation (CobbLinc and the Cumberland Circulator). Bicycle parking stations abound as well, meaning there are many ways to enjoy at night out near the stadium.
Braves players and coaches are far from the only celebrities who can be spotted at The Battery Atlanta. The Coca-Cola Roxy welcomes A-list acts year-round, from The Shins to Billy Idol, Dropkick Murphys to Miguel. Truist Park hosts concerts as well, with acts that have included Zac Brown Band, Def Leppard and Journey, and Jason Aldean.
Actor Mark Wahlberg and his brother, Donnie, have both dropped in their restaurant, Wahlburgers, located on the western side of The Battery Atlanta. In short, the area does not take a break, whether it's July or January.
"To see this dynamic, one-of-a-kind development come alive over the past year is the biggest success (of year one)," said Strife. "It's truly a one-of-a-kind development with great dining, shopping, and entertainment, plus living, working and a world-class ballpark."
In recent years, more retail and restaurants were added, including Punch Bowl Social, El Super Pan, TopGolf Swing Suite, Jeni's Ice Cream, Garden & Gun Club, Burn by Rocky Patel, H&F Burger, and Truist Bank.
Punch Bowl Social is an "eatertainment" concept, announced in January 2017, that spans roughly 27,000 square feet. It features made-from-scratch cuisine, karaoke, craft beer, vintage video games, and of course bowling. Punch Bowl Social already operates in other markets, including Minneapolis, Detroit, Denver, Austin, Indianapolis and Cleveland.
Battery officials said the concept cements the area as an exciting entertainment destination. It's a place where families or groups of friends can stop by to bowl after dinner and/or shopping. If time allows, the bowling could be followed up by a show at the Coca-Cola Roxy.
Not that Punch Bowl Social is the only new attraction to be excited about. El Super Pan is Puerto Rican Chef Hector Santiago's innovative take on classic Latino bakery food. "These are all great additions to our line-up of experiential and memory making concepts," Strife said.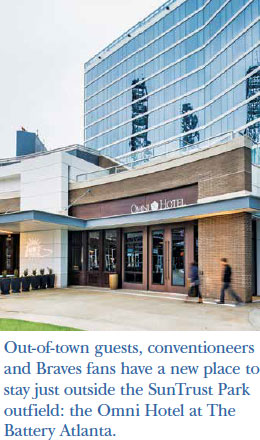 Lastly, out-of-town guests, conventioneers and Braves fans have a place to stay just outside the Truist Park outfield: the Omni Hotel at The Battery Atlanta. The luxury hotel features 16 floors with 236 rooms, 28 suites, more than 20,000 square feet of meeting space, and an elevated pool deck and bar. Aside from Truist Park and The Battery Atlanta, the Cobb Energy Performing Arts Centre, Cobb Galleria Centre and Cumberland Mall are all less than a mile away.
"We were excited to celebrate the official ribbon cutting ceremony with our friends at the Omni Hotel at The Battery Atlanta," Strife said about the January 2018 event. "The four-star experience at the Omni provides a high-quality and convenient option for our out-of-town guests. The addition of a first-class hotel brand is a home run; it's a phenomenal facility with gorgeous views of Truist Park."
Still succeeding
The "work" in live/work/play is alive and well inside The Battery Atlanta thanks to Spaces, a co-working concept opened last year inside the $1-billion, mixed-use development. All Spaces locations provide 24-hour access to dedicated desks and office space for members. A business club is also open Monday through Friday serving the venue.
Of course, many leading restaurants will continue to serve fans and visitors as well. Antico, which opened its first Atlanta location in 2009, was among the first restaurants announced for The Battery Atlanta and has become the only pizzeria in the U.S. with 4.5 stars on Yelp.
The Terrapin Taproom combines the southern favorites of beer, barbecue and baseball, thanks to the team of Terrapin Beer Co., Fox Bros. Bar-B-Q and the Atlanta Braves. The microbrewery is located adjacent to Truist Park and offers a rotating tap list and the ATL Brew Lab, including some baseball-themed beers.
Overall, The Battery Atlanta continues to showcase the success the Atlanta Braves and Braves Development Co. have enjoyed, both inside Truist Park and outside. The team hopes to keep that momentum moving forward for years to come. "It's really fun to be out here at The Battery Atlanta," said Abernethy. "The retail and restaurants are hopping every night of the week."
Dining at The Battery Atlanta
There's no shortage of dining experiences to be had at The Battery. From eat-on-the-go hot dogs to world-class steaks, whatever you're craving can be found there.
Antico Pizza – littleitalia.com
Burn by Rocky Patel – burnbyrockypatel.com
C. Ellet's Steakhouse – c-ellets.com
Cru Wine Bar – cruawinebar.com
Superica – superica.com
El Super Pan – elsuperpan.com
Garden & Gun Club – gardenandgunclub.com
Goldberg's Fine Foods – goldbergbagel.com
Jeni's Ice Cream – Jenis.com
Ph'east – pheastatl.com
Punch Bowl Social – punchbowlsocial.com
Terrapin Taproom – terrapintaproom.com
Wahlburgers – wahlburgersrestaurant.com/atlanta
Yard House – yardhouse.com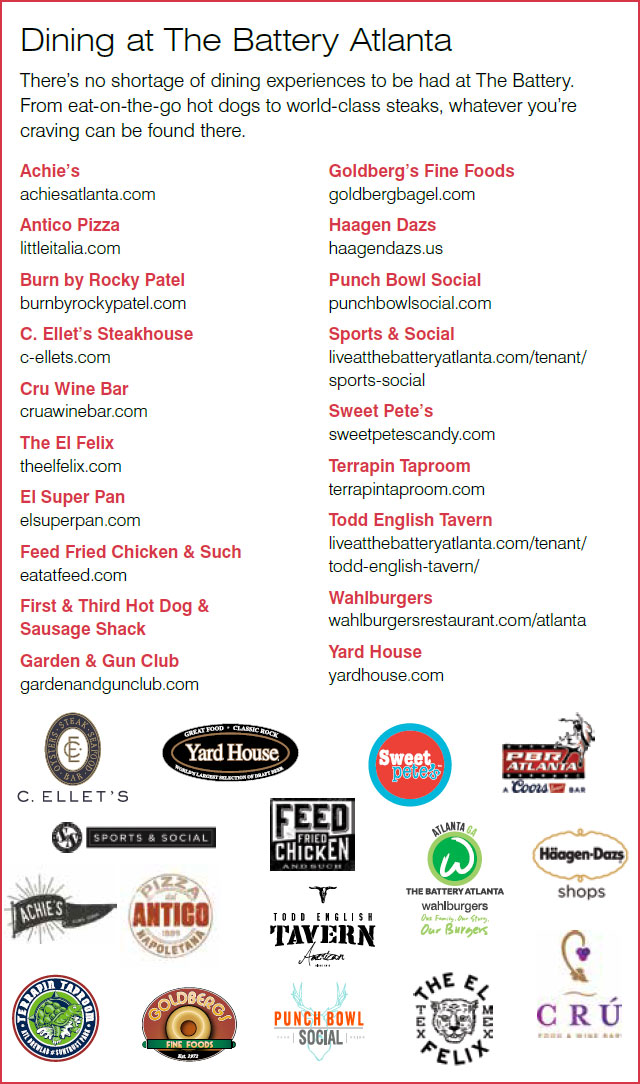 Shopping at The Battery Atlanta
The Battery Atlanta provides a shopping experience that is unique in metro Atlanta. The collection of boutiques are unlike any other retail complex in the area. Check them out!
Archer Paper Goods – archerpaper.com
Baseballism – baseballism.com
DressUp – shopdressup.com
Mizuno – mizunousa.com
Sugarboo & Co. – sugarbooandco.com
Van Michael Men – vanmichael.com
Xfinity – xfinity.com