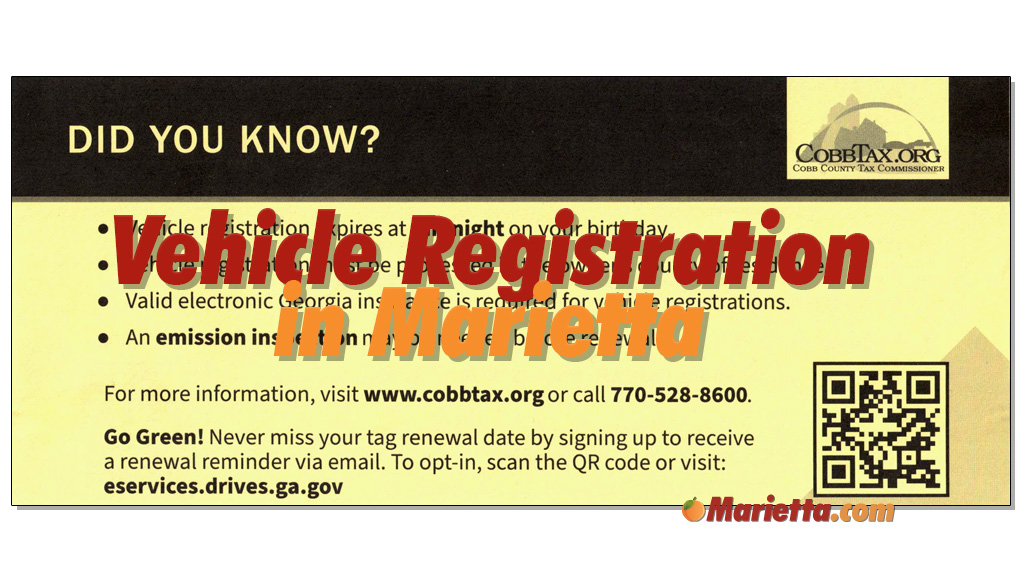 For residents that are new to the state of Georgia or new to Cobb County, vehicles must be registered within 30 days of your move date.  Vehicle registration must be processed in the vehicle owner's county of residence, so if you live in Marietta you can visit any of the Cobb County tag offices.  Residents who do not register by the deadlines may receive fines up to $100.
Valid electronic Georgia insurance is required for vehicle registrations.
For current Cobb County residents with an existing registration, vehicle registration expires at midnight on your birthday.  You can visit a Cobb County Tag Office locations or self-service tag kiosk locations.
An emission inspection may be needed before renewal.
Vehicle Purchases:
If you purchased a vehicle from a private party, you must register your vehicle within 7 business days.
If you purchased from a dealership, the dealer may submit your registration as a courtesy, but they are not required to do so.  If they do not submit for you, you have 30 days from the date of purchase to apply for registration (even though the temporary tag is valid for 45 days).
Registration takes place at one of the Cobb County Tag Offices.
For more information, visit cobbtax.org or call (770) 528-8600.