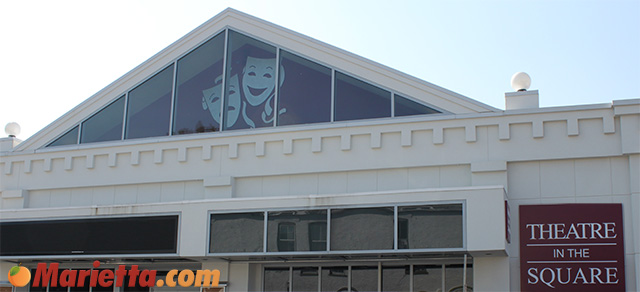 Theatre in the Square was established in 1982 when two arts entrepreneurs — Michael Horne and Palmer Wells — brought their vision of a suburban theater to Cobb County through Theatre in the Square. Located at 11 Whitlock Ave., the theater produced edgy and sometimes controversial plays that grabbed the attention of theater goers throughout the Southeast. From Broadway smashes to world premiers, Theater in the Square enjoyed renown from regional and national critics and drew a steady stream of patrons to downtown Marietta.
The group's signature holiday musical, "The 1940's Radio Hour," ran for 25 years and became a Christmas tradition. Filled with hit music from the 1940s, in many ways it was the lynchpin of the mid-sized theater. Called "one of metro Atlanta's most-respected mid-sized theaters" by the Atlanta Journal-Constitution, the theater closed during their 30th season in early 2012 because of ongoing financial issues.
To the arts community, Theatre in the Square put Marietta and Cobb County on the map in the 1980s and 1990s, opening the door for theater patrons to drive outside the perimeter for quality performances. "Shillings would have closed four or five years after we opened if it had not been for Theatre in the Square," says Dave Reardon, who owns the still-popular restaurant that's operated in Marietta since the early 1980s. "They were totally responsible for my business doing well and we really felt it when they closed a couple of years ago."
Reardon says he's pleased with the activity these days in downtown Marietta, with the shows and events at The Earl Smith Strand Theatre and other arts venues and festivals. "These events make the square festive and continue to bring the kinds of customers we're looking for," he says. "Now it's hard to find a parking spot, but that's really good for business."
In July 2015, a new theater group rented the space formerly used by Theatre in the Square. Billed as "Marietta's New Theatre in the Square," it opened its first show, "The Birdcage," in the fall and began year-long programming beginning in January 2016, according to Raul Thomas, the organization's general manager.
Actor Bob Harter is the driving force behind the new company, which presented the revival of "Letters from the Front" in November and December. For many years, Harter toured in the two-person show, a moving three-act dramedy (cq) set against the backdrop of World War II. "We will be reviving the show for its 25th anniversary in Marietta," Thomas says. "After the run in Marietta, we'll be launching a Legacy Tour of the show." "Letters from the Front" was written and directed by Robert Rector and produced by Marsha Roberts.
The New Theatre in the Square also offers theater education opportunities for youth and adults, including workshops. Thomas says, "We'll be using the facility as a performing arts center with theater as the anchor."
Theatre in the Square
11 Whitlock Ave NW
Marietta, GA 30064
(770) 426-4800
TheatreInTheSquare.net
Facebook.com/MariettaTheatreInTheSquare