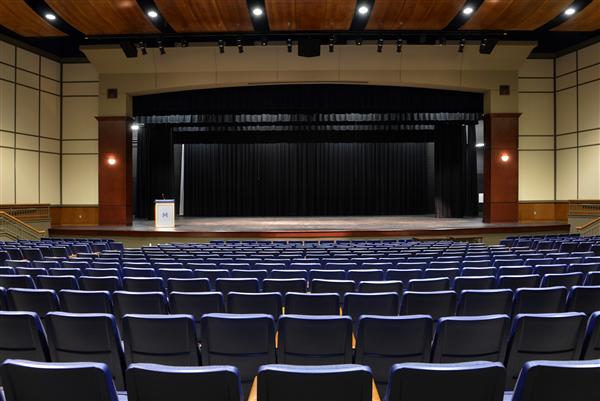 A longtime vision of Marietta City Schools became a reality in September 2013 and added another performance venue to Cobb County. "It's been the dream of Marietta City Schools to have a legitimate performing arts magnet within the schools," says Marc Patterson, director of the 750-seat Marietta Performing Arts Center on the campus of Marietta High School. "And while our priority is serving the school system, we are also open to rentals for various events such as concerts and community meetings."
The facility is home to several nonprofit arts organizations that have become resident partners. The Georgia Symphony Orchestra's executive director's office is located in the building and the orchestra splits its rehearsal time between the center and Kennesaw State University. Performances of the Big Chicken Chorus also take place there, and educational partnerships with the Georgia Ballet and the Georgia Dance Conservatory provide opportunities to share resources.
Patterson says other groups use the facility, including Georgia's Attorney General and Cobb resident Sam Olens, who announced his current drug awareness campaign, and the Davis Direction Foundation, a national organization formed in Cobb as a community role model for Opiate/Heroin Addiction and Change. The foundation hosted a successful fundraising dinner, music review and auction earlier in the fall. Other events are on the calendar for this year, including several original productions that will have regional appeal. "With so much energy, excitement and creativity happening, having the kind of venues we have in Cobb County affects our economy in many positive ways," Patterson says.
Marietta Performing Arts Center
1171 Whitlock Ave NW
Marietta, GA 30064
(770) 428-2631