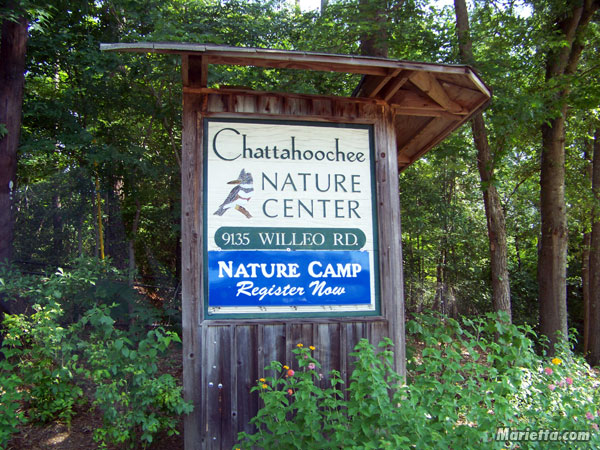 Just minutes from Marietta, the 127 acre Chattahoochee Nature Center is an oasis of nature along side the Chattahoochee River. The nature center provides unique learning experiences focused on protecting and understanding the river that provides drinking water for more than 3.5 million people and 60% of metro Atlanta.
Visitors to the Chattahoochee Nature Center can begin their adventure in the Discovery Center. Upon entering the upper level, visitors are greeted by an expansive view of the CNC site through a glass wall and from the rooftop terrace.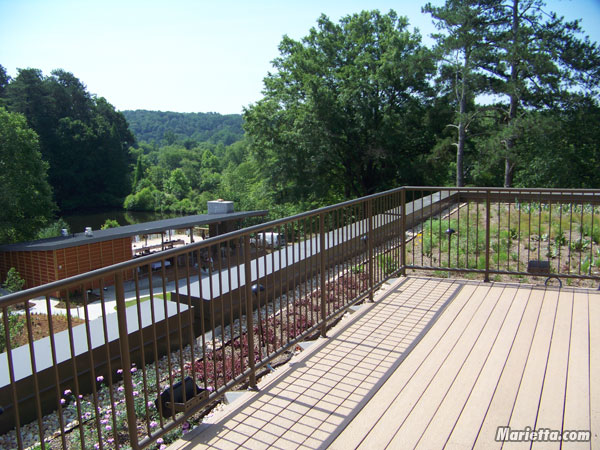 The views from the Rooftop Garden Terrace are fantastic, and the terrace itself is designed to capture rain runoff and is home to native plants found only on the rocky outcrops of Georgia. From the upper entry level, you can venture outdoors to enjoy the nature trails with plant and animal habitats or move to the lower level, which features thematic live animal exhibits.

This Interpretative Center for the Chattahoochee River houses four areas that explain the intricate web of life that makes up the unique watershed of the Chattahoochee River. The hands-on, minds-on exhibits in the Explore Your Watershed Gallery will engage, delight and educate visitors about our three watershed habitats – river, wetland and forest.
It's the perfect place to expand your knowledge through an understanding of the river's resources and the interconnection of all life forms. Highlighted in the center is the Nature Exchange, a hands-on, interactive trading post. Children will connect to nature in a unique way as they trade for objects found in nature and earn points to be the "best" nature explorer.

Another highlight of the Chattahoochee Nature Center is the Ben Brady Lakeside Pavilion which overlooks Kingfisher Pond, and is a perfect place to view wildlife up close in its natural setting. Near the pavilion is the Wildlife Walk, where visitors can enjoy up close and personal views of native hawks, owls and vultures. CNC's eagle aviary and the beaver habitat are highlights of the Walk. In all, there are five wooded hiking trails covering the beautiful Georgia Piedmont forests and making visitors feel like they are far removed from the city.
While you are there, don't miss the rustic river boardwalk that brings visitors through wooded areas and swamps and then right to the river's banks.
Guided Hikes:
Offered every Saturday and Sunday
Creature Features:
Each Saturday and Sunday various nature topics are presented with the fee included in general admission.
Community Programs:
A variety of programs for all ages are offered including: Guided Canoe Trips; Camp Kingfisher; Early Childhood Programs; Animal Encounters; Scout Programs; Birthday Parties and special events such as the Flying Color Butterfly Festival, the Earth Day Kids Fest and Halloween Hikes.
Address:
Chattahoochee Nature Center
9135 Willeo Road
Roswell, GA 30075
For more information, please call (770) 992-2055.