Private parking lots ($5) are located near the intersection of Anderson Street and Waddell Street. Be sure to only park in the paid lots and pay for your space. Watch out for the adjacent lot with the sign reading "Parking for 25 & 27 Atlanta St. ONLY!" as you may be booted or towed if you park there (also known as the Tillman lot – marked in red above).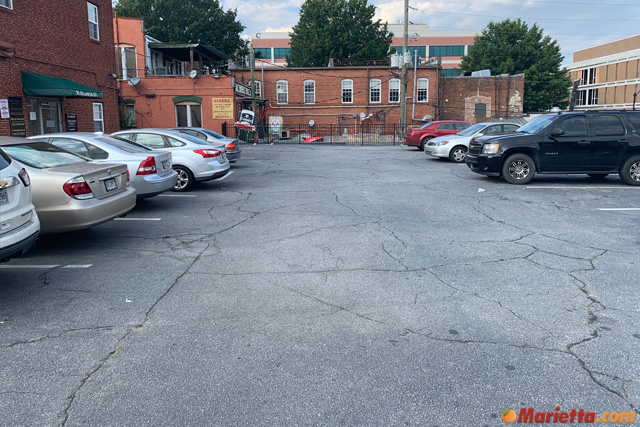 Robert Tillman, who owns 27 Atlanta St and the parking lot behind the building, wants to reserve the space for his tenants and their customers. Tillman claims to have lost previous tenants because the parking lot was often filled with random motorists who want free parking rather than pay the $5 charge in the nearby lots.
A sign on the side of Johnnie MacCraken's warns patrons to avoid the small lot behind 25 Atlanta St.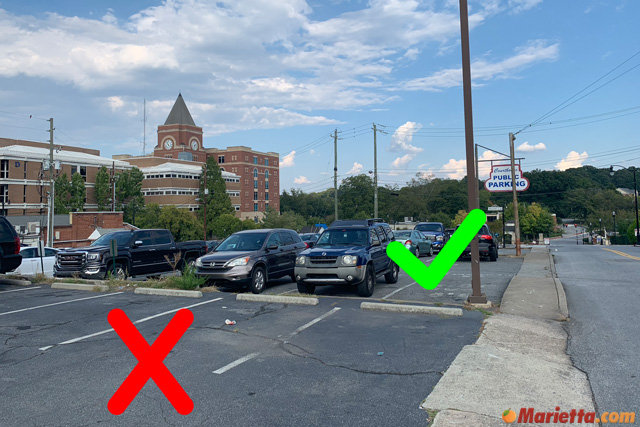 Paid public parking is available in the lot adjacent to the Tillman lot.  Do not park in the smaller parking lot behind 25 & 27 Atlanta St. buildings near the intersection of Anderson Street and Waddell Street.
There are several warning signs noting that the lot is private.  Visitors to the Marietta Square should avoid this parking lot at all times, including evenings, weekends, and holidays.
There are numerous free and paid parking options throughout the Marietta Square area. The Square features both paid and free parking lots, as well as free parking spaces and several parking decks that are free to park at certain times.  For more, please visit our Marietta Square Parking Guide.