There are numerous free and paid parking options throughout the Marietta Square area. The Square features both paid and free parking lots, as well as free parking spaces and several parking decks that are free to park after 5pm on weekdays and free every Saturday and Sunday.  The maps below will help you find the right place to park for any location or event.
Beginning February 1, 2018, parking deck rates are changing:
Currently, parking in the parking decks is a flat rate of $5 for any amount of time on weekdays between 7am and 5pm, with weekends being free to park. Under the new fee structure, weekday and Saturday parking between 7am and 8pm will be free for the first 30 minutes, then $2 for up to two hours, $5 for two to five hours, and $7 for more than five hours or for a lost ticket. Sunday parking remains free.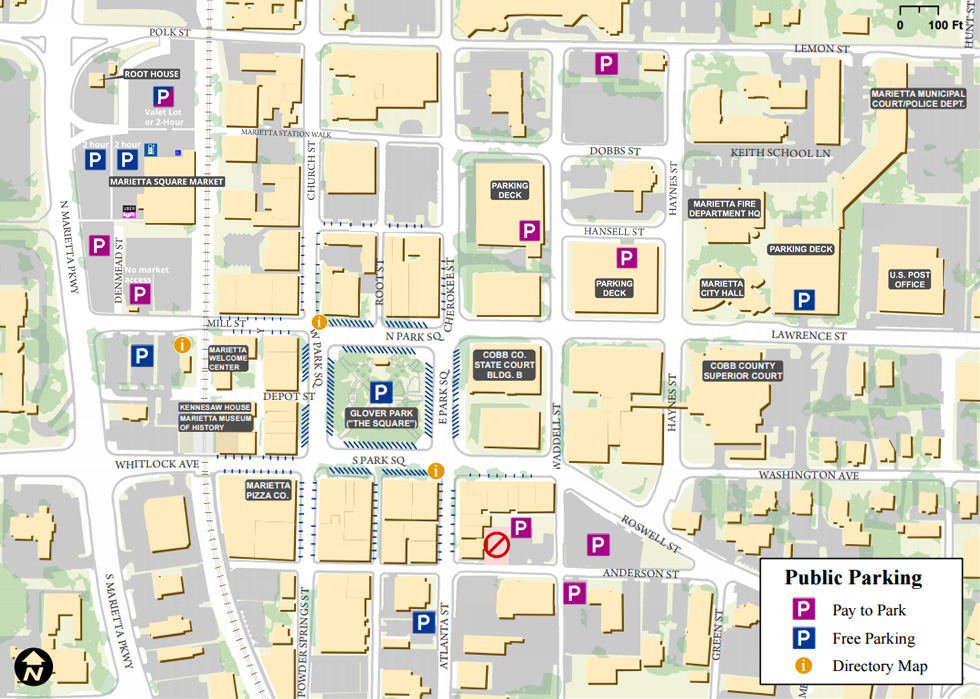 Marietta Square/Glover Park


Free two hour parking is available in the numerous parking spaces surrounding Glover Park in the center of Marietta Square. Additional parking is also available down many of the side streets surrounding Glover Park.
City Hall Parking Deck


Free parking is available in the upper levels of the Lawrence Street parking deck for those with city business Monday through Friday, and parking is free for everyone on after 5pm on weekdays and free all weekend.
Anderson Street/Waddell Street Lots


Private parking lots ($5) are located near the intersection of Anderson Street and Waddell Street. Be sure to only park in the paid lots and pay for your space – this area is notorious for booting cars within minutes. Watch out for the lot with the sign reading "Parking for 25 & 27 Atlanta St. ONLY!" as you may be booted or towed if you park there (known as the Tillman lot – marked in red above).
Cobb County Parking Deck and the Lawrence Street Parking Deck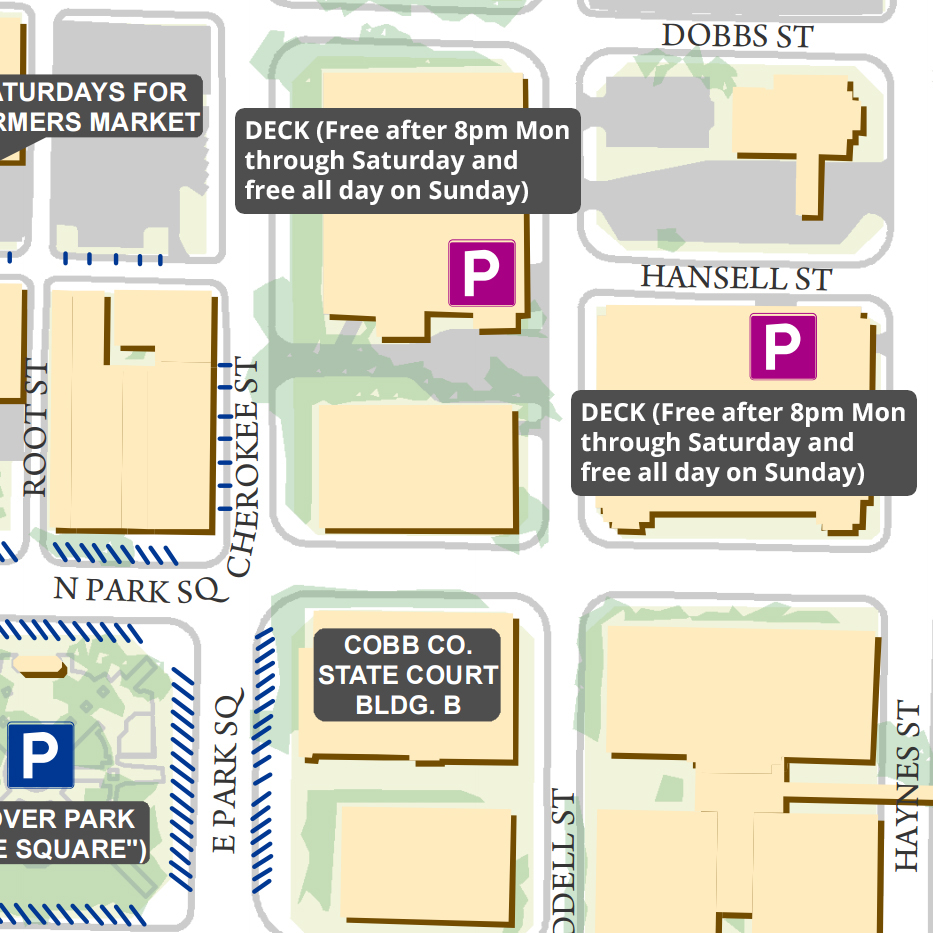 The Cobb County Parking Deck (top left) and the Lawrence Street Parking Deck (bottom right). The Lawrence Street parking deck's entrance is on Hansell Street.  Both decks feature free parking after 5 pm on weekdays and free parking on Saturday and Sunday.
First Baptist Church Parking Lot


Parking is available on Saturdays in the First Baptist Church parking lot, next to the Family Life Center. The lot is located at the intersection of Church Street and Hansell Street. No parking is available in this lot on Sundays.
Marietta Welcome Center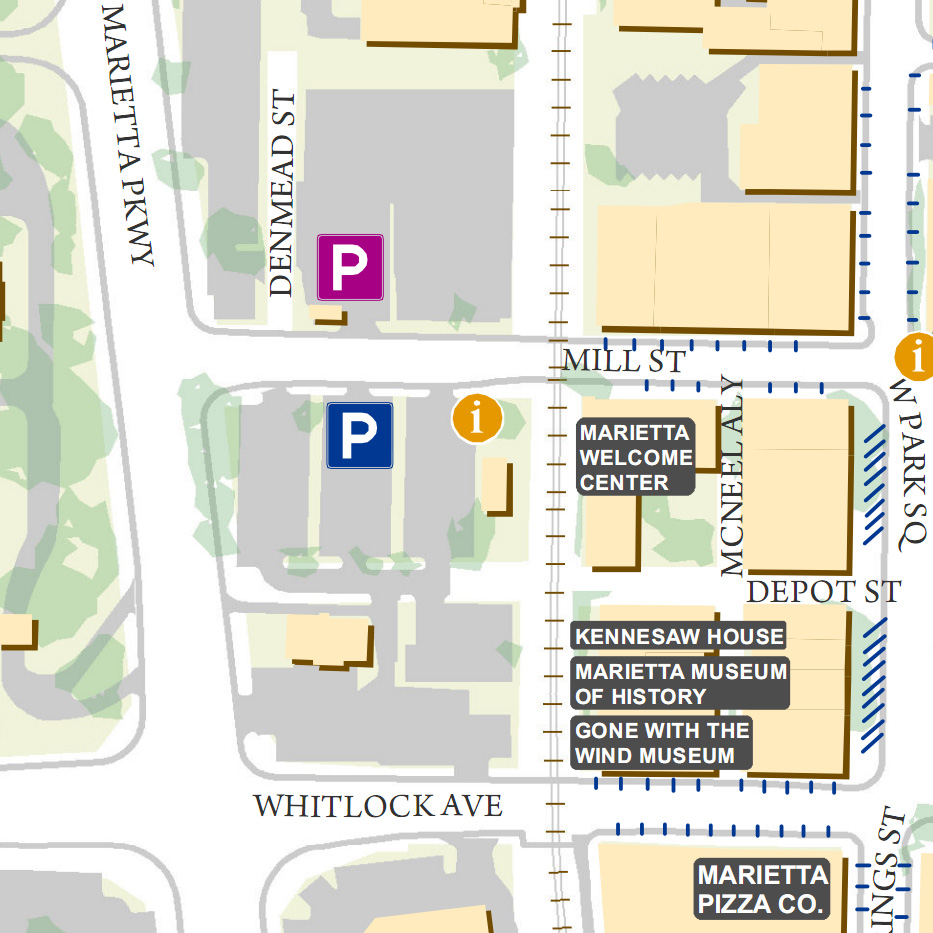 Free two hour parking is available in the parking lot across the railroad tracks from the Marietta Welcome Center.
Root House Parking


Free parking next to the Marietta Root House Museum. There is also a paid parking lot near the intersection of North Marietta Parkway and Mill Street.
Images courtesy of the City of Marietta, available online at http://mariettasquare.com/include/parking-on-the-square.pdf
Handicapped Parking on the Square