While the economic downturn has seeped into every sector of the economy, there is a more optimistic story being told by small businesses across America. Despite the bad news, Inc. magazine's recent list of America's fastest-growing companies celebrated 500 businesses that are adding jobs to their payrolls and profits to their bottom lines.
Since 2010, the elite 500 raked in $366 billion in revenue and created 370,592 jobs. With an average of 51 employees, these vibrant companies achieved an average of $10 million in revenue and a growth rate of 94 percent. More surprising still, many of these small business hotbeds originate from previously troubled industries like real estate, telecommunications, financial services and insurance.
If Inc.'s past fast-growing honorees like Microsoft, Oracle and Zappos are any measure; small business start-ups redefine the American economy and create most of the nation's new jobs. This potential for innovation bodes well for Atlanta, which ranked seventh on Inc.'s list of job-creating cities, just behind powerhouses like New York, Los Angeles and Chicago.
In addition to being home to Fortune 1000 favorites like Home Depot, Russell Athletic and Lockheed Martin, Cobb County is the launching pad for seven of the fast-growing start-ups that made Inc.'s list, including Valuation Management Group, Property Masters, PalmerHouse Properties, Maximum One Realty, Flip Flop Shops, Axis Teknologies and LogFire.
To discuss Cobb County's home field advantage when it comes to small business growth, Cobb In Focus spoke with a few award-winning small businesses about their path to greatness and what it takes to grow and build an organization that can weather the storms of economic adversity.
 PalmerHouse Properties

One day, while sitting in his kitchen and pondering nothing in particular, Kevin Palmer had an entrepreneurial epiphany. As a 20-year veteran of the financial services industry, Palmer decided he wanted to start a real estate company.
The year was 2006—just before the dawn of the real estate crisis that left a path of foreclosures and short sales in its wake. Despite the odds, Palmer was prepared for the worst. "Since I came from a financial services background, I saw what was about to happen in 2006," says Palmer, CEO and founder of PalmerHouse Properties. "If you start a business from zero, there's really nowhere you can go but up, and since then we've doubled in size in terms of our agent count and revenue year over year."
With the help of a unique business model, PalmerHouse was able to weather the rough real estate market. "We really saw the opportunity to do something different by focusing on our clients," says Palmer. "We consider our clients to be real estate agents and their clients are the buyers and sellers." While agents at most real estate companies are lucky to take home 50 to 80 percent of their commissions, PalmerHouse agents take home everything. "We operate on a transactional model platform," explains Palmer, "which means agents get to keep 100 percent of their commission in exchange for a small monthly fee to affiliate with us."
By creating an agent-first business that rewards the best and brightest sellers in the industry, PalmerHouse has found prosperity by becoming the kind of real estate company agents want to work for. Affiliated agents set their own priorities and sales goals, specialize in the properties of their choice and have the ability to set their own commission rates, which allows them to be more competitive when it comes to wooing cost conscious buyers and sellers.
Since its inception in 2006, PalmerHouse Properties has grown from a small business to a sizable privately held corporation employing 625 to 650 agents. Though the company got its start in Buckhead and Atlanta, it recently opened a Cobb County branch in Marietta. "We started seeing more and more Cobb County agents who were driving in to our Buckhead office," says Palmer. "Once we got to 30 agents we decided it was time to make a move to support our Cobb team, which now includes 78 agents. The county government has been very supportive and wonderful to work with, and home values have been much more stable in Cobb County. The agent base is strong, and the client base is very well educated and career oriented. It's been exciting to see our company grow in Cobb and to watch our agents become more and more prosperous."
With close to $4 million in gross revenue in 2011 alone, it's no surprise that PalmerHouse Properties was recently named to Inc. magazine's list of the 500 fastest-growing businesses in America. "It was so exciting, and it really came as a surprise to us," says Palmer. "We were thrilled, and it's been such a great marketing opportunity."
Faced with a future that includes the potential for exponential growth, the company recently completed its next phase of expansion with the opening of a Gwinnett office in January. "In 2012, we have a goal to exceed revenues of $8 million and reach 1,500 agents," says Palmer, with a hint of excitement in his voice. Along with an agent-friendly, high-end, high-touch image, Palmer says his namesake business "is built on an attitude of respecting people, having fun and making money. It sounds strange," he says, "but we never focused on the money aspect all that much. If you focus on service and do what's right 100 percent of the time, the money always follows."
Puckett EMS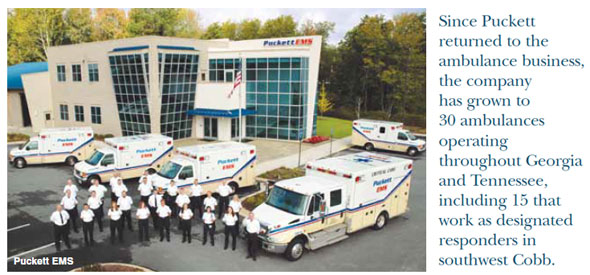 Steve Puckett began his fledgling emergency transport business with one vehicle in 1983, often working 24-hour shifts at a time. After selling his business during a nationwide ambulance consolidation effort in the 1990s, Puckett began hearing complaints about lagging emergency response times. "In 2001, Steve saw a need in the community and decided it was time to go back into the ambulance business," says Shane Garrison, vice president of Puckett EMS.
Since Puckett returned to the ambulance business, the company has grown to 30 ambulances operating throughout Georgia and Tennessee, including 15 that work as designated responders in southwest Cobb. "Since 2001 there's been nothing but steady, controlled population growth," says Garrison. "We've experienced a 25 percent increase in call volume and non-emergency transport volume from moving patients to different hospitals within the WellStar Health System. We've also built a very good reputation and are one of only four accredited ambulance services in the state of Georgia, and one of 130 in the U.S." The company's sterling reputation resulted in a recent expansion into Tennessee, where Puckett EMS serves as the official transport service for Erlanger Hospitals.
Though the growth of the business has been strong, Garrison says the tough economy has left its mark. "We've had to increase the amount of indigent care we provide," Garrison says. "We are definitely not insulated—as people lose their jobs and lose their insurance, they lose the ability to pay for our services, but we won't compromise on patient care." To rein in expenses, Puckett EMS is looking to transition to more fuel-efficient vehicles. "The maintenance costs are a lot less and fuel costs dramatically improve," says Garrison.
Much of Puckett's success comes from their location. "Quality of life for employees is very important, and great schools are just one of the reasons why Cobb is a great place to do business," says Garrison, a life-long Cobb resident. "Ninety percent of our workforce lives in the county, and it's important that we have several schools in the area that train paramedics and emergency technicians. Some counties have a shortage of EMTs and paramedics because they don't have access to teaching and certification institutions."
As Puckett EMS plans for the uncertain future of health care, Garrison sees the company expanding by leaps and bounds. "Hospitals will continue to experience explosive growth, and we will grow right along with them," he says. "The face of health care will change dramatically in the coming years, and I believe Puckett EMS will offer more than just emergency transport. We will be bringing preventive health care to patients rather than having them go to hospitals to incur more expensive health care."
Regardless of how Puckett EMS expands in the future, the company's continued presence in Cobb County is certain. "Cobb has a little bit of everything," says Garrison. "There are no ivory towers—Cobb County is all about family. I'm proud to be a Cobb County citizen, and I appreciate the support everyone in the county gives us."
K-9 Coach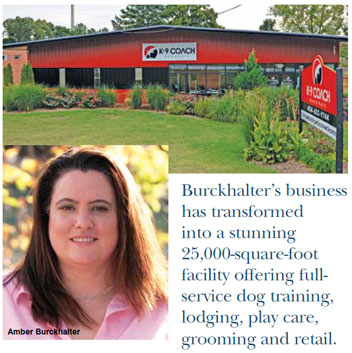 While studying to become an attorney, Amber Burckhalter suffered a health crisis that brought her dream to a sudden end. "I didn't know what to do with my life, so I went back to what I knew," says Burckhalter, who founded K-9 Coach 13 years ago. "I had worked at a vet center, and I always loved animals."
After working with national trainers, Burckhalter began providing in-home dog training to clients with unruly canines, eventually expanding her business to an animal hospital parking lot. Ten years later, Burckhalter's business has transformed into a stunning 25,000-square-foot facility offering full-service dog training, lodging, play care, grooming and retail.
The idea for her Bed and Bark facility came from clients who complained that their dogs were learning bad habits at other boarding facilities. Burckhalter listened to her clients and built a facility that employs 27 people and brings in over $1 million in annual revenue from 1,900 loyal clients. "The median income is supportive of small businesses like mine," says Burckhalter, "and Cobb County really seems to understand that new businesses bring jobs."
While she has thrived over the past decade, Burckhalter admits that her business has had to respond to the challenging economic times. "People try to take care of their animals as best as they can, so we've started to offer different economic packages and tiers of training—from $60 to $3,000—to try to reach everyone and every economic bracket," says Burckhalter. "We also offer a wider variety of toys and treats to meet all budgets, as well as a frequent flyer program that includes a boarding rate reduction of 30 percent."
When Burckhalter isn't at her office surrounded with pets and people, she is taking her young son to soccer and karate and spending time with her family, which includes an 18-year-old cat, a Sheba Inu and a French bulldog. "You have to figure out what you're good at and passionate about, and you have to love what you're doing," she says. "I started this business out of necessity—it was not the route I had planned, but it was the route I was supposed to take, and it has been a huge blessing in my life."
Sellier Design
After working as an in-house graphic designer for IBM and leading design firms where her clients included Kodak, Macy's and The New York Times, Kriston Sellier opened her own graphic and web design company in 2001 and "hasn't looked back since." In 2004, Sellier moved her at-home design business to Marietta so her husband could be closer to his job at CarMax's Kennesaw branch.
"I love living in Cobb County because of the great schools," says Sellier. "There are so many lifestyle options, from townhomes and horse farms, and lots of recreation areas where my kids can play sports. I love how close I am to parks and recreation facilities—Lost Mountain is really one of our favorite places to be."
Voted a Top 25 Best Small Company by Working Mother magazine and a 2009 winner of the Small Business Commerce Association's Best of Business Award, Sellier Design has three full-time employees and has garnered numerous design awards, including several American Corporate Identity Awards.
Although the economic downturn has made doing business in any field more difficult, Sellier says her company has weathered the recession thanks to discovering the value of networking. "We're doing well, and I would attribute that to networking—getting new business clients through referrals and maintaining good relationships with the ones we already have," she says. "I'd never really done networking before, but right before the recession hit we recruited 25 new clients through networking, which helped us tremendously. You can make so many great connections in the community, and it is a lot less of an investment than you might think."
That networking has certainly paid off, as Sellier Design now currently manages the account of Freshens, the second largest restaurant franchise in Georgia. Sellier Design takes a holistic approach to brand management by offering clients website analysis and design, advertising resources, stationery and marketing collateral, corporate identity, logo design and search engine optimization. The company's list of past and present clients includes The Silver Platter, Zoo Atlanta, Russell Athletic Corporation, Novient, Cox Communications, Atlantic Realty Partners and the American Hiking Society. "A lot of design firms set up shop in edgy urban areas known for art, but I wanted to be near my family," says Sellier, "and I've found that being in a place like Cobb County has afforded us access to many small business clients who aren't served by downtown firms."
Although she has big plans for the future, Sellier's business won't end up on Inc.'s fastest-growing list anytime soon. "I see Sellier Design maintaining the quantity of employees and clients we have, and not growing by leaps and bounds because I want to maintain a good work-life balance and continue creating award-winning work that helps clients take their businesses to the next level," she says. "Innovation is what small businesses in America are all about—the freedom to determine what they want to do and who they want to become."