The farmers market gathers an average of over 65 vendors, offering a variety of fresh, locally grown, seasonal produce and garden products.  The Marietta Farmers Market is open every Saturday morning—rain or shine—January through December.   A little bit of "old town" south and fresh air awaits . . . with tasty lemonade, fresh foods—and much, much more—for sale at the local Marietta Square Farmers Market.
Customers can choose from heirloom tomatoes, fruits, and vegetables—many typically not available from the grocery store. In addition to everyday food staples, like potatoes, onions, squash, beans etc., this popular outdoor market also features a wide assortment of cut flower arrangements, local honey, herbal soaps, salsas, whole grain breads, fruit pies, jelly, jam, and preserves.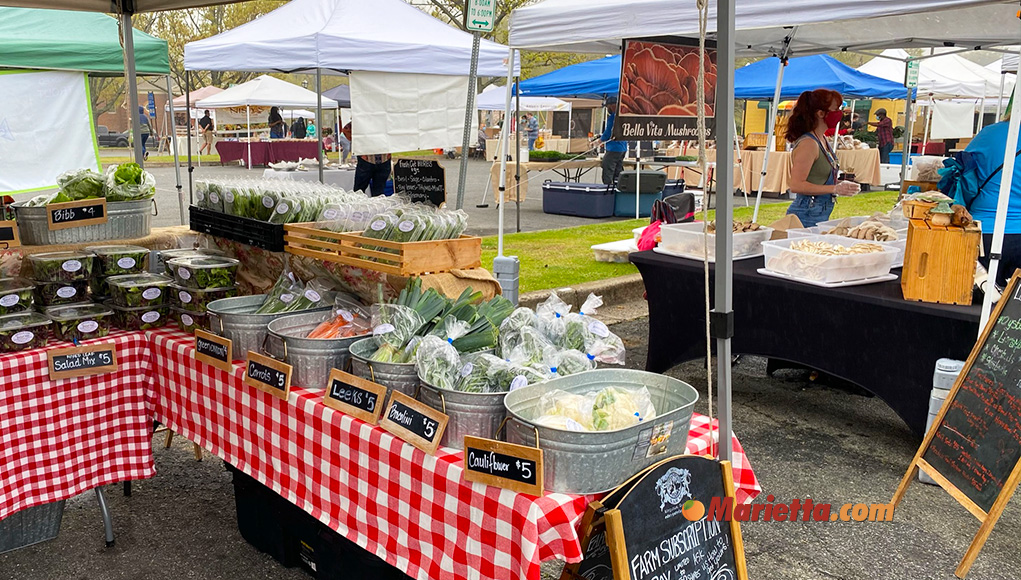 Put on an ol'-fashioned wide-brimmed southern-style hat and bring a basket to tote home the makings for several local produce-themed meals, or pick up just a few nutritious, fresh, and tasty items to have on hand for the week. Ambitious "green-thumbed" customers can also choose from a varied selection of garden plants and culinary herbs for growing in their own yards and home gardens.
While you are there, be sure to check out the Marietta Square Artisan Market (9am to 2pm) located adjacent to and in conjunction with the Marietta Square Farmers Market. The Artists Market is a juried exhibition showcasing the best local artists in a variety of mediums.  Enjoy the paintings, drawings, and photography of fine artists settled alongside skilled craftspeople who feature an eclectic roster of distinctive goods including fire pits, cutting boards, terraria, pens, and fine jewelry for sale.
Location:
On Saturdays year round, the Marietta Square Farmers Market is located at the Mill Street Parking Lot at 41 Mill St.
Hours
Every Saturday no later than 9 am to noon year round (with a few days off around Christmas and New Year's).  The 2022 season started on January 8, 2022.
Admission:
Free
Address:
41 Mill St
Marietta, GA 30060
Parking:
Marietta Square parking
For more details and updates, please call Johnny Fulmer at (770) 499-9393, or facebook.com/mariettasquarefarmersmarket
Hours:
9am to 2pm