Too Important to Fail
On March 27, 2020, the President signed the CARES (Coronavirus Aid, Relief, and Economic Security) Act to expand unemployment insurance benefits and other economic relief measures aimed at reducing the economic impact of the novel coronavirus 2019 ("COVID-19") pandemic and authorized $2.1 trillion in aid to various sectors of the economy. This economic relief package is in addition to the Family First Corona Virus Response Act. Congress continues to debate expanding federal aid for families and small businesses as the virus continues to wreak havoc across the country. In the meantime, under the current available funding, what this means for Cobb County is $50 million in relief funds available to business owners to help get them back on their feet.
In May, Cobb County Government announced a partnership with SelectCobb to distribute the funding. SelectCobb, formerly known as Cobb's Competitive EDGE, is an initiative of the Cobb Chamber of Commerce and its community-wide partners to market Cobb County to the world, thus generating high-wage job growth, new private investment, and a pipeline of top talent. The SelectCobb Small Business Relief Grants provide up to $40,000 grants for small businesses based in Cobb County to use on personnel, rent, utilities, and acquiring PPE to ensure the safety of their employees. The grants are tiered, based on the number of employees: business with one to 10 employees can receive up to $20,000; firms with 11 to 50 employees, up to $30,000; and companies with 51 to 100 employees, up to $40,000.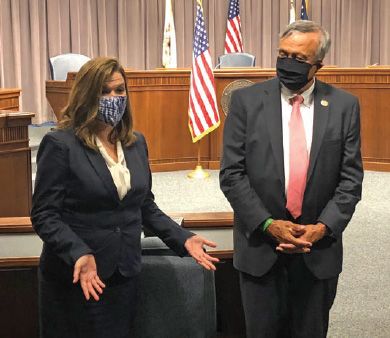 "Maintaining jobs and promoting growth within Cobb County has been and always will be our number-one priority for our small business community," said Kevin Greiner, president and CEO of Gas South and Chairman of SelectCobb for the Cobb Chamber. "The SelectCobb Small Business Relief Grants will allow Cobb's small businesses to stand strong during this pandemic and continue to meet necessary business expenses, as well as providing capital to acquire PPE and other resources to ensure a safe working environment for their employees."
Only July 31, officials announced the first round of grant recipients, who received a total of $7.5 million in funding. Approximately 56 percent of the 409 grant recipients are minority-owned businesses, while 53 percent are women-owned, and 8 percent are veterans. "We are incredibly thankful to Cobb County Government for their continued support of local small businesses, who have been working tirelessly to continue operations during COVID-19," said Dana Johnson, COO of the Cobb Chamber and executive director of SelectCobb. "These grants speak to our collective commitment to providing residents with opportunities to grow and thrive while continuing to drive the county's economic development and impact."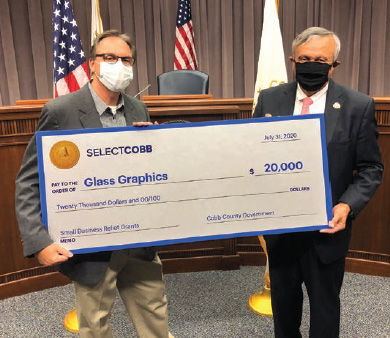 "On March 12, my personal chef business for 2020 was promising. On March 13, two thirds of my business disappeared from my calendar. All of my culinary instruction classes and catering events began to be erased as clients were no longer entertaining and facilities began to close down," said Chef Elizabeth Weaver, owner and chef for Elizabeth Edibles Personal Chef Services. "Honestly, I wasn't sure I could qualify as a sole proprietor for this grant, but with great assistance from SelectCobb and research, I easily applied, and I will be able to regroup, market, and keep cooking for Cobb County!"
Sharon Mason, president/CEO of the Cobb Chamber told Cobb In Focus recently that the grants are helping local businesses weather this economic storm. "Our economic recovery taskforce has been focused on seeking more grant opportunities as well as helping businesses reopen safely, and many more businesses have been opening more recently. Also, with Georgia as the number-one state to do business, we are projected to recover faster than other states. In fact, our SelectCobb team has seen a significant increase in companies considering relocating to Cobb from another state since the pandemic began. With new companies bringing jobs and investment to Cobb, we will recover much faster."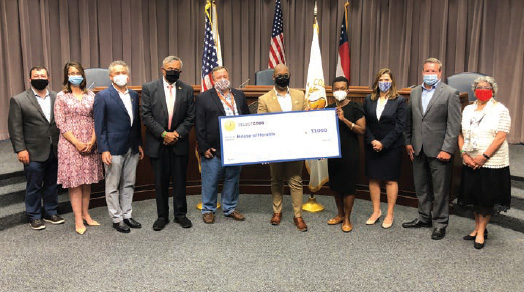 Grants program extended
Recently, Cobb County extended its partnership with SelectCobb to offer a second round of Small Business Relief Grants. The application process for those grants expired before this magazine went to press, but eligible businesses were able to apply to receive up to $40,000 to use toward personnel, rent, utilities, and acquiring PPE. In an effort to educate small businesses on the application process for the grants, an informative webinar series launched on August 4 and features Cobb Commission Chairman Mike Boyce and each of the Cobb County Commissioners and local mayors throughout the series.
"I'm gratified that the board came together to address an important segment of our community, the small business community," said Chairman Mike Boyce in a news release. "It demonstrates when it is all said and done, this board has the best interest of the county at heart. We work every day to do the best we can with the money we have — whether it is county money, state money, or federal money — we all have a duty to make sure the taxpayer's money is spent appropriately and I think this is one action that reflects that."
Businesses that have received financial assistance from the Payroll Protection Program or Small Business Administration are eligible for the second round of grants. In addition, businesses can include both W-2 and 1099 contract employees toward their total employee count. A full list of eligibility requirements for these grants — and any potential future grants — is available at  selectcobb.com/grants, but the basic requirements are described below.
Small businesses must meet the following requirements:
Business must be an existing for-profit corporation, partnership, or sole proprietorship
Business headquarters or primary location must be within Cobb County
Business must have 100 or fewer full-time, W-2 employees and/or individual 1099 contractors that function like employees, i.e., employees or contractors working at least 30 hours per week or 130 hours per month
Business must have been in continuous operation for a minimum of one year prior to March 13, 2020
Business must have a current business license issued by Cobb County Government, City of Acworth, City of Austell, City of Kennesaw, City of Marietta, City of Powder Springs or City of Smyrna
Business must be current on all local taxes
Business may be home-based or located in an owned or leased commercial space
Business must certify if it has received PPP/SBA funds and the amount in which it received as of time of application submittal
Business cannot be a publicly-traded company
Ineligible businesses include: Gambling institutions, multi-level marketing organizations, real estate investment firms, and adult entertainment.
Time will tell if and when a third round of grants will be announced. In the meantime, the committee will review applications per Commission District so that all areas are equally represented in the number of companies being assisted. Once determinations are made, a public announcement of grants funds will be made by representatives of the selection committee, SelectCobb, Cobb Chamber, and Cobb County Government. "Cobb County should be applauded for creating one of the largest small business grants in the region," said Johnson. "I want to thank the Board of Commissioners for their leadership and commitment to ensuring that Cobb County remains one of the top destinations for small businesses."
Related:
Cobb Chamber Announces Small Businesses of The Year