Senior Assistant District Attorney and Candidate for Cobb Superior Court Judge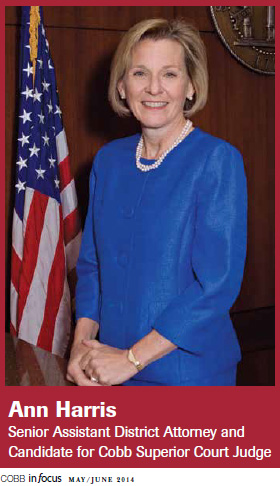 The Story: I grew up outside of Birmingham and graduated from Auburn University where I met my husband Jim. We moved to "the big city" of Atlanta and married shortly thereafter.  I enjoyed a challenging career for several years as a consultant with Arthur Andersen (now Accenture), before heeding the call to go to law school. We moved to Nashville while I attended Vanderbilt University, but our hearts remained in Atlanta and we moved back to Cobb after graduation. My heart was set on a career in prosecution, and I wanted the job in the Cobb District Attorney's Office so badly that I offered to work for free and later joked with then-District Attorney Tom Charron that he pretty much took me up on my offer. I have spent my entire legal career in Superior Court, working to protect the people of Cobb County and to deliver justice. I have successfully prosecuted the worst of the worst, holding defendants accountable to the law and giving a voice to victims.
Why Cobb County? Cobb has been my home for over two decades. I have found professional fulfillment here, and Jim and I have put down roots we hope are lasting. This county has grown and changed, but the friendliness, beauty, safety, convenience and good government and good people of this county are second to none.
What Do You Love About Your Job? On May 1, 1995, I began my career with the Cobb District Attorney's Office with a desire not to do well but to do good. That desire is why I have remained in prosecution and why I hope to continue my career in public service from the bench. It is rewarding to hear from a murder victim's family "thank you for keeping a killer off the streets." So too, it is rewarding to hear a recovering addict say "I turned my life around after you gave me a second chance." I have heard both in my career, and I take both to heart every time.
Leisure Time: Having lived in Cobb for almost 25 years, I enjoy a lot of the things that make Atlanta a great place to live. We enjoy going to Braves games – dating all the way back to games at Fulton County Stadium and the winning streak that opened the 1982 season. We take advantage of the great weather to work in our yard and run 10Ks, the occasional half marathon and (only once) the Marine Corps Marathon in Washington, D.C. Volunteer activities with the Smyrna Optimist Club have also been rewarding and have led to great friendships. I am a voracious and somewhat indiscriminate reader of everything from biographies and history to the back of a cereal box. We remain avid Auburn fans and are the proud and happy owners of two rescue dogs, Willie and Bert. When time and money permit, we like to travel to new places, yet we still find ourselves drawn to the quiet parts of the Florida panhandle.
My Best Advice: In choosing a career, follow your heart if at all possible. A job making great money doing work you don't enjoy will not bring satisfaction or happiness for long.  It is a gift to start each day genuinely liking what you do and knowing that what you do makes a difference.
What's Next? I hope to prevail in the election this spring to succeed retiring Judge Jim Bodiford in Cobb Superior Court.  Fairness, integrity, accountability and devotion to the law and to the rule of law are the values and experience I have put into practice for 19 years as a prosecutor in Superior Court and what I will take with me to the bench because that's what the people of Cobb County expect and deserve from their judges. But no matter the election outcome, I plan to continue in public service for the people of our county.
www.annharrisforjudge.com • (404) 931-6024 • Ann Harris for Superior Court Judge, P. O. Box 2275, Smyrna, GA 30081