The circus is coming to town, and it happens to be the biggest Shrine Circus in North America. For generations, the Yaarab Shrine Circus in Marietta has been a beloved annual event that combines thrilling performances, heartwarming moments, and a commitment to a greater cause.
A Tradition of Entertainment
Captivating Acts
The Yaarab Shrine Circus never fails to dazzle its audience with an array of breathtaking performances. From awe-inspiring acrobatics and high-flying trapeze acts to the whimsical antics of clowns, there's something for everyone under the big top. The circus features world-class performers who have honed their craft to perfection, leaving spectators of all ages on the edge of their seats.
Don't miss the opportunity to see all-new top circus acts from around the world with clowns, bears, elephants, horses, motorcycles, acrobats, and daredevil acts. Plus, enjoy a giant Carnival midway featuring rides and attractions.
Family-Friendly Fun
Perfect for All Ages
The Yaarab Shrine Circus is designed with families in mind. It's a place where grandparents, parents, and children can come together to create lasting memories. The circus offers a wholesome and entertaining experience that transcends generations, making it a beloved tradition for many families.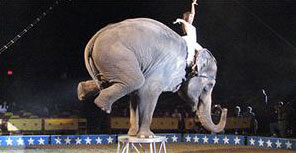 Of course, you can expect lots of good food, like pizza, funnel cakes, ice cream, corndogs, cotton candy, candy apples, fluffy fries, hamburgers, hotdogs, cheese steaks, elephant ears, Polish sausage, Italian sausage, barbeque, home fries, fried Oreos, roasted corn, snow cones, apple dumplings and more.
Supporting a Worthy Cause
What sets the Yaarab Shrine Circus apart is its philanthropic mission. The circus is organized by the Yaarab Shriners, a fraternal organization dedicated to supporting Shriners Hospitals for Children. Proceeds from the circus go directly to these hospitals, which provide life-changing medical care to children in need, regardless of their ability to pay. Attending the circus not only provides entertainment but also contributes to a cause that makes a real difference in the lives of children and families.
The Big Top rises at Jim R. Miller Park, 2245 Callaway Road, Marietta.
Date:
May 19-29, 2023
Admission:
Adults: $10 including circus show
Children 10 & under are free
Address:
Jim R. Miller Park
2245 Callaway Road, Marietta GA
For more information, please call (404) 419-6755 or visit yaarabshrine.net.