The 33rd annual Marietta Greek Festival takes place at the Holy Transfiguration Greek Orthodox Church from May 19-21, 2023.  The event celebrates Greek traditions, culture and delicious Greek food.
A wide variety of Greek food will be available for purchase, including favorites such as Chicken Oreganato (Greek-style chicken), Souvlaki (pork tenderloin kebabs), Keftedes (Greek-style meatballs), Dolmades (seasoned ground beef & rice wrapped in grapevine leaves), Spanakopita (spinach & feta cheese pie with a flaky filo crust), gyro wrap (seasoned beef or marinated chicken, grilled & served on pita bread, topped with Tzatziki sauce), smoked lamb sandwich, gyro bowls, and numerous other Greek foods. Sampler and combo platters are also available, and beverage choices include soft drinks, bottled water, wine, beer, greek beer, ouzo (grapes distilled with aromatic seeds such as anise, coriander and fennel), and metaxa (a blend of brandy and wine).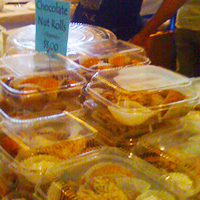 Be sure to save room for dessert which includes almond crescents, baklava, chocolate baklava, kourabiethes, koulourakia, and baklava sundae. Can't make up your mind, then try the dessert sampler which includes a variety of festival favorites.
The Hellenic Dance Program will be performing throughout the festival. The program is comprised of six dance groups that cover pre-k through 12th grade as well as a young adult group. The performances begin with traditional dance shows during the day, and progressing towards more modern dance club hits at the end of the evening.
The event also features a Greek marketplace with more than a dozen vendors with items including Greek jewelry, handmade linens, scarves, Greek cuisine, Greek cookbooks, art, oil paintings, candle holders, wood crafted items and more.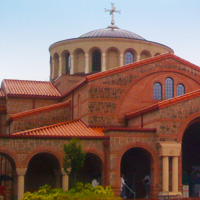 Church tours are available throughout the weekend and last approximately 10 minutes.  The Byzantine style sanctuary and church tour showcases the rich color, distinctive iconography and beauty of the interior of the Orthodox church.
Address:
Holy Transfiguration Greek Orthodox Church
3431 Trickum Road
Marietta, Georgia 30066
Admission:
Adults $5
Children 12 and under free
Dates and Times:
May 19, 2023 from 4 pm to 10:30 pm (free admission from 4 pm to 5:30 pm)
May 20, 2023 from 11 am to 10:30 pm
May 21, 2023 from 11 am to 4 pm
Please note: no animals or pets are allowed, except service dogs.
Parking:
No parking is available at the Holy Transfiguration Greek Orthodox Church as the grounds and parking lot are filled by the festival and related activities. Free parking and shuttle service is available at the following locations:
Simpson Middle School 3340 Trickum Road, Marietta, GA 30066 (Friday after 5, Saturday and Sunday)
Church of Jesus Christ of Latter-Day Saints 3155 Trickum Road, Marietta, GA 30066-4666 (Friday and Saturday only)
Mountain View Elementary School 3151 Sandy Plains Road, Marietta, GA 30066 (Friday, Saturday, and Sunday)
For more information, please call (770) 924-8080.