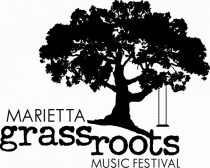 The Marietta Grassroots Music Festival takes place on the historic Marietta Square as part of the Marietta Streetfest. The event showcases local music of all genres from our area – all bands are based out of the metro Atlanta area and play all-age appropriate, live music.
Location:
Historic Marietta Square and Glover Park in downtown Marietta
50 Park Square
Marietta, GA 30060
Directions:
From Atlanta, take 1-75 North to exit 263. Follow (West Bound) to Marietta. This road will become South Marietta Parkway 120 S Loop. Follow west about five miles to Atlanta Street. Turn right. Marietta Square is two blocks ahead.
For all music related information contact Les Saunders at Les@mariettagrassroots.org
For all adminsitrative information contact Suzanne Murphy at Suzanne@mariettagrassroots.org
For more information about the Marietta Streetfest, please visit Marietta.com/Marietta-Streetfest