Few events signal the start of fall quite like a fair imbued with the scent of cotton candy, the roar of roller coasters and the halogen glow of old-fashioned carnival booths. This year, autumn in Cobb County begins the same way it has for over 85 years, with the start of the North Georgia State Fair. For 11 glorious days at the end of September and beginning of October, a local tradition springs to life, reinventing itself with the promise of new adventures and experiences.
Beginning when the county was a vast swath of farmland and electricity still a distant novelty, the North Georgia State Fair has entertained generations of Cobb County citizens. "We are the largest annual event in Cobb County," says Tod Miller, fair manager for the North Georgia State Fair. "Over the years, we have transformed from a livestock fair, which is no longer reflective of the Cobb County lifestyle, to primarily an entertainment fair. All of our entertainment is free and we have hosted artists on the way up, the way down, and everywhere in between."
Finding a Theme
Over the years, the wide expanse of Marietta's Jim R. Miller Park has played host to legends like George Jones, popular singers like Kenny Chesney and acclaimed voices like Sara Evans, and the first lady of country music, Loretta Lynn.
Since half of all fairgoers do not ride rides, the ground acts are the bread and butter of the fair landscape. Entertainment has included "a 'Tiger Encounter' featuring the youngest female tiger trainer in the country—a 19-year-old girl and ninth-generation animal trainer named Felicia Frisco," says Miller, as well as "the popular 'Rowdy Rooster Puppet Show,' who rides around the fairgrounds in his hot rod roadster between acts." Other acts have included "Oscar the Robot," a roaming automaton known for his acerbic wit, a 12-horse extravaganza called "Horses, Horses, Horses!" chainsaw sculpting master Brian Ruth and "Wit Carson's Petting Zoo," featuring bison, zebra, cows, rabbits, llamas and pony rides.
Reaching New Heights

Attracting more than 300,000 metro Atlantans every year, the North Georgia State Fair has become a permanent fixture in the community, just like its careening steel star, the Wildcat Roller coaster. Every year, the fair's sparkling midway also hosts 40 fun-filled amusement park rides and games. While the thrill of a good roller coaster never goes out of style, the latest gravity-defying attraction is the Georgia Mountain Lift. With 130 cars spanning 2,000 feet, the longest lift in Georgia ferries fair-goers from one end of the park to the other, for a bird's eye view of the 7,500-seat concert arena and the sparkling carny action of the Great James H. Drew Carnival Midway, one of the largest and safest midways in the country.
Thrill rides, games and great singers are vital to the success of any fall fest, but chowing down is a popular pastime for every member of the fair-going public. From hot dogs, cheese fries and slow-cooked BBQ to fried green tomatoes and funnel cake, the North Georgia State Fair has food to fit every craving. "Last year we had deep fried Kool Aid and deep fried banana pudding. It was wonderful and there's always something for everyone," says Miller.
If live music, free attractions, farm animals, local entertainment, delicious fair food and carnival-style rides weren't enough, the North Georgia State Fair also features award-winning exhibits and flower shows. Crafty and creative types can submit their gardening and artistic visions for blue ribbon judging, and their work is displayed for the duration of the fair. This year's fair features two stunning "Celebrating Georgia" flower shows, blooming with roses, dahlias, orchids, cacti, marigolds, herbs, shrubs, trees and fruiting plants. Other blue ribbon divisions include needlework, quilting, jewelry making and woodworking, as well as basketry, photography, oil painting, ceramics, woodcarving, pastry making and food preservation.
The North Georgia State Fair opens with the Beauty Pageant, where beauties ages 3 to 24 vie for seven titles featuring crowns, flowers and title sashes, with all proceeds going to the Miss Cobb County Scholarship Fund. For car enthusiasts, the Blue Ribbon Classic Car show promises to dazzle with gleaming classic cars and trucks from the '40s, '50s, '60s and '70s. Blue Ribbon prizes, trophies and cash prizes will be awarded for titles such as best of show, best paint, best interior and best engine.
Family Fun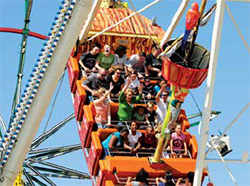 Priding itself on being an event for everyone, the North Georgia State Fair remains one of the best values for families looking to stretch their dollars without skimping on fun. "Kids 10 and under get in free," says Miller. "We want everyone, regardless of their background or economic situation, to be able to attend the fair so we try to remain a great value." Admission to the park is just $10, with unlimited ride tickets ranging from $20 to $30 depending on the day of the week, and advance discount tickets sold at Atlanta area Walgreen's stores.
The park also honors unique populations with special days, including this year's Senior Citizen and Hero's Day, where seniors 55 and older and all active, reserve or retired military veterans, law enforcement, firefighters and first responders are admitted free with valid identification. "We wanted to find a way to say thank you to all the heroes who are active in our community, so Heroes Day was born," says Miller, who adds that students and special needs citizens receive discounts on certain days. "We also give back to local charities such as the Calvary Children's Home, and the last three days of the fair people can get in free if they donate seven canned items. Last year we provided MUST Ministries with 38,000 pounds of canned goods."
Benefiting the Community
In addition to giving back to the community and ensuring that every family can partake in the fun, proceeds from the fair also go toward capital improvements that ensure the park, which was developed in 1969 and is located off I-75, remains a destination for fair fun for generations to come. Past fair sponsors and community patrons include the Georgia Lottery, Superior Plumbing, the The Fish, The Bull, WSB, Atlanta Parent, Marietta Daily Journal, Coca-Cola, Cobb EMC, Dasani, Verizon, Chick-fil-a, Williamson Bros. Barbeque, Mayfield Dairy Farms and Carl Black Automotive Group. For Fortune 500s and popular local businesses alike, the North Georgia State Fair is a great way to get in touch with local residents and build relationships that will last for years to come. "Fair sponsorship is a great thing for businesses because a lot of advertising takes place during the fall season," says Miller. "They get the opportunity to create millions of impressions with customers."
With a dynamic entertainment line-up and an emphasis on innovations designed to enhance the quality of festivities year after year, the North Georgia State Fair is poised for a bright future lasting well beyond its already seasoned 83 years. "The fair has really become a Cobb tradition because it's such a great time for the whole family," says Miller. "We can't control the weather and we've had some rough years weather-wise in the past, but the people have come regardless, and we hope that this year will be another one to remember."
For more information about this year's event, including dates and times, schedules, and more, visit Marietta.com/North-Georgia-State-Fair.