Cobb schools, both public and private, are offering the technology to students as well. The Cobb County School District, for instance, has 3D printers that are used for engineering and technology classes in 12 middle schools, Campbell Middle, Daniell Middle and Simpson Middle just to name a few; and three high schools utilized the technology for engineering course: Lassiter, Pope and Wheeler. Printers are also available at Tritt, Clay, King Springs and Keheley elementary schools. Students use them for projects like a left/right brain model for a science fair experiment, making objects that interact with a robot and creating the shapes of continents for first-graders.
At The Walker School in Marietta, Dr. Nate Brady says the school's first 3D printer was actually assembled by a student. "One of our students was interested in it, so we purchased the kit and let the student put it all together and got it working," he says. Brady teaches AP Physics and an Honors Electricity and Magnetism course to high school students.
The two printers at Walker are mostly used in Brady's engineering class. At the end of the year, students are responsible for designing a project on the computer, creating a prototype and printing out the object. "One of the group projects was a manual dog feeder," Brady recalls. "They developed part of a timer. They modeled the feeder in SketchUp, a 3D modeling software, and then printed it on the 3D printer … It was a really cool project."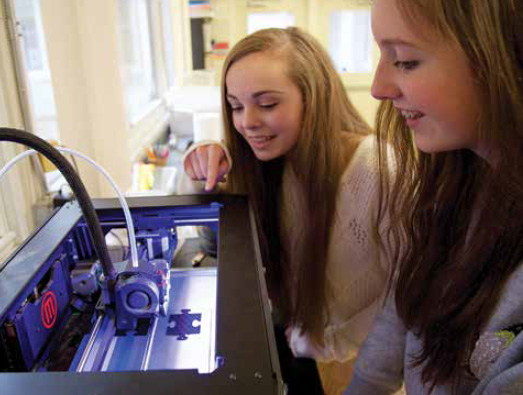 High school students mostly use their printers, but Brady says there have been a few middle school students who have tried the technology. A lower school teacher is also looking at purchasing one for her elementary classes. "It's been great having access to this technology, especially for our students," he says. "For instance, one of my advisory students recently lost the mouthpiece to her trumpet and we just printed out a new mouthpiece. She put it in and it worked fine. It's just really great to have the opportunity to make things when you need them. But outside of class, I also recently had a student whose grandfather worked on a battleship for a while, so the student designed the battleship and printed out a two-scale model of the battleship. It's been great for our students to be able to come in, design and build these kinds of things."
Brady adds that it's important for Walker students to learn how to utilize 3D printers because they are becoming almost mandatory for anyone looking to pursue a career in engineering. "Pretty much any product has been designed on the computer and printed on a 3D printer, so for our students to be able to experience that in high school is just phenomenal," he concludes.