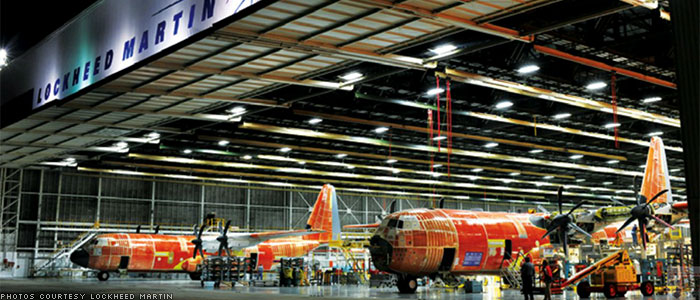 The Diamond Jubilee
Even though it's only been four years since I moved to Cobb County, I can't even begin to muster up the number of times I've met someone who either works at Lockheed Martin Aeronautics in Marietta, retired from there and/or moved to this area because of the company. Additionally, most of those current or former employees have been such a pleasure to meet and hear their great stories from working there. It's those kind of people who you know love or loved their jobs and appreciates their company, in my opinion.
Lockheed began operations here in 1951, and it's where some of the best engineers in the world design and build some pretty impressive military aircraft for clients all over the world. Specifically, Lockheed's Marietta site assembles the C-130 Hercules transport and F-22 air dominance fighter, and this location is also responsible for the C-5 Galaxy and P-3 Orion program operations, including the new wing production line and the center wing assembly for all three variants of the F-35 Lightning II.
While each of the programs and creations at Lockheed are quite stunning, this years marks quite an important one for the C-130—it's 60 years old! The first production of this massive aircraft was built in our own backyard at 86 South Cobb Drive. I've had the pleasure of touring the site, and I can honestly say that it was one of the highlights of my career as a writer. Just imagine a production line the length of multiple football fields with these extraordinarily GINORMOUS planes, approximately 113 feet in length and almost 40 feet tall, lined up one after the other in a production line. I felt like a kid in a toy store for the first time—in the back of my mind wondering if I could take a ride in one of them some day. It's one of those images that's pretty tough to get out of your head, and the fact that these beasts are built right here in the heart of Cobb is pretty cool, especially for this small-town girl whose idea of aviation is a make-shift airport where crop-dusters land.
In hopes to get a little more insight into this "diamond jubilee" celebration, I asked two of the Marietta-based company's top execs what it means to them, Lockheed and, most importantly, Cobb County for the C-130 to call Marietta home. "Since its debut in 1954, the C-130 has proudly lived up to its reputation as the world's airlifter workhorse by supporting the needs of the 70 operators who fly it around the world," says George Shultz, vice president and general manager of the C-130 programs. He has worked at Lockheed for more than 30 years.
"From dirty landing strips in war zones to hurricane-ravaged airports, the C-130 has always been there and will continue to go wherever it's needed to support our customers and the missions they fly. Hercules' first 60 years have been defined by a commitment to the customer, to the men and women who have built and maintained its worldwide presence and to humanity as it has saved many thousands of lives. I'm excited to reiterate this commitment for the next six decades of Hercules' operations."
Shan Cooper, vice president and general manager of the Marietta Lockheed site, agreed that it's been extraordinary to be a part of the local team building the C-130. "The heritage and promise the C-130 Hercules embodies represents the spirit of innovation our employees pledge every day to our customers around the globe," she says. "We're proud to call Cobb County home and thankful for more than 60 years of great support from our community friends and neighbors." Cooper has been with Lockheed for 12 years.
So, if you know someone who has worked or works at Lockheed, congratulate them on being a part of a team that's celebrating six decades of designing and building a product that's served not only the service men and women in our country, but those all around the world.
Happy 60th Birthday, Hercules!