The 2014 Taste of Marietta takes place Sunday April 27, 2014 from 11am to 7pm. The annual event takes place in the historic Marietta Square and features over eighty restaurants and caterers showcasing their best food. Tastes range in price from just $0.50 to $5.00. In addition, there are five live music stages and a sunset concert on the Main Stage in Glover Park. The event also features games for the kids in the Kid's Alley, a sports corner as well as a cooking stage with celebrity cheifs' cooking demonstrations. The Taste of Marietta takes place rain or shine, and admission is free.
Date and Time:
Sunday, April 27, 2014 from 11am to 7pm.
Cost:
Admission to the event is free, tastes range from $0.50 to $5 each. Unlike other festivals, tickets are not required and it is a cash-based festival. ATM machines are available. Inflatables/moonwalks in the kids corner are also available for a fee.
For more information, please contact the Marietta Welcome Center & Visitors Bureau at (770) 429-1115.
List of Participating Restaurants in 2014:
120 Tavern and Music Hall
Australian Bakery Café
Bojangles'
Bruster's Ice Cream-Lower Roswell
Chicken and the Egg
Chocolate & Spice Eatery
Cold Stone Creamery
Cool Hawaiian Shaved Ice & Smoothies
Dairylicious Treats
Dave Poe's BBQ
Deep Fried Brownies
Exotic Tropic Caterer
Five40 Kitchen and Socialhouse
Fox Dogs
Funnel Cakes-N-More
Fusco's Via Roma Italian Trattoria
Gabriel's A Restaurant & Bakery
Grand Champion BBQ
Granny's Old Fashioned Lemonade
Greek Tavern
Harry's Farmers Market
Henry's Louisiana Grill
Hoof & Ale
Hottie Hawgs BBQ
House of Lu
Jerk O' Delicious
JiBouTe Cajun Café
Joe's & Glo's Hawaiian Shaved Ice
Keegan's Public House
King of Pops
Knight Catering
Little Jimmy's Italian Ices
Marietta Pizza Company
McAlister's Deli
Mellow Mushroom Pizza of Kennesaw
Minas Grill
Natty's Jamaican & Soul Food
Ocean Fresh & More
On The Border
Pier 213 Seafood
Pressed Panini Bar
Quiznos at Sprayberry
Red Sky Tapas & Bar
Rib Ranch BBQ
Sarah Jean's Ice Cream
SEED Kitchen & Bar
Shillings on The Square
Smallcakes Cupcakery
Sugar Cakes
T&D Sweet Treats
Taqueria Tsunami
The Butcher The Baker
The Fresh Market
The Local
The Melting Pot Restaurant
Tropical Delights Little Jimmy's Italian Ice
Williamson Bros BarBQ
Zaxby's
Food Trucks
Big Shanty Smokehouse
Bollywood Zing
Chef La's Fish Fry
Freckled & Blue
Gotta Have It
Kona Ice Midtown
Looie's Fudge Puppies & More
Philly Connection
Polar Snow Concession
The Atlanta Burger Truck
Parking:
The Cobb County Parking Deck (enter from Waddell Street), all county court lots, and the Mill Street lot are available. The county parking deck and the Mill Street lot are free, county court lots are privately owned and parking fees may apply.
Cobb County Parking Deck
Waddell Street entrance
Hansell St NW & Waddell St NE
Marietta, GA 30090
Mill Street Parking Lot
Mill St & Denmead St NE
Marietta, GA 30060
Additional parking is available at Marietta Middle School with free shuttles provided by the Historic Marietta Trolley from 1pm-7:30pm.
Marietta Middle School
121 Winn Street
Marietta, GA 30064-2255
PLEASE NOTE: Parking for Taste of Marietta at Marietta Square area churches, including First United Methodist Church and Marietta First Baptist Church is not permitted. The churches have many activities this day and their lots are for their parishioners.
Festival Address:
Taste of Marietta
Historic Marietta Square and Glover Park
50 Park Square
Marietta, GA 30060
More information:
For more information, please contact the Marietta Welcome Center & Visitors Bureau at (770) 429-1115.
Restaurant and food vendors can call Katie Peterson at (770) 429-1115.
Sponsors, non-food vendors and media can call Maryclaire Andres at (404) 388-6975.
More information is available online at: www.TasteOfMarietta.com
For more information, please contact the Marietta Welcome Center & Visitors Bureau at (770) 429-1115.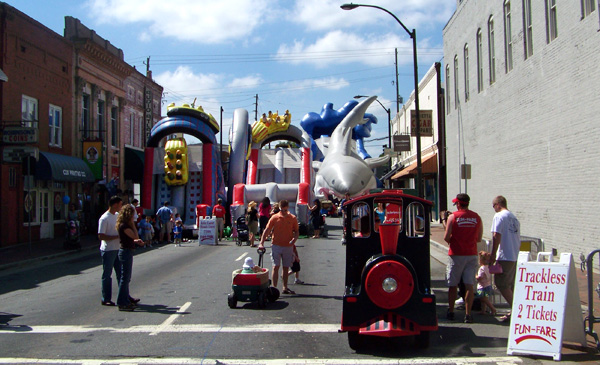 About Taste of Marietta:
Taste of Marietta is an annual food festival that takes place on the last Sunday in April. Attracting over 100,000 people last year, it is the longest running and largest food festival in Cobb County. The event takes place in historic Marietta Square and also includes live entertainment, a kids alley, a sports corner, as well as close proximity to the numerous shops and museums in the surrounding square.
For more information, please contact the Marietta Welcome Center & Visitors Bureau at (770) 429-1115.