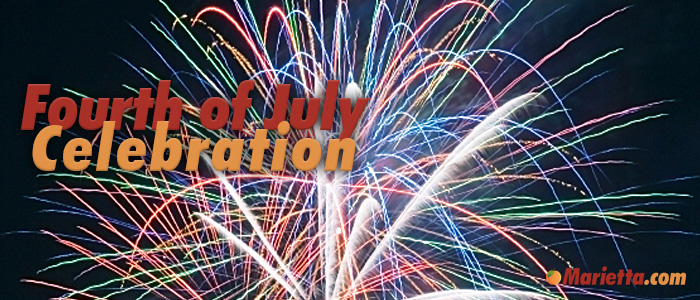 Come out and celebrate America's independence as the City of Marietta hosts the 2015 Fourth in the Park celebration beginning on Saturday, July 4, 2015 at 10am. The Independence Day celebration begins with the Marietta Freedom Parade that starts at Roswell Street Baptist Church and continues west on Roswell Street, then north on East Park Square past Glover Park, then down Cherokee Street, and ends at North Marietta Parkway.
The parade features marching units from local bands, civic organizations, beauty pageant queens, scouts, local businesses of all types, and much more. After the parade there will be free live concerts and entertainment, museum tours, food, arts and crafts, carnival games, and of course fireworks.
2015 Schedule:
10 am – Marietta Freedom Parade
10 am – 9pm – Festival
Noon-2 p.m. Scott Thompson
2 p.m. National Bell Ringing Ceremony
2:15 p.m. Float Contest Awards
2:30 p.m. Atlanta Concert Band
7– 8 p.m. Twisted Whiskey
8-9:30 p.m. David Fanning
Fireworks at Dark
The parade spans a 1.5 mile route beginning at Roswell Street Baptist Church and heads west on Roswell St, then north on East Park Square through Marietta Square, then down Cherokee Street and finishing at North Marietta Parkway. The parade features more than two thousand participants in more than one hundred entries, and there will be an estimated thirty thousand people in attendance. Watch as local businesses, civic organizations, beauty queens, bands, scouts, National Guard, and numerous floats participate and compete for prizes based on design, color, theme, appearance, originality, and riders and costumes.
The Arts and Crafts show features more than eighty different vendors showcasing a wide variety of products. The vendors will be open from 10am to 9pm.
Food will be available from a variety of concessions beginning at 10am. Marietta Square restaurants will also be open for business.
Carnival games are available throughout the park at Marietta Square from 10am-9pm; tickets for games available at booths located throughout the park.
Fireworks light up the sky and patriotic music fills the air at dark.
For more information, please call the Marietta Parks and Recreation department at (770) 794-5601.
For the weather related updates, please visit the following links: