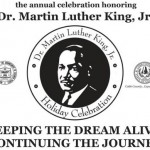 The Cobb County Branch of the NAACP together with the Cobb County Government are hosting the annual celebration honoring Dr. Martin Luther King, Jr.  The Dr. Martin Luther King, Jr. holiday celebration takes place on Monday, January 18, 2016 at 10 am. The event takes place at a new location this year, the Turner Chapel AME Church.
The event is free and open to all, and the theme is "Pursuing Liberties in the Face of Injustice." The celebration features entertainment and the annual presentation of the "Living the Dream" award to a community member who demonstrates the ideals King exemplified.
Date:
Monday, January 18, 2016
Time:
10 am
Admission:
Free
Address:
Turner Chapel AME Church
492 North Marietta Parkway
Marietta GA 30060
For more information, please call the NAACP Cobb County branch at (770) 425-5757.