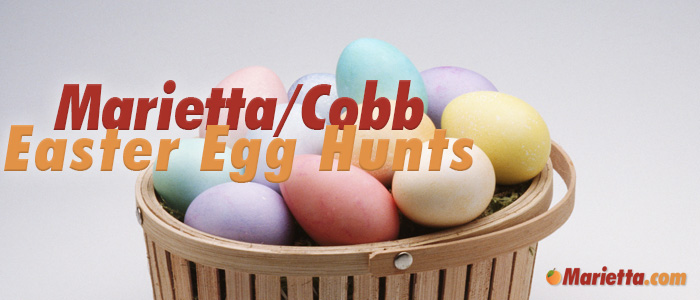 The Easter Bunny is hopping to town, and he is bringing plenty of eggs, candy, games, and fun for the whole family. Check out the Marietta.com Easter Egg Hunt Guide below to find a hunt near you!
April 11, 2014
6:30pm – 9pm
Acworth Easter Egg Hunt
Acworth Sports Complex
4000 South Main Street
Acworth, GA 30101
(770) 917-1234.
The Easter Egg Hunt will include over 20,000 eggs filled with toys, candy and prizes.
Acworth.com/acworth-easter-egg-hunt/
March 27, 2015
6:30pm – 9pm
Marietta Easter Egg Hunt at Laurel Park
151 Manning Road
Marietta Ga 30064
(770) 794-5601
Sponsored by the Marietta Parks and Recreation Department, the Easter Egg Scramble features plenty of great candy and fun prizes for all. The hunt is divided into groups based on age, and after the hunt you can visit with the Easter Bunny for great photo opportunities.
Marietta.com/laurel-park-easter-egg-hunt
April 13, 2014
1:30pm – 2pm
East Cobb YMCA Easter Egg Hunt
1055 East Piedmont Rd. NE
Marietta, GA 30062
(770) 977-5991
Easter Egg Hunt ages 8 and under: See the Easter Bunny and hunt for prize-filled eggs! Bring your camera and Easter baskets. Held inside if it rains. Please arrive on time as this is fast and furious event.
Marietta.com/east-cobb-ymca-easter-egg-hunt
April 19, 2014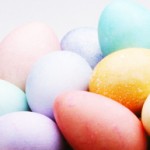 10am-2pm
Cobb County Easter Egg Hunt (The Hunt)
Cancelled due to rain, there will be no make up date.
Jim Miller Park (The 2011 location of the Egg Hunt was Cobb Safety Village)
2245 Callaway Rd
Marietta, GA 30008
(770) 528-8875
The Egg Hunt features also features children's art activities, live entertainment, inflatables, concessions, and more. You can also visit with the Easter Bunny and participate in the Mad Hatter contest.
Marietta.com/marietta-easter-egg-hunt
April 19, 2014
10:30am – 1:00pm
Eastside Baptist Church (registration required)
2450 Lower Roswell Rd.
Marietta, GA 30068
770-971-2323
2,000 screaming kids running/scrambling out onto a field that a Helicopter has just flown in and dropped 20.000 Easter eggs stuffed with prizes. There will be a live critically acclaimed Latin band playing music, inflatable games, face painting, food, and more!
ebcfamily.org/egg-scramble
April 19, 2014
9am-10:30am
Mt. Bethel United Methodist Church
The 2014 Easter Egg Hunt has been cancelled due to rain-soaked fields.
4385 Lower Roswell Rd.
Marietta, GA 30068
(770) 971-2880
Mark your calendars for this fun family event! The Egg Hunt is for ages 2 through 2nd grade. There will also be a Petting Zoo, the Easter Bunny, and other fun family activities.  Egg Hunt for ages 2-4 (Fields) – 9:15am, Egg Hunt for grades K-2 (Fields) – 9:45am.  Reservations required. Bring one dozen pre-filled eggs per child to the church before the event. Find the golden eggs and collect a prize.
mtbethel.org/event/easter-egg-hunt/
April 19, 2014
10am-5pm
Northeast Cobb Community Egg Drop
Sprayberry High School
2525 Sandy Plains Road
Marietta, GA 30066-5799
(770) 423-1330
In addition to thousands of eggs on the field, thousands more will be dropped from a helicopter. So bring the family and enjoy TONS of candy, inflatables, face-painting, pictures with the Easter Bunny, lots of vendors, and fun for all ages!
http://www.marietta.com/northeast-cobb-community-egg-drop
April, 2014
Photos with the Easter Bunny
Town Center at Cobb (Center Court)
400 Ernest W Barrett Pkwy
Kennesaw, GA 30144
(770) 424-0742
The Easter Bunny will be here in March for photos and visits. He will be located on the Lower Level in the Center Court. Photo packages are available for sale.
http://www.simon.com/mall/town-center-at-cobb
March 30, 2013 (No Kennesaw egg hunt for 2014)
10am to 12pm
Kennesaw Easter egg hunt
Adams Park Softball Complex
2600 Park Drive
Kennesaw, GA 30144
(770) 422-9714
The Kennesaw Easter egg hunt begins promptly at 11am so bring the kids to hunt for thousands of colorful wrapped candy treats and goody-filled eggs (including a few "lucky" eggs that can be redeemed for larger prizes).
Kennesaw.com/kennesaw-easter-egg-hunt
If you know of any Cobb County Easter Egg Hunts we are missing for 2014, please let us know in the comments below. Happy hunting!