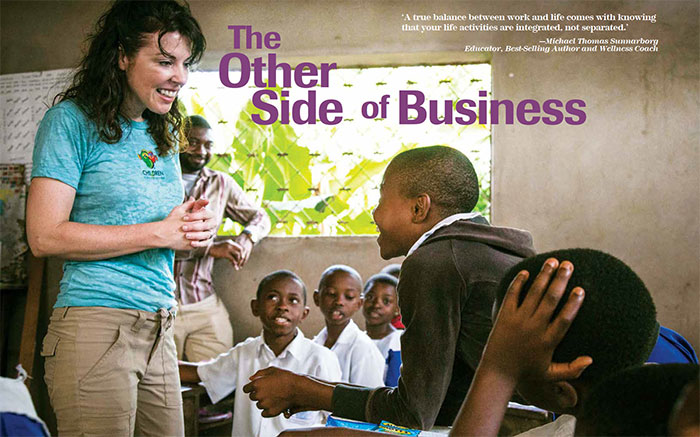 Sometimes, the journey to balance work and life can lead to inspiring and adventurous places, as many Cobb professionals well know, because when you wake up every day energized and ready for your nine-to-five, you know you're in a good place. But when you have something equally fulfilling waiting for you after work, every day becomes that much more rewarding; and often, what we do for a living and what we live to do end up being mutually beneficial.
Ellen Springer, accountant, business consultant and president of Kennesaw-based Springer & Company, CPAs, PC, was helping her dad soap wood screws to build an 18-foot wooden boat at the young age of 5 when she learned that to build something big you need to have a plan, tools to make it happen and perseverance when things don't come together the way you thought they might. "It takes time to build something the right way so it will last," Springer says. "If you don't know how to do something, you have to be willing to learn about it and then you figure it out. Or you find someone to help you get it done. When it is built, then you enjoy what you built." Sailing on the finished Ellie V, which was named after her, and learning to race taught Springer many lessons that have served her well in her business.
For the Greater Good
Michele Stumpe, an attorney and partner at Taylor English Duma LLP in the Cumberland area, was volunteering at a sanctuary in Limbe, Cameroon, for several years, donating her time and money for various small projects when in 2009 she became aware of the extraordinary sacrifices workers and their families would make to be able to pay for even one child to be educated through the eighth grade. That same year, Stumpe won a very large verdict and she and her husband Kerry took their portion of the earnings and started a foundation with the primary focus being a scholarship program, which was later converted to a 501(c)3 and renamed Children of Conservation. Stumpe was inspired by a man named Jonathan, the first child from his small African village to finish high school and attend a university, who came across the Limbe Wildlife Centre sanctuary and became so passionate about conservation and education that he determinedly worked his way up from an eager free laborer to the head keeper.
"We started this program because we saw a strong desire from the workers to educate their children and recognized that these scholarships would not only be a tremendous benefit to working at the sanctuary, but that these kids—by virtue of being part of the 15 percent of the educated population—would eventually become leaders who could help promote social change in the way conservation is viewed in their countries," says Stumpe. The program started by awarding 15 scholarships to children ranging in ages from 8 to 15, and today they have more than 100 children in the program.
Children of Conservation is dedicated to the conservation and protection of endangered species in third world countries through education, habitat preservation and wildlife sanctuary support. In many African countries, there is no public education past the second grade. "Private education is not economically feasible for 85 percent of the population, particularly workers at wildlife sanctuaries as they make a very small salary despite the importance of their work," Stumpe explains. "We work with the sanctuaries and provide educational funding for the children of the workers who qualify based upon grades, attendance and involvement in the sanctuary's children's conservation programs."
Stumpe's involvement in Africa has tied closely to her day job in Cobb, and from there, it has blossomed to start other noble causes. "I am an attorney. There is a unique connection," she explains. "Much of my work is in the hospitality industry—I do a lot of alcohol licensing and compliance work, in addition to my litigation practice. When my husband and I started having fundraising events, my hospitality clients were the first to offer their support." A couple of years later, a chef of one of her clients was diagnosed with stage IV cancer. Because of Stumpe's nonprofit background, the owners asked for advice on how to raise money for their friend. They started The Giving Kitchen, a nonprofit that benefitted their friend and now helps any member of the restaurant industry facing an unanticipated hardship. "Now, the fundraising efforts that we started for Children of Conservation are joint fundraising events that also benefit The Giving Kitchen," Stumpe says. "It's a great way to let Children of Conservation give back to those who supported us when we first started."
For the Love of Music
Sometimes, all you need is a little get-together after work with long-time friends and a few instruments to unwind. Stephen Steele, an attorney with Moore Ingram Johnson & Steele, LLP, in Marietta, was a founding member of the band NDA in 2012. Others at that time included Tommy Riddick and David George, whom Steele played in the progressive rock band Suntower in the 1970s during their high school years in Memphis. The trio fell apart when Riddick, who is now retired from working as a financial analyst and plays drums for NDA, relocated to Atlanta, while George established a career in marketing and consulting with Stibo Systems, Inc., in Kennesaw where he still works today when he is not playing guitar or singing. All three had raised families and had grandchildren on the way.
Steele and Riddick had been away from music for about 30 years when they finally reunited, but after acquiring some instruments, practicing at Steele's house in Marietta and six months of writing, the band of three played their first gig. This past January, two former Suntower band members, Markham White, an IT consultant, and Gene Crosby, who works in logistics, joined the newly-formed NDA—White as a guitarist and singer and Crosby as the sound engineer. The five-man group played its first show on July 4 in downtown Marietta during an outdoor park near the Marietta Square.
Steele, who plays keyboards for NDA, says switching gears to music from his 35-plus years practicing law has been great. "Playing progressive rock music is challenging from a number of perspectives," Steele says. "It is good to have the camaraderie and reconnection of friendships." His band mates run the gamut in the professional sector, from law and IT to logistics and a retired financial analyst.
"Our band, NDA, is really a celebration. If people could just know the joy of being able to get together with their college buddies 40 years later almost every weekend and have fun and enjoy each other's company after all this time, they'd know exactly what I mean," George says. "I really think that's what makes our group special—the fact that our lives are so intertwined, our families are connected and we share so much of life together besides music. We're not just four random older guys that got together to play some hits; we actually have taken a song list from when we were in college and now were duplicating it, and it is just a lot of fun. Frankly, our only goal is to enjoy this is as long as we can and share some peace, love and music with anyone who's willing to listen; but most of all, we're just having a good time among friends."
For Success and Service
In addition to life as a CPA, Springer is the author of "Turn Your Passion Into Your Dream Business." Her day-to-day involves helping business owners keep more of what they make, meeting with clients to determine their unique challenges and charting courses for her clients to continue succeeding in the future. But since she was 19 years old, racing sailboats has been an equally large part of Springer's life. "In Ft. Myers Beach, [Florida], the sailing club had a Ladies Race and a woman had to be at the helm all day-—a man couldn't touch the helm during the race, but the women were yelled at all day," she recalls. "So, at 19 I decided that I wanted to race in that race with an all-girl crew and the rule would be no yelling. My father agreed to let me take our 25-foot sailboat and race it without him."
The night before the race, a man noticed Springer's name as skipper and objected to her all-girl crew, saying a man had to be on board in case something went wrong. "I was shocked," she says. "My dad believed in me, why didn't they? My dad stood up and said, 'I am the one that has the money invested in the boat. If I don't have a problem with it, I don't expect you to have a problem with it.' Everyone finally agreed to let me do it; we didn't win the race, but we finished it and we learned so much. Now, they have race classes of all-girl teams all year long, not just special races, and no one thinks anything about it. But I was willing to take a chance and to be the first."
Boating is still very much a part of Springer's life whenever she can get to the ocean. "Now, I also play tennis several times a week," she says. "I apply what I learned about racing sailboats, working with my partner, applying strategy and assessing opponents and partners skills and figuring out how to win each match, putting everything on the court to win." For her, many principles of racing sailboats can be applied to her work with clients daily—everything from making sure she and her team are ready for the race and are in the best position to succeed to having a strong leader/skipper at the helm and studying the course of the race to better be able to adapt.
"After the race, we would sit around eating and drinking, laughing, talking about what went right and what went wrong," Springer says. "Other boat team members would come and ask how we did things and we would ask them, too. We would learn from the race and then apply those lessons to the next race." From emphasis on communicating with her crew and trusting her gut, to being ready for a sudden change of wind at any time, Springer is more prepared to best perform at work and benefit others because of her love of sailing and racing.