Editor's Note:  This article was written in 2015.  If you are looking for this year's selection, please visit our summer camp directory.
---
Cobb County has no shortage of great options to keep your children active and engaged this summer. As the South grows warmer, camps are in full swing; whether you've got a craft lover or a future athlete to keep busy, schools and organizations throughout the county have camps and programs that are sure to be a perfect fit. With registration dates in mind, look through these options with your child and they're sure to be entertained all summer long.
Primrose School at Macland Pointe and Sprayberry
Programs: Activities and field trips are themed such as Inventions and Robotics, Quiet on the Set, Beyond the Backyard, Medieval Times, Music Hall of Fame, The Science of Cooking, Scrapyard Crusades and many more.
Hours: 6:30 a.m.−6:30 p.m.
Registration: Enrollments are taken throughout the summer. Parents can pick and choose the weeks they want their children to attend.
Start/End Dates: May 26−July 30, 2015
Highlights: Children attending Primrose summer camps learn a lot but are having fun in a structured, engaging and safe environment. The themes are very imaginative and there is something for each child. There is a structured curriculum that keeps the children engaged during this entire time and field trips are two to three days per week and usually occur in the first part of the day. The Gym Station program that comes once per week in the summer and delivers outside Olympic-type events that are not traditional sports, but physical group challenges. It's a fun-filled summer that engages, teachers and challenges children in a nurturing, esteem-building, safe environment.
primroseschools.com/schools/macland-pointe; primroseschools.com/schools/sprayberry
(770) 425-0035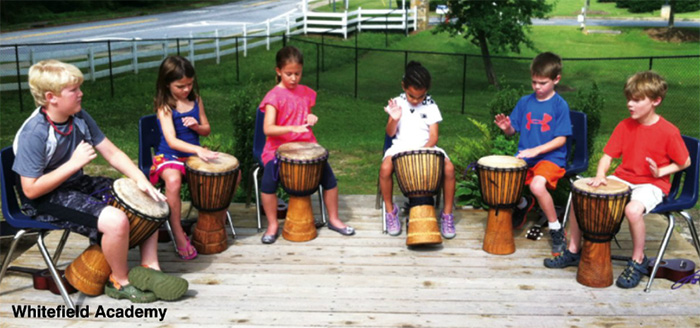 Whitefield Academy
Programs: Sports, arts and academic camps are available. Camps include drama, princess, basketball, Spanish, writing, grammar, phonics, driver's education, athletic training, archery, college essay writing, softball, volleyball and much more.
Hours: 8 a.m.−3 p.m. with before-care starting at 7:30 a.m. and after-care until 6 p.m.
Registration: Begins in January and ends May 26
Start/End Dates: May 26−July 31, 2015
Highlights: Whitefield Academy's summer camps are unique because they are designed to enrich the lives of young people in a fun way with teachers that are passionate about teaching. These specialty camps are taught by high-caliber educators that are so passionate about teaching, they choose to run a Christ-centered summer camp during vacation. On average, Whitefield has about 40 campers each week, which allows for some great relationship building and really fun field trips. Last year, they had more than 400 registrations.
whitefieldacademy.com; (678) 305-3000
The Walker School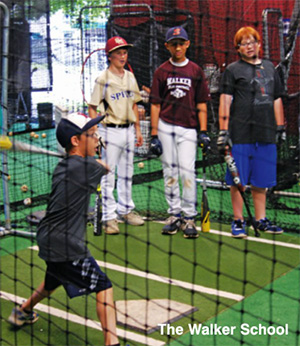 Programs: More than 40 camps are offered for ages 3−18, with sport options such as lacrosse, baseball, football and fun with sports; academic enrichment camps to strengthen study skills, math competency, reading fluency and proficiency with robotics and programming; and arts opportunities such as sculpture, portrait drawing, drama and more. Summergraten for ages 3−5 and Summer Explorers for ages 6−10 run all day.
Hours: Half-day camps, 9 a.m.−noon or 1−4 p.m.; day camps, 9 a.m.−4 p.m. with before and after care options
Registration: Opened January 30, 2015 at thewalkerschool.org
Start/End Dates: June 1−July 24, 2015; closed during the week of July 4, 2015
Highlights: Often the most special part of summer camps are the people who put it together; these leaders are not required to offer summer camps, but instead return year after year because they love what they do. The summer faculty is a team of professional teachers, coaches and experts in their fields who demonstrate a genuine interest in cultivating the individual strengths and interests of the campers. Their enthusiasm is contagious and reflected in the comments overhead from campers as they leave at the end of a day of camp.
thewalkerschool.org; (770) 427-2689
North Cobb Christian School
Programs: Camp Eagle features field trips, crafts and fun while sports, arts and academic camps are also offered
Hours: Full-, half- five-, three- and one-day camps are all available
Registration: Opened in January and is ongoing through the summer
Start/End Dates: May 26−July 31, 2015
Highlights: Camps at North Cobb Christian provide a place for kids to grow in a safe and nurturing environment while making new friends and learning new skills.  As a Christian school, the ultimate goal is for campers to grow in their relationship with Jesus Christ. Many longtime friendships are cemented through the activities and experiences provided in these summer camp opportunities. It's a wonderful testimony for these camps to see hundreds of kids that return year after year.
ncchristian.org; (770) 975-0252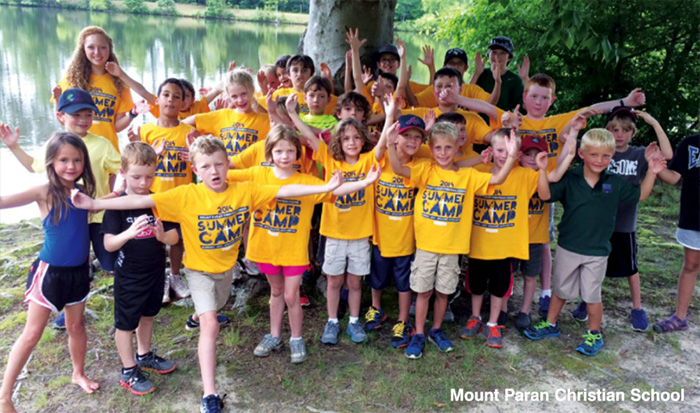 Mount Paran Christian School
Programs: Sports camps include football, tennis, volleyball and more; arts camps include Shakespeare Superheros, mixed media, Once Upon a Ballet and Act, Sing, Dance!; academics offered include LEGO FUNdamentals, Mad Scientist, math, AP Writing and more; as well as "Faith and Fun" camps and even pre-K camps.
Hours: 9 a.m.−noon and 1−4 p.m.
Registration: Ends July 27, 2015
Start/End Dates: June 1−July 31, 2015, depending on the camp
Highlights: Most of the camps at MPC are led by teachers or staff members from the school. This means that many of the students/campers already know the camp leaders and already have a great relationship with them. It also allows any prospective and new students to meet some of the faculty before attending school at Mount Paran in the fall. Camp leaders typically return each summer to run their camps, so many children have participated in these camps for five or more years. MPC also collaborates with a few outside programs to run arts, athletics and academic camps that fulfill the needs of the students, such as ballet, acting, sports and engineering camps.
mtparanschool.com; (770) 578-0182