The first annual "Sounds of LIFE" Concert Series takes place in the Life University outdoor amphitheater, Lyceum Park. The event is a collection of three unique concerts in a 'Chastain' type experience. Attendees of all ages can bring a blanket, lawn chair, or buy a reserved seat to this annual Thursday night monthly concert series.
"The concert series will bring the community onto the campus to enjoy just how beautiful it is — with summer evenings of music, fun, food and friends. Our amphitheater — in Lyceum Park, right out in front of our Administration Building — is perfect for music concerts, with beautiful grounds, reflecting pools and fountains to enjoy.  As for the music, the bands will have wide appeal across several genres. And, this is what's most fun about them: they're all up-and-coming local artists who are poised to hit it big in the music industry. A few years from now, people who attend the Sounds of Life Concert Series will be able to say, 'I knew them when,'" said Cynthia Boyd, vice president for enrollment and marketing at Life University.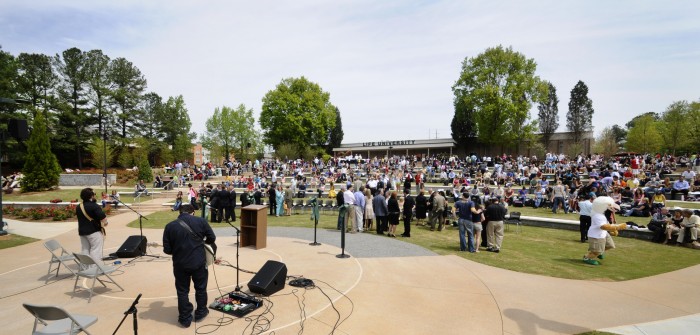 Building on the tradition "Lights of Life", what better way to end summer and begin the fall season than an inviting experience in the beautiful outdoor setting of Life University? Select companies and specialty food trucks participate in the series and offer dinner or picnic options while music resounds from the outdoor stage. Red Hare Brewery is hosting a VIP Beer Garden complete with appetizers and more. In addition, options are available for reserving a VIP Cabana for select sponsors and individuals. It's a fun way to experience 'Life' and all of the beauty that the outdoor setting has to offer.
Schedule:
Tui Osborne & Riley on Thursday, August 21, 2014 from 6 pm to 9 pm
Lauren St. Jane and The Bama Gamblers on Thursday, September 11, 2014 from 6 pm to 9 pm
Fools Mosaic & Seven Handle Circus on Thursday, October 30, 2014 from 6 pm to 9 pm
Tickets:
Tickets start at $10 per person and are available at life.edu/soundsoflife
Address:
LIFE University Campus
1269 Barclay Circle
Marietta, GA 30060
For more information, please visit life.edu/soundsoflife