In response to the Coronavirus (COVID-19) outbreak, some Marietta stores, including Whole Foods, Target, Publix, Kroger, Trader Joes, Aldi, and Walmart, are now offering shopping times exclusively for seniors and those with underlying medical conditions.
Whole Foods is open for seniors 60+ one hour before they open to the public.  The Merchant's Walk location is open daily from 8am to 8pm, so senior hours start at 7am each day.  From a recent press release. "We are setting aside this time to help these customers, who national health authorities have identified as among the most vulnerable to COVID-19, feel more comfortable shopping our stores and helping to ensure they are able to get the items they need in a less crowded environment."
Target is reserving the first hour of every Tuesday and Wednesday morning for seniors and those with underlying health concerns.  The Cobb NE Target on Shallowford Road, and the Marietta East Target on Johnson Ferry are open daily from 8am to 9pm, so senior hours are from 8am to 9am each Tuesday and Wednesday.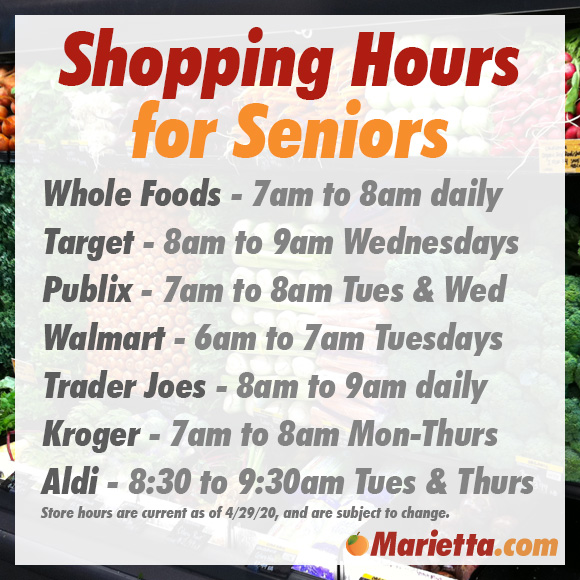 Publix is open early twice a week for seniors to shop early.  Each Tuesday and Wednesday, Publix and the Publix pharmacy will open to seniors age 65+ from 7am to 8am.  Regular store hours are 8am to 8pm.  In addition, Publix is designating Thursday evenings from 8pm to 9pm, and Friday mornings from 7am to 8am, as special shopping hours for first responders and hospital staff. Publix Pharmacy will also be open during these times.
Kroger is offering exclusive shopping for seniors from 7am to 8am every Monday through Thursday.  Regular store hours are 8am to 9pm daily.
Walmart will host an hour-long senior shopping event for customers aged 60 and older from 6am to 7am every Tuesday. The Pharmacies and Vision Centers will also be open during this time.  Walmart is open from 7am to 8:30pm daily.
Trader Joes is open to senior customers (age 60 and over) and customers with disabilities who may need extra assistance from 8am to 9am.  The store is open daily from 9am to 7pm.
Aldi on Roswell Road opens at 8:30am on Tuesdays and Thursdays and reserves the first hour of business for vulnerable shoppers (senior citizens, expectant mothers and those with underlying health concerns).  Aldi is open daily from 9am to 7pm.
Wholesale clubs are also offering special hours for seniors.  Costco is open to members 60 years and older every Tuesday, Wednesday and Thursday from 8am to 9 am.  Sams Club is open  every Tuesday and Thursday from 7am to 9am. Sam's is also offering "Hero Hours" for health care workers and first responders on Sundays from 8am to 10am.
Store hours are subject to change and are current as of 5/1/20.  Before shopping, please visit the following websites to confirm store hours.
Whole Foods
WholeFoodsMarket.com
Target
Marietta East
Target.com
Cobb NE
Target.com
Publix
Publix.com
Walmart
Walmart.com
Trader Joe's
TraderJoes.com
Kroger
Kroger.com
Aldi
Aldi.us