Protecting Cobb's seniors at home, in the community and online
There are many factors of safety and security issues in today's highly digitized society; with financial accounts becoming more mobile for the sake of convenience, channels are created every day to breach security and run scams. While it is not unlikely for the most tech-savvy to fall into Internet scams, seniors in particular are at risk for a multitude of reasons. From giving out credit card information over the phone to email scams and account fraud, things are getting complicated and seniors must be guarded against these potential pitfalls.
Many Cobb leaders are heavily involved in helping protect seniors across all platforms, including Jason Marbutt, assistant district attorney with Cobb Judicial Circuit, who handles white collar, elder abuse and public integrity. "My job is to say 'enough.' My job is to say 'not here, not now, not ever,'" he says. One of his many specialties is elder abuse, neglect and exploitation. "If I could personally prosecute every case involving elder victims, I would, but the sheer volume of cases means that every assistant district attorney in the office deals with these types of cases. The proliferation of identity fraud and the rise of white-collar crime can be directly correlated with the shifting of our economy to online services. So much of what we do as a society is now done from behind a keyboard, as opposed to face-to-face. You can't reach through a computer screen and shake someone's hand, and you can't look someone in the eye to gauge whether they are who they say they are. Most of our transactions are now electronic and not with cash."
'A Virtual Playground for Crooks and Thieves'
According to Marbutt, with a few keystrokes, the Internet has become a "virtual playground for crooks and thieves" who can send out mass emails to numerous potential victims. Often, various sad (but tall) tales exist within to bait those who are lonely and overly trusting. "Fraudsters are looking for any means they can to obtain credit card information, banking account numbers, Social Security numbers or other identifying information of potential victims," Marbutt says. "Sometimes they will use this information to gain access to accounts and drain money directly. Other times they will use it to open accounts in the name of the elder victim. Sadly, criminals will often take advantage of the trusting nature and kind hearts of elders to have the victim voluntarily give money away."
"Fraud of many types is an issue for seniors. There are several factors at play: there are often sizable assets at risk like an owned home, a pension fund and retirement savings," explains Craig Patterson of Celebration Village Acworth, an active senior living community. "These make for desirable fraud targets. Now, consider factors that may make these assets less guarded: There may be a trusted caregiver or financial advisor with access, the senior may have mild cognitive issues or even hearing loss that can cause confusion, the senior may be less likely to assume wrongdoing or be 'too nice' to shut down an aggressive party." Carla Breakwell, also of Celebration Village Acworth, adds that seniors are less likely to report fraud afterward due to shame or embarrassment — and any loss for seniors is especially harmful, as their ability to recoup from earnings is diminished. Increased awareness and a few preparatory steps can immediately improve a senior's security.
"Celebration Village Acworth will hold workshops on specific ways to avoid fraud," Breakwell says. "These will be for our residents but are open to the outside community. We'll cover specific ways to ensure financial and information security for seniors, including telephone scams, identity theft, medical identity theft, Internet security and other topics. We include outside experts, including the local police departments, to make sure the information is relevant and informative."
Sgt. Dana Pierce with Cobb County Police says his department's Crime Prevention Function offers a variety of programs about crime prevention, including one for seniors that covers Internet scams, credit card or credit fraud, email spam and identity theft. "There is a criminal element out there that specifically targets our senior citizens," Pierce says. "We have seen everything from identification theft and fraud to gypsy paving/roofing scams and false solicitations of free trips with a cash deposit."
Playing Defense with Security
Trusted family members can help set up a few preventative measures, which can do wonders with senior security. "For example, set up email programs to not load images automatically," Patterson says. "This makes malware less likely and can prevent future spam. If you receive a call or email asking for personal information or money, verify the identity of the person, but assume that it is not real until proven otherwise. Don't be afraid to run any questionable situation through the 'friends and family test.' Ask them their opinion. If you can't make it logical in your own words, it's probably not." Don't be afraid to also call a bank, credit card company or financial institution and ask for their fraud prevention department, as they are a source if you find fraud or if you even suspect something's not right.
"There is an old adage we use in crime prevention, and that is 'one doesn't get anything for free,'" Pierce says. "We encourage anyone, including the seniors in our community, to talk to a responsible person like a friend or a relative and discuss any offer they have been approached about. Do not give out any sensitive information, including date of birth, Social Security number or any bank (routing or account) information."
In addition, seniors should be wary of anyone who wants to be paid via prepaid cards, which are very hard to track, unlike other credit card transactions that leave a paper trail so that law enforcement can recover your money and identify perpetrators if necessary. Confirming who is asking for money is key, too.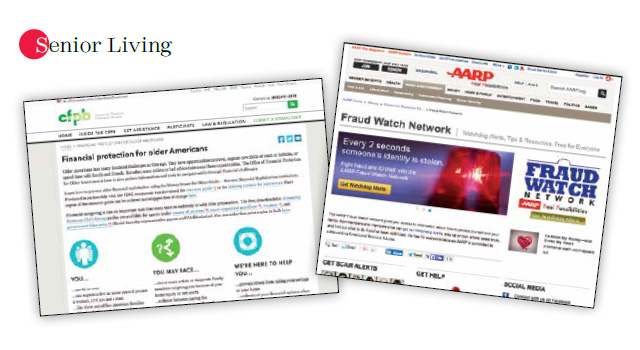 Several national and county resources exist to help with senior-focused tips and habits to make you more secure. The Consumer Financial Protection Bureau's "Money Smart for Older Adults" and the AARP's Fraud Watch Network are both free resources. AARP offers a wealth of tips, alerts and more, as well as the Fraud Watch Helpline at 877-908-3360. "This number should be on every senior's refrigerator and phone as a trusted and helpful resource," Patterson says. "Seniors can call the same number and get on an email or regular mail list to be alerted of specific active fraud and receive general tips for prevention."
"A common scam right now is for someone to call saying that you missed a court appearance and you will be arrested unless you pay a fine," Marbutt says. "If someone calls you saying they are from any law enforcement agency, they will have a badge number. Look the number up yourself; don't just dial the number given to you on the phone. If the agency doesn't know the person who called you or the badge number does not match, then you are likely being scammed."
In a world becoming more technology- and mobile-dependent, it's important to keep personal information safe and pursue every measure to do so. As high-targets for fraud, teaching seniors what options they have for protecting themselves and their assets can make all the difference. Cobb's resources for protecting senior information are always readily available to help them get the most out of the their golden years.