Marietta currently has three red light cameras (4 more coming in 2023 or 2024) that are used to detect when a vehicle crosses a designated stopping place after a traffic light becomes red. The red light cameras issue automatic citations using the vehicle license plate information.  When a driver is issued a $70 ticket, it is classified as a civil penalty and is not reported to the driver's insurance company and it is not added to the driver's record.
The three intersections in the City of Marietta are:
2023 Update – Red light cameras are coming soon to:
The effectiveness of red light cameras in preventing accidents is a topic of ongoing debate and research. Proponents argue that these cameras can serve as a deterrent, encouraging drivers to obey traffic signals and reducing the number of red light violations, which, in turn, can potentially lead to a decrease in right-angle accidents at intersections. On the other hand, critics contend that red light cameras may not significantly impact accident rates and could, in some cases, lead to an increase in rear-end collisions as drivers brake abruptly to avoid receiving a citation.
A recent study that examined traffic accidents for 3 large Texas cities over a 12-year period found that after hundreds of thousands of accidents, there was "no evidence that red light cameras improve public safety. They don't reduce the total number of vehicle accidents, the total number of individuals injured in accidents or the total number of incapacitating injuries that involve ambulance transport to a hospital."
Using cameras to issue traffic citations is a process that frequently faces intense scrutiny, as many perceive it as a means to generate revenue rather than prioritizing public safety. Often, as is the case in Marietta, these programs are administered by out-of-state, for-profit contractors, which further fuels skepticism about their true intentions and effectiveness.
In 2008, the City of Marietta collected $1,500,000 and netted a profit of almost $1,000,000 after expenses from the red light cameras. 2009 revenues at all three intersections were $1,420,466, minus expenses of $553,844, equaling a profit of $866,622 for the city. 2010 revenues were $1,322,928, minus expenses of $434,808, equaling a profit of $888,120 for the City of Marietta.
Unincorporated Cobb County does not currently have any red light cameras.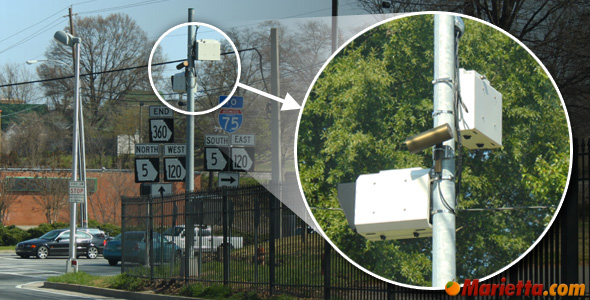 For more information about Marietta's red light cameras, please contact the City of Marietta Municipal Court Photo Red-Light Division at (770) 794-5435.