Two local entrepreneurs open Marietta's first craft brewery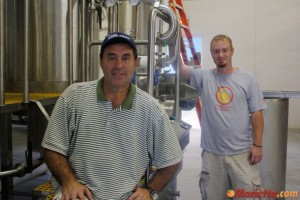 After semi-retiring from the corporate world in 2009, Roger Davis decided to explore the art of home brewing. He and friend Bobby Thomas worked together to set up a 15-gallon brew pot in Roger's basement. After about a year of creating recipes and receiving positive reviews from friends, they realized their basement brewing had larger potential and The Red Hare Brewery was born.
Red Hare Brewing Company, located in an 15,000 square foot warehouse just off Delk Road & 75, opened its doors to the public in August of 2011. Soon after their launch, Red Hare beers were available at local bars, pubs, and restaurants. Since then, they have expanded in size and brewing capacity.  Currently, Red Hare is distributed all over Georgia, Tennessee, North and South Carolina, Alabama, and Florida.
Red Hare was the first craft brewery in Georgia to can their beer, and the world's first brewery to use the evercan – a very high recycled content can.  The current canning line features a 40 head filler and 6 head seamer that can package approximately 11,520 cans (480 cases) per hour.   In addition, they are one of a small number of craft breweries to employ a full time biochemist and full laboratory for quality assurance.
The brewery taproom is open Tuesday through Thursday from 3 pm to 9 pm, Saturday from noon to 10 pm, and Sunday from 12:30 to 7pm. Visitors can purchase pints, flights, and craft cocktails.  In addition, visitors can purchase and take home up to four 6-packs per person per day.
On tap are several year round mainstays including:
Long Day Lager, a Bohemian-style amber pilsner with a citrus aroma
Rewired IPA, a crisp, tropical, and slightly dank IPA
SPF 50/50 Grapefruit, an India Pale Radler containing a blend of IPA and sparkling grapefruit soda.
SPF 50/50 Tangerine, an India Pale Radler containing a blend of IPA and sparkling tangerine soda.
The brewery also serves up seasonals, including Dr. Root's Lemon Balm Lager (in collaboration with The William Root House Museum – Fall Seasonal), Sticky Stout (Winter Seasonal), and Hasenfeffer Oktoberfest (Fall Seasonal brewed with a special yeast from a famous Munich brewery).
For those under 21 and designated drivers, Red Hare brewery offers homemade Root Beer as well as homemade Grapefruit Soda, both of which are alcohol free and made with pure cane sugar.
On Saturdays, food trucks are usually on site.  You are also welcome to bring in outside food to enjoy.  The brewery is family friendly and (leashed) dog friendly.
Address:
Red Hare Brewing Company
1998 Delk Industrial Blvd
Marietta, GA 30067
In 2020, the brewery announced The Still on the Square, a Red Hare location that includes Red Hare's beers, craft sodas, and their new distilled spirits along with authentic Cuban food options from Mojitos, all in one building in the historic Marietta Square.
For more information, please call (770) 331-8763.