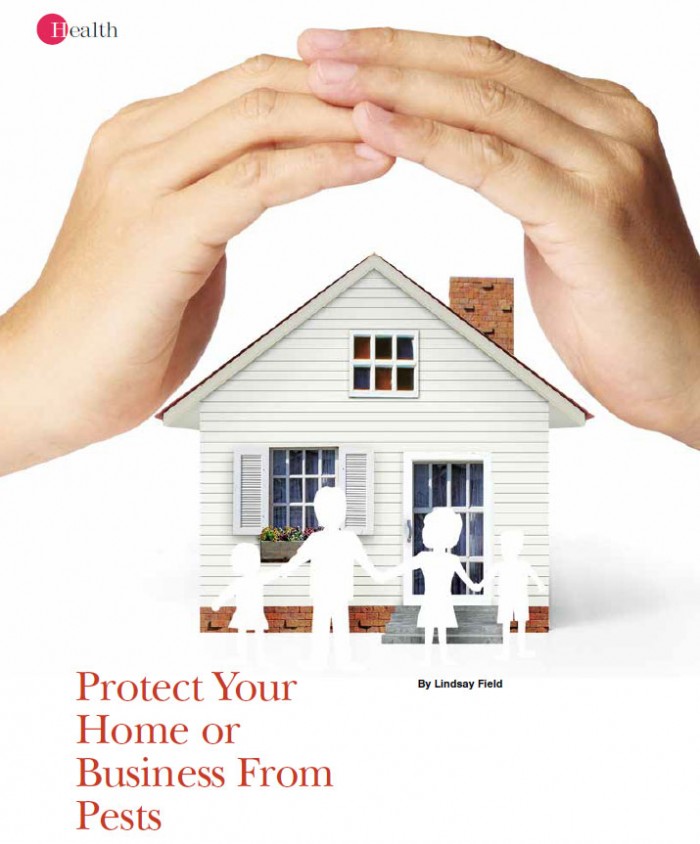 Ants, spiders, roaches, mosquitoes —just reading the names of these pesky critters makes the skin itch and crawl, and with the warmer months upon us, it's definitely that time of year when we see more pests around our homes and businesses. "Most insect populations decrease during the cold, winter months," says Chuck Tindol, owner of Allgood Pest Solutions in Marietta. "As the weather warms, the insect population increases dramatically and begins to forage for food."
Tindol, who runs Allgood with his brother Mike, started the pest control company 23 years ago. They provide termite and pest solutions to homes and businesses throughout Cobb County and metro Atlanta. Commercial clients include The Weather Channel, The Varsity and the Georgia Dome and World Congress Center. He says termites are typically active year round, but colony swarms mainly become a nuisance during the spring when hundreds of winged termites exit their colonies to mate and look for a new home. "Inside your home, they die quickly because they can't get to the moisture in the soil, but the sheer number of termites crawling around can be quite scary for a homeowner." Eric Gabe, a senior service center manager with the Arrow Exterminators location off Johnson Ferry Road in east Cobb, adds that termites cause more than $5 billion in property damage each year, most of which is not covered by homeowner's insurance.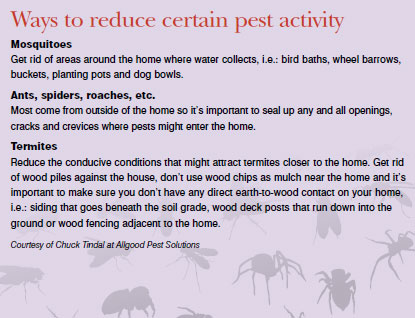 There are ways to deter these pests from invading your home or business, both inside and out. Tiffani Jenkins, who owns and operates ABC Home & Commercial Services in Marietta with her husband Benjamin, says most insects need food and moisture to survive, so by eliminating or reducing these elements, infestations can be prevented. "Gutters should be free of debris. Trees and shrubs should be trimmed and kept from touching the dwelling as this is another way insects are invited inside," she says. "For termite prevention, it is recommended to choose pine straw as opposed to wood mulch that might invite termites to inhabit areas around the foundation of your home." The Jenkins opened their Church Street location in 2012.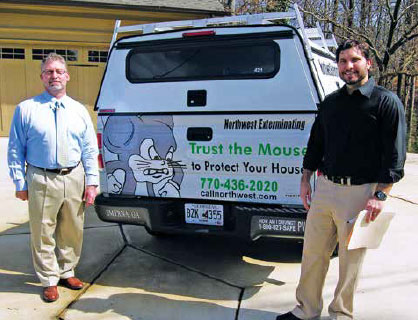 And if or when pests do become a nuisance around your home or business, there are ways to exterminate the problems. Adam Vannest, director of Training and Technical Services with Northwest Exterminating, recommends calling in a professional to help. "Proper identification of an infestation is essential to your treatment plan and can prevent overspending and mistreatment of an area," he says. "After your home or business has been treated, it is important to maintain a regularly scheduled, year-round pest control service. Following your customized treatment plan and recommendations will help aid in keeping a pest-free home or business." Northwest, which has been in business for 63  years, has four Cobb locations.
Factor In Health Problems
"Pests are much more than a nuisance," Gabe says. "They can have harmful effects on your health and quality of life. Their ability to transmit disease and spread bacteria present a real challenge for homeowners and businesses." Vannest adds, "Pests in general can be vectors of many diseases. Allergens, asthma, food poisoning, Lyme Disease and the West Nile Virus are just a short list of health-related concerns that can be directly related to the pests in our environments every day."
Specifically, Tindol says research has shown that roaches are the leading cause of asthma among children, and Gabe explains that these pests are known to spread more than 33 types of bacteria that trigger the attacks. Gabe also says that stinging insects like bees send more than 500,000 people to emergency rooms each year due to severe allergic reactions, and Tindol adds that rodent droppings and urine can contaminate your food and mosquito bites could result in diseases like the West Nile Virus. "It is important to fully understand the dangers stemming from these types of infestation and how best to protect your property," Gabe concludes.
To learn more about the services each of these companies provide, visit their websites.