"Sports are a very big part of the Cobb community and a significant driver that brings visitors into our county," says Holly Quinlan, CEO of Cobb Travel & Tourism, who adds that tourism is the largest economic driver in the county at $2.75 billion in 2015 — a 7 percent increase over the previous year.
Three major league teams will call Cobb County home in the near future: Major League Soccer's Atlanta United FC, Major League Lacrosse's Atlanta Blaze and Major League Baseball's Atlanta Braves. All three teams will begin their seasons locally within the next 18 months. "This is a huge win for Cobb County," Quinlan says. "We anticipate that the hospitality community, such as hotels, restaurants, attractions and the tradeshow and convention markets, will experience a big boost to their business."
"Cobb is already recognized for its winning combination of facilities and customer service and for being the future home to three major league teams, but great things are still to come when talking about sports in Cobb County," Quinlan continues. "Since the rollout of the Cobb Sports Alliance, a division of Cobb Travel & Tourism, the Cobb community has a new focus on sports-related activities and tourism."
SportsEvents Magazine, the leading industry publication focused exclusively on helping sports event planners produce excellent competitions in the United States, recently named the Cobb Sports Alliance as one of its 2016 Readers' Choice Award winners.
The Atlanta Braves, which currently calls Fulton County home, and Atlanta United, a new team in the professional arena, are set to make their Cobb debut in 2017, but the Atlanta Blaze began playing for the first time in late April at Kennesaw State University's Fifth Third Bank Stadium, where Major League Lacrosse has held its championship game the last two years.
"Lacrosse is the fastest-growing sport in the United States and it's exploded here in Atlanta, just in the last six or seven years; so the growth at the youth, high school and collegiate levels has grown significantly and the league noticed that Atlanta is a top 10 market in size," says Mark Fuhrman, Atlanta Blaze VP of marketing and sales.
The Blaze, owned by Peter Trematerra, a residential real estate developer living in Florida, is an expansion franchise that was announced last August in Atlanta. It is the ninth team in the league, which has been around since 2001. The 38-man original roster was narrowed down to 23 in late April, and they played their first-ever game April 23 at Fifth Third Bank Stadium against the Chesapeake Bayhawks from Maryland.
Fuhrman says they selected Cobb specifically because of the growth in the sport in this area, and because the size of the stadium at KSU creates the perfect intimate setting for games. "The field itself is maintained immaculately and it's just the perfect venue," he adds. "It has all the bells and whistles … indoor and outdoor seats, a low section and general seating, so the seats are right on top of the action … a perfect venue for what we're looking for."
Season tickets range from $70-$245 per person, depending on where a seat is located, and individual game tickets range from $19 to $40. Learn more about Atlanta Blaze by visiting atlantablaze.com.
Atlanta United will be the next professional sport to make its Cobb debut with matches starting next spring. The team will practice in Marietta and the home office will be local, but matches will be played at Mercedes-Benz Stadium in Atlanta, which will also be home to the Atlanta Falcons upon completion of construction in early 2017.
Owned by Arthur Blank and operated under the direction of team president Darren Eales, the location in Marietta will allow Atlanta United to build a world-class training facility in an area that has a strong youth soccer presence.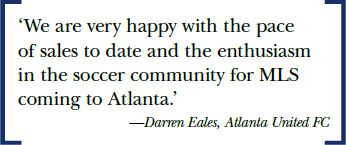 "Atlanta United plans to host various youth development programs and tournaments at the training ground, and the facility will allow us to attract and develop top talent, as well as provide unparalleled access for our fans, partners and the community," Eales says.
The 33-acre practice site off Franklin Road in Marietta will include six total fields, where construction has already begun and is expected to be completed in 2017; and Eales says the community will have an opportunity to enjoy open training sessions there. International teams will also train at the facility when visiting Atlanta, tournaments can be hosted on site and the Franklin Road development will serve as home to executive and administrative staff with Atlanta United, in addition to club technical and sports science staff. The training ground project represents more than $50 million in new investment to the area.
The organization is in the process of evaluating talent but will not field a team until 2017, and Atlanta United is also in the process of securing partnerships for its inaugural season. The 2017 schedule hasn't been released, but ticket prices can be found online at atlutd.com. Atlanta United has more than 10,000 Founding Members, or ticket holders, representing deposits for more than 29,000 tickets. Season ticket prices were released in early February and range from $360-$4,050. "We are very happy with the pace of sales to date and the enthusiasm in the soccer community for MLS coming to Atlanta," Eales says.
Relocating to Cobb County from Fulton, construction on the new 41,500-seat home of the Atlanta Braves' SunTrust Park and The Battery Atlanta development began in early 2014 and is expected to be complete shortly before the season opener in 2017. The property is located at the intersection of Interstates 75 and 285 in the Cumberland Community Improvement District. The Battery Atlanta, a 1.5 million-square-foot mixed-use development, will feature boutique shopping, chef-driven restaurants, an Omni Hotel, The Coca-Cola Roxy Theatre, 550 residences and One Ballpark Center, Comcast's regional office headquarters. It is is being privately developed by the Braves, along with retail partner Fuqua Development, office developer Pope & Land Enterprises and Pollack Shores Real Estate.
"There are many reasons why we chose Cobb County," says Derek Schiller, Braves president of business when asked about relocating to the area. "It's closer to our fan base and there was the ability to simultaneously build an adjacent mixed-use development so that we can give our fans an incredible experience coming and going to and from our games. There are also a multitude of access points to get to the SunTrust Park and The Battery Atlanta."
Schiller says season tickets will be available to the general public beginning this spring. For those who want a premium experience, they will have 4,000 seats that include club access and other amenities, in addition to 19,000 seats that will be $20 or less, 7,000 of which will be $10 or less. Learn more about the stadium and surrounding development by visiting braves.com/suntrustpark or batteryatl.com.