Are there ghosts in Marietta? I believe there are.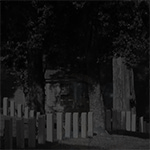 Marietta is a town rich in history. Most of the town's buildings, with a few notable exceptions, were burned in the War Between the States, and rebuilt when the town began to prosper again in the late 1800's. But while the Civil War buildings may be gone, plenty of people can testify that some of those spirits remain in Marietta to this day. Much of the paranormal activity reported in this city over the years, although not all of it, springs from that era.
To understand why, it is important to understand that not only was there tremendous fighting all around Marietta, but after the war, the city was actually occupied by Northern troops for longer than Atlanta was. There were encampments and hospital tents all over what is now the downtown area and all around it. Most of the people had evacuated the town. There was no food for civilians, no money, and little housing. People who did stay were starving. It is no wonder that many of the tragic deaths of those times have left paranormal reminders in the town.
The Kennesaw House, which now houses the excellent Marietta Museum of History, is probably the most haunted location in Marietta. During the Civil War, the building was used by both sides as a hospital and Sherman used it briefly as his headquarters. It was the site of the planning for the "Great Locomotive Chase." Over the years, voices have been heard, apparitions seen, and even photos taken of what appear to be spirits from that time.
Some of the allegedly haunted places in Marietta, such as 1848 House, are no longer open to the public, but among those that are Kennesaw Mountain Battlefield, where both Civil War and Native American spirits are regularly reported, Kolb Farm, site of a fierce battle and allegedly haunted by soldiers and slaves, and The Root House, although the staff there denies the stories of sightings of Mrs. Root and the bed that unmakes itself. Many more seemingly haunted places and stories of true experiences with Civil War ghosts and those of other times, including the recent present, are detailed in my book, Haunted Marietta
, as well as much of the engrossing history of our charming and historically significant city.
About Rhetta Akamatsu
Rhetta Akamatsu is a long-time resident of Marietta and the author of Haunted Marietta, which is available at local bookstores and online at Amazon and all other major bookstores. She also writes about the Atlanta area for examiner.com as the Atlanta Historic Places Examiner.