All Cobb County School District and Marietta City School District schools will be open on Thursday, Sept. 24 2009.
For students in the Cobb County School System who cannot access your usual bus stop, please call Transportation's dispatch office at 770-429-5880, 770-429-5881 or 770-429-5882.
Many roads in Cobb County remain inaccessible due to damage from flooding.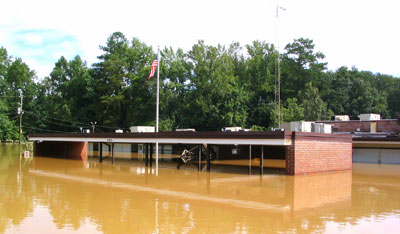 Clarkdale Elementary School Info and Updates
Clarkdale Elementary School was inundated with floodwaters Monday afternoon after students were safely evacuated. On Tuesday afternoon, the main school building remained substantially under water. The contingency plan for Clarkdale involves creating space at nearby Austell Intermediate and Compton Elementary schools. Austell Intermediate School will host 225 students in grades 3-5, while Compton Elementary School will host 217 students in grades K-2. Furniture and materials from the district's warehouse will be installed in available classrooms on Wednesday. Some Clarkdale classes will be combined in order to maximize available space. Above is a photo of Clarkdale Elementary taken Tuesday afternoon.
For the latest news, please visit the school systems website:
Marietta City Schools:
http://www.marietta-city.org/
Cobb County Schools:
http://www.cobbk12.org/