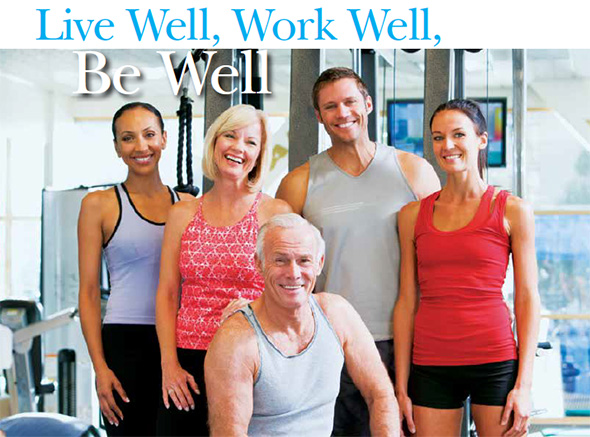 It may be surprising to learn that about 50 to 70 percent of people spend at least six hours of their day sitting down. Factor in a 9-to-5 job and your favorite TV marathon and you've got a recipe for sedentary disaster. But what if this could change? Companies around the nation are starting to implement wellness programs to encourage movement throughout the day. From stair-climbing competitions to all-out sporting events, wellness is catching on.
This past February, the Atlanta Business Chronicle hosted its third annual awards event honoring Atlanta's healthiest employers. Four Cobb County companies made the list, including the City of Kennesaw in the category of medium-sized companies, as well as McCarthy Building Companies Inc., PrintPack Inc., and WellStar Health System for large companies.
In a day and age in which wellness in the workplace is often overlooked, these companies are making major strides toward healthy work environments inside and outside of the office. Each of these companies offers important insight on how health and wellness in the workplace is not only achievable, but how it can contribute to a higher degree of service and ultimately lead to a more productive company.
City of Kennesaw
Number of Employees: 300
Responsible for everything from the city's public safety and law enforcement to its infrastructure management and maintenance, the City of Kennesaw doesn't shy away from active work. As a result, City of Kennesaw Communications Manager Pam Davis says there is no shortage of health inspired programs here. "The city conducts a comprehensive wellness program for employees, including annual on-site health assessments and on-site coaching offered by our partnership with Community Health Network, as well as eligibility for monetary awards for exercise and preventive care," Davis says. As for in-office wellness?  They've got that covered, too. "We are currently conducting a challenge called 'Break-It-Up,' to encourage employees to walk or do seated exercises during their breaks and lunch periods," she explains. "Our CHN coach comes up with several challenges during the year to keep employees engaged and participating in fitness programs." She goes on to say that the coaches conduct sessions each month that focus on different aspects of wellness like nutrition, exercise and stress reduction.
When asked why having a healthy work environment is important, Davis says that improving quality of life for Kennesaw's employees tops the list. After all, she says, "Healthy, fit employees have more energy, are more productive and have a lower rate of absenteeism."
WellStar Health System
Number of Employees: 12,800
WellStar Health System, the fifth most integrated health care delivery system in the country, has witnessed its fair share of wellness woes. As a not-for-profit health organization that serves 1.3 million residents in five counties, WellStar continues to raise the bar when it comes to in-house health. They launched the HealthStart program in October of 2011—a program designed to promote personal wellness in the workforce. It's offered to all WellStar employees and their spouses on their medical plans. Activities included in the HealthStart program include benefit fairs, lunch and learns, fitness challenges and weight management programs.
Cecelia Wagoner, assistant VP of corporate and community health for WellStar shares how the program works. "The HealthStart program is designed to include three main program components, each worth 100 points," she says. This includes a three-step process: Health Risk Assessment and Screening; Behavior Modification; and Individual Outcomes and Rewards. "In addition to improving their overall health, HeathStart participants who earn a total of 300 wellness points each year will receive a cash payment of $300," Wagoner explains. "Also, medical plan participants who enroll in HealthStart can receive a HealthStart Credit on their medical plan insurance premium." WellStar has seen immense growth in the HealthStart program since its debut in 2011, jumping from 4,620 participating team members in 2011 to 5,773 the following year.
So why is this so important to the WellStar family? "It is an investment in each team member's health and well-being … if our team members are well and healthy, they will take better care of our patients and the community," says Wagoner. She notes that it also helps team members feel valued and appreciated by the organization, which carries out into the community. "Our team members are part of this community as well and the workplace is the single best opportunity to influence healthy behaviors," Wagoner explains. "By supporting team members at the workplace, the behaviors and influences will be taken back and shared with their individual families, schools, congregations and community organizations." She also says that educating team members on the importance of a healthy lifestyle means they can become ambassadors of wellness in creating a healthier community.
McCarthy Building Companies, Inc.
Number of Employees: 65 (Atlanta); 1,500 (nationwide)
Founded in 1864, McCarthy is the nation's oldest privately owned construction firm. Their services range from construction management, general contract and design and build contractual agreements. This 100 percent employee-owned company has a holistic approach to wellness that parallels their mission to be "The Best Builder in America."
In 2010, McCarthy founded a comprehensive Build for Life program that focuses on four key areas of wellness: awareness, prevention, activity and lifestyle and stress. "As an employee-owned company, helping one another stay healthy is an important part of our culture," says Teri Lynn Reed, a public relations representative for McCarthy. In order to build awareness around their community, each McCarthy office has a strong representation among local organizations that promote awareness to the health risks that specifically affect large numbers of people in the community.
In order to generate capacity for their Build for Life program, McCarthy offices launched an interactive and personalized wellness rewards program that makes healthy living accessible to employees and their families. "The approach takes into account the individual's overall health, lifestyle and risk factors, [and works] with them to establish and achieve personal wellness goals, motivating them with cost-savings on insurance premiums and rewards along the way," explains Reed. Since the initiation of the rewards program, McCarthy has seen an overall participation rate in Build for Life rise to 75 percent.
Along with Build for Life, McCarthy offers a little in-office competition to get people moving. Among these challenges are a company-wide competition called Activity Challenge (with the Southeast region taking first place for the last two years), and in-house stair climbing competitions. "Employees started taking the stairs instead of the elevators to increase steps taken during the day," explains Reed. "We created a SE [Southeast] division team page in McCarthy's intranet site where we could see where each SE employee ranked in terms of overall steps."
These Cobb companies have taken the necessary steps to achieve the highest standards in health and well-being for their employees. With the incorporation of wellness in the workplace, they have seen immense growth in productivity, morale and efficiency. Taking care of yourself should rank just as high as taking care of your business. Reach out to your employers to see if there is a wellness program at your company. If not, why not start one? Even the smallest of steps can combine to achieve the greatest of strides.
—————-
With wellness on the rise in the corporate horizon, it's comforting to know that it's easy to live well with WellCorp Rx, a leading provider of on-site preventive wellness services at the workplace. From biometrics to bone density checkups, the company's goal is to address today's most prevalent wellness issues. Ask your human resources representative about having WellCorp Rx an event at your office. Most companies that offer medical insurance have access to WellCorp Rx services.
Call (770) 434-8633 for more information.
What they can offer:
Nutrition counseling
Fitness coaching, including personal training services
Allergy testing
Health screenings
Lunch and learns