The arts in Cobb County are growing immensely due to the host of museums, performances, festivals and concerts available in the area. Whether you're passionate about dance, music or visual arts, local organizations are providing opportunities for people of all ages to develop their artistic abilities, all while staying local.
Shall We Dance?
The Georgia Ballet is committed to inspiring the students of Cobb County by teaching them to appreciate the art of dance. The organization is three-fold—encompassing a dance school, professional company and community outreach program. Now under new leadership, the ballet is offering more dance classes and expanding its performance season this year. "In the past we have had three professional performances, but this year we are looking to do five or six," says Keri Toggerson, marketing associate for the Georgia Ballet.
Outside the Georgia Ballet's dance school and live performances, the organization gives back to the community through its Arts in Education programs. The ballet offers field trip opportunities where Cobb County schools, as well as home school groups, can enjoy special daytime performances. "We make up a study guide for the performance that we send to the teachers beforehand to get students involved and so the teachers can learn more about the ballet as well," says Toggerson.
The organization also offers a program for local Title I elementary schools called Momentum, giving underprivileged children the chance to learn the basics of dance training. "We do a six- to 12-week program, and the kids go to dance during physical education class once or twice a week," Toggerson says. Kids in the Momentum program are also offered admission to the Georgia Ballet's summer classes free of charge if they wish to continue their study of dance.
The final component of Arts in Education is the Dance-Ability program, a fully-funded dance class for special needs children. "It is for students who may not be able to perform in a traditional dance class," Toggerson says. "We provide uniforms and ballet shoes, and we have a multitude of volunteers to help." The ballet tries to pair each student with a volunteer and tailor the class so everyone can participate. This program is especially close to Toggerson's heart, as she herself is a volunteer. Her student, Courtney, was diagnosed with a brain tumor four years ago. Today, at age 12, Courtney is in remission and has used dance to further improve her motor skills and cognitive function. "She came in a few years ago in a wheelchair, and now she walks through the door," Toggerson says.
Strike up the Band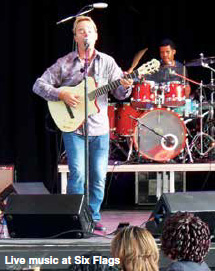 Several events are happening across Cobb County to give local musicians the opportunity to showcase their talents. At Six Flags Over Georgia, musicians can perform in the amusement park through its Live and Local concerts. These concerts are performed daily for Six Flags patrons and are included in the price of admission. "It's a way for the bands to get their face and name out there to the thousands of people at the park on any given day," says Emily Murray, communications manager at Six Flags.
Another Cobb County event is helping to showcase local musicians of a very specific genre—smooth jazz. The 6th annual Atlanta Smooth Music Festival is on Sept. 14 from 1:30–9:30 p.m. at the Mable House Barnes Amphitheatre. "Since the demise of the jazz radio station, it has become increasing difficult to keep this genre alive," says Joe Cleveland, managing partner of Jazz Grooves, LLC and promoter of the festival. "We are dedicated to bringing live music and performance arts to our community to support the improvement of the arts."
The festival opens with local jazz artists, moving into national and international talent as the day progresses. "We always open with the local artists in an attempt to provide them with a little more exposure than they get every day playing at the smaller clubs throughout the area," Cleveland says.
In addition to great music, guests can browse the marketplace and patronize local vendors, who will be selling items including food, clothing, jewelry and art. After each performance, the artists will also head to the marketplace to sign autographs and take pictures with fans.
Cleveland believes it is important for aspiring musicians to hear good jazz music through showcases like the Atlanta Smooth Music Festival. "To do a live performance, you have to be an accomplished musician," he says. "But before you become accomplished, you have to be a student and learn not only the process and environment, but the particular instrument you are going to play."
State of the Arts
With a multitude of exhibits, festivals and museums, the visual arts are also thriving in Cobb County. Helping to lead the art movement is the Marietta/Cobb Museum of Art. "The MCMA's mission is to inspire and educate a diverse community through the exhibition, interpretation, collection and presentation of works of American art," says Sally Macaulay, executive director of the museum.
The MCMA hosts several events throughout the year to bring patrons into the museum. Martinis and Music occurs four times a year where guests can enjoy live music and light refreshments, all while viewing the gallery's art.
Under the direction of MCMA's education director Katie Bush, the museum has also expanded its education programs. "With our new education program, we brought back summer art camps, expanded our art classes and introduced the Traveling Trunk program, where we go to different schools in Cobb County and take art to the classroom," says Macaulay. "We also started a sensorial art program for children with sensory problems."
Macaulay is passionate about supporting the arts—and has read the statistics to prove its importance. "I recently graduated from Art Leaders of Atlanta, where I learned that, statistically, children score better on achievement tests and SATs if they are exposed to the arts," she says. "Also, the economic development of a city is greatly enhanced by having a variety of arts in the community."
In addition to all the MCMA has to offer, plenty of other events are promoting the arts in Cobb as well. The Cobb Arts Ball is an annual event hosted by the United Arts of Cobb. This year, the event will be held on Oct. 26 at the Renaissance Waverly Hotel in Marietta with an old Hollywood glamour theme. "When I first signed on to help with the ball three years ago, it was just a regular ball," says MaryClarie Andres, a special event producer in Cobb. "I wanted to make it very unique and bring in a lot of the arts. We started having a costume theme each year, paintings on site and performances from the different organizations and volunteers."
Andres is also helping to promote a new event in the area. "I am working currently with a company that is putting on a hot air balloon festival at Kennesaw State University," she says. "We will be having an artist market where people can come and debut their work and have it on display to sell." The festival, where glowing balloons will take flight as a different take on a traditional art form, will take place on the evenings of Oct. 26 and 27.
"In my opinion, keeping the arts alive is keeping your community alive," Andres says. "We have had a lot more galleries open up on the Marietta Square, and I think that's wonderful. The fact that there are artists moving their work to Marietta says a lot for where the future of arts is going in Cobb County."