Drew Tutton Paves an Open Road for Students
After more than 25 years in the automotive business, Drew Tutton knows how to read market trends and how to value the hum of a fine-tuned vehicle. He also knows how to recognize a strong work ethic, and he appreciates the impact of excellence in customer service. Tutton admits to challenging his parents as a mischievous teen, veering off into negative directions that seemed to derail his future. But, through the support of family and the mentorship of an encouraging coach, Tutton made it through school and out into the workforce with a determination to find his niche in business.
By 1992, he'd been recruited into sales for the Ed Voyles Automotive Group and deftly climbed the company ladder to general manager and principal dealer. Then, in 2014, he added RV-dealership owner to his list of ventures, founding Open Roads Complete RV. Now he looks forward to the expanded possibilities at his company's new facility in Acworth. Placed high on his list of priorities is the continuing development of programming for Chattahoochee Technical College students, assisting them with hands-on-learning in automotive or recreational vehicle service.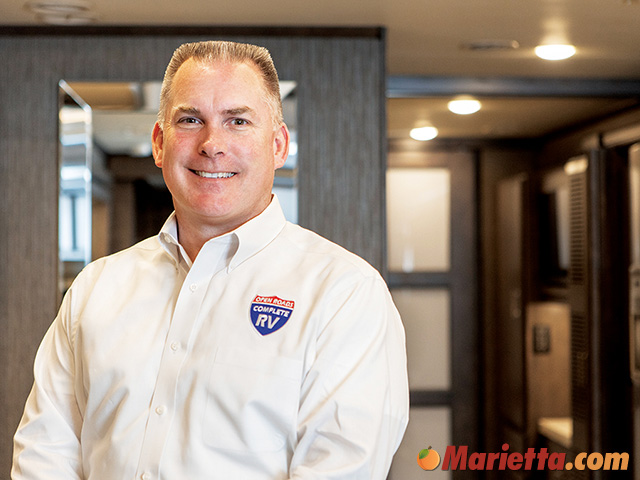 Tutton's ongoing relationship with Chattahoochee Technical College originated about 12 years ago as he sought resources to enhance the Ed Voyles service department. What started with hiring mechanics grew into a deep respect for the school's curriculum and pedagogy. Tutton saw the mutual benefit of carrying that educational spirit into the dealership via on-the-job training and mentorship for student-apprentices and new hires. "In these years of involvement, I've seen a big shift from viewing trade schools as an alternative education," Tutton maintains. "Chattahoochee Tech cultivates energy and a mindset in students, encouraging them to be the best they can be at a defined skillset." This becomes the path that makes sense for students who set an overarching goal to make a strong entrance into the workforce in a rewarding, marketable career.
High regard for the Chattahoochee Tech mission led Tutton to volunteer more of his time with the school, teaching seminars and serving as a past member of their Foundation Board of Trustees. In that role, he focused on engagement initiatives and strategic planning. "Drew Tutton and Open Roads Complete RV have been valuable supporters of our college," says Amanda Henderson, director of advancement at Chattahoochee Tech Foundation. "Open Roads Complete RV has served as sponsor of the Chattahoochee Tech Student Leadership Academy for two years [with Tutton], volunteering as a featured presenter during the session called Cultivating Your Vision."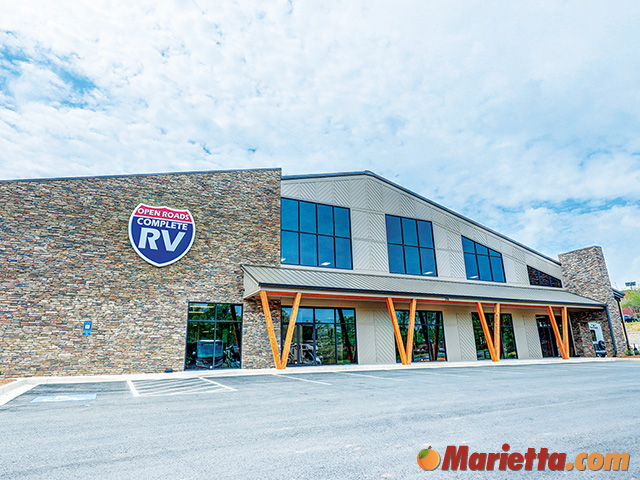 Out in the community, Tutton promotes school programming by contacting high schools and discussing the benefit of technical education, as well as encouraging young adults who feel stifled on their current path to consider taking courses. "If those in their 20s and 30s check it out and discover how [through these jobs] they can provide for their families, it will really shift the paradigm," Tutton affirms. "These are not skills to learn online," he continues, "and if [automotive] techs work with me for a year, they are eligible for corporate scholarships."
For Tutton, the commitment to supporting technical education grew organically from his own personal experience. A true, all-American bootstrapper, he achieved business success more through sweat equity than classroom instruction. "I'm not a college grad," he said. "I started out washing cars, then selling cars, then management on up, learning as I went. [Now] most kids don't have that opportunity to learn certain skills." Technical colleges and trade schools help those students discover new aptitudes, master skills, determine a career track, and navigate a direction for the future, Tutton offered.
As he champions the positive outcomes of a strong technical education, Tutton also assesses developments within his own field and considers the possibilities those changes could provide within the workforce. About six years ago, he noticed a distinct and measurable dearth of RV technicians. "RV work requires a different skill set," he explains. "It's more like working on a house with trim work, interior finishes, and detailing." With this in mind, Tutton focused on what steps could be taken to get more technical students introduced to RV technology. "This whole project has been about trying to move in that direction," he says. "We needed a new facility anyway and bought a piece of property right up the road from Chattahoochee Tech [North Metro campus]. It's a good location for us, and we believed it would be easier if we were closer to the school to have instructors and students participate in training."
Tutton sees this need for trained, capable RV technicians as a void in the industry overall. Relatively new programs exist in a few other areas of the country — Indiana, Florida, and Texas, for instance — but the necessity to expand and to make mainstream technical training for RV service increases in tandem with the rising demand for these vehicles. "There's been huge growth [in the industry]. Yes, there's still a big market share of that traditional buyer, retirees over 60, but there's never been this huge of an audience of younger buyers," Tutton reveals.
"There's GenX-ers looking for adventure, and a huge growth in the millennial population," he continued. When asked why the surge, Tutton points out that technology presents a new world where people can easily work virtually, which increases their ability to move around the country as they please, often bringing kids and homeschooling on the road. In addition, he notes, "For people who are conscious of the financial element, they realize that they can buy an RV for a fraction of the cost of a house, finance it, and also have the lifestyle freedom they want."
However, the reality of this industry is that most dealers only sell the units and may not have adequate resources to offer full service and repair. "It's a house on wheels, whether it's being pulled or driven, so there are a lot of items that need maintenance," Tutton acknowledges. Unlike automotive mechanics, which involve the more traditionally grimy labor on engines, transmission, tires, etc., RV work presents a cleaner environment and Tutton's new facility offers students an opportunity to immerse in that. "The appeal is that students can be introduced into the RV industry even if they are pursuing plumbing, carpentry, or electrical," he stresses. "We want to give Chattahoochee Tech students another path to choose from while in trade school."
---
What is the Student Leadership Academy?
The Student Leadership Academy is designed to provide a select group of Chattahoochee Technical College students with workplace skills, while also giving them a vested knowledge about leadership development. The program helps develop students academically to become creative and innovative, and to become effective leaders in the workplace. It also allows them to benefit through development of a mentoring relationship with members/facilitators of the Academy, such as Tutton.
The Student Leadership Academy consists of five sessions. Each session is designed to facilitate a better understanding of leadership qualities and principles. Sessions include establishing a personality and leadership profile, team building and conflict resolution, communication skills, and community leadership and networking. Participants commit to the semester-long program that culminates with one student being selected to receive an award of $500.
In order to participate in the program, students are required to complete an application process that included a panel interview. They also have to meet GPA requirements and demonstrate evidence of community or work-related activities. The Chattahoochee Technical College students selected for participation in the college's 2020 Student Leadership Academy are Mikayla Alexis, Ainsley Armstrong, Eileen Carr, Jada Drake, Jemetria Mabrey, and Monique Ubani.
Learn more about the program at chattahoocheetech.edu.