For healthcare systems in Cobb County and surrounding areas, top-notch care is always on the forefront, and while doctors, nurses and hospital personnel definitely make an experience at a hospital or urgent care better, having a world-class facility is just as important. Throughout 2014 and during the next few years, area residents will see what many local hospital groups are doing to provide the best for their patients, and not just in Cobb but areas that serve this community.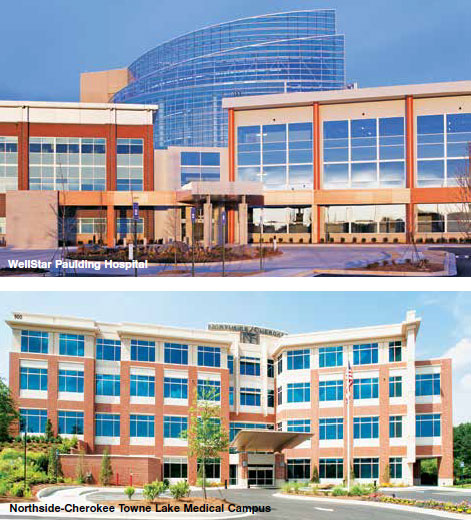 The most recent addition in hospital care is the opening of the new WellStar Paulding Hospital in Hiram. Just a short drive west of Cobb at Bill Carruth Parkway and U.S. Highway 278 is the new eight-story, 295,000-square-foot facility, which houses 56 beds with the ability to expand to 112 beds, 40 emergency exam and pediatric emergency exam rooms, four surgical suites, decentralized nursing stations, private inpatient rooms, administration offices and a café. The $92 million hospital opened its new doors the first week of April and replaced the older Paulding Hospital, which had served the community for more than half a century. "Our goal is to provide world-class care," says Mark Haney, WellStar Paulding Hospital and Nursing Center's president. "The existing hospital in Dallas is 55 years old and was not able to support the environment and technology of today's healthcare needs. The new hospital also supported itself from a business plan standpoint. Therefore, to meet our vision of 'World-Class Care,' building the new hospital was the correct move."
Haney went on to say that he expects this facility to better serve not only Paulding but also Cobb residents because "moving world-class technology and providers closer to where the population densities have grown, and continue to grow, will assure that WellStar Health System is continuing to create and deliver healthcare that improves the health of our community and region."
A second WellStar addition is also near completion. The three-story, 162,000-square-foot WellStar East Cobb Health Park off Roswell Road is scheduled to open in September. This $80 million facility will include an urgent care, medical imaging, lab services, pharmacy, cardiac diagnostics, sleep center, physical therapy and cardiac and pulmonary rehab, in addition to primary care physicians. "The rapid and continuous growth of the outpatient healthcare market is driving the development of our health park facilities," says Joe Brywczynski, Senior Vice President of WellStar's health parks development. "WellStar is positioning the organization to meet these growing patient needs with an innovative model of providing world-class outpatient services directly in the communities we serve. Community-based outpatient health care is all about creating a new, innovative and much-needed patient experience that provides families with high quality, improved access, more convenience and a one-stop-shop opportunity. We are eliminating the expectation that patients need to travel great distances, to multiple destinations, in traffic and congestion to receive their care. By integrating comprehensive hospital services with primary care and physician specialists, under one roof, nearby in the local community, we will become the patient-preferred destination point for obtaining their outpatient health care."
WellStar is also building the Vinings Health Park near Atlanta Road and Cumberland Parkway in south Cobb, which is scheduled to open in late 2015/early 2016; the Cherokee Health Park at Sixes Road and Interstate 575 in Holly Springs in Cherokee County; and an expansion of WellStar Douglas Hospital, which will add new emergency department rooms, doubling the number of beds in the intensive care unit, a nine-bed admit/recovery unit, new cafeteria and retail pharmacy. Additionally, WellStar will open a pediatric imaging center off Barrett Parkway in Kennesaw this summer and Kennestone Hospital in Marietta will see an expansion in its neuroscience capabilities with construction of a suite.
Just north of Cobb County, residents can also easily access two Northside Hospital locations. The hospital group opened its medical office building in the Towne Lake area last September. This four-story, 100,797-square-foot facility houses a variety of outpatient healthcare services and practices, which represent specialties in primary care, cardiology, surgery ENT and urology.
Northside is also replacing the Canton area hospital near I-575 and Georgia Highway 20. Northside Hospital-Cherokee is scheduled to open in March 2015. The original hospital, located three miles from where the new facility will be, dates back to 1962. New construction will include 84 beds, a women's center, medical office buildings, cancer center and a 600-space parking deck with an additional 300 parking spaces. The total project is estimated to cost about $250 million. "Northside Hospital remains committed to providing the highest level of patient care and technologies in facilities that are easily accessible to the communities we serve," says Russ Davis with Northside Hospital. "Growth and expansion for us in the Cherokee and Cobb communities is important because so many residents of these areas already turn to us for their family's healthcare needs. In addition to our East Cobb Medical Campus, many Cobb County residents choose to drive north for care in an effort to avoid less convenient, more traffic-congested areas."
Not all hospitals are undergoing massive expansions like WellStar and Northside. Other healthcare systems with Cobb locations, including Children's Healthcare of Atlanta, Kaiser Permanente and Emory Healthcare, have seen or will be seeing in the near future smaller changes or additions to their facilities. Children's Healthcare opened a new imaging center at its Town Center location in Kennesaw last November. This 9,330-square-foot radiology office offers state-of-the-art equipment featuring low-radiation dose CT, digital X-ray, 3T MRI, ultrasound, fluoroscopy, a laboratory draw station and procedural sedation to the children of Cobb and surrounding counties.
Kaiser Permanente in 2014 partnered with Cobb County and HealthStat to open the county government's first on-site clinic for employees. Located on Powder Springs Street in Marietta, the Cobb County Employee Wellness Center and Clinic offers adult medicine, lab testing and pharmacy services. Kaiser is also renovating the Glenlake Comprehensive Medical Center, which offers an array of services including general surgery and cardiology, on Glenlake Parkway near Perimeter Mall, and in the fall, Kaiser will open its new Sandy Springs Medical Center on Lake Heard Drive, just a short drive away for east Cobb residents.
Last, Emory Healthcare recently launched its Emory Women's Heart Center, a new program uniquely dedicated to the screening, prevention and treatment of heart disease in women. With five locations in metro Atlanta, including one in Cobb, one of the main goals of the center is to raise awareness among women of the dangers of heart disease. "Most heart disease is preventable, so we want to reach these women before 60 years old and evaluate their individual risks and educate them on risk reduction," says the center's clinical director Dr. Gina Lundberg, who also serves as an assistant professor of medicine at Emory University School of Medicine and sees patients at the Cobb location. "Starting treatment early, when it's necessary, will help save lives."