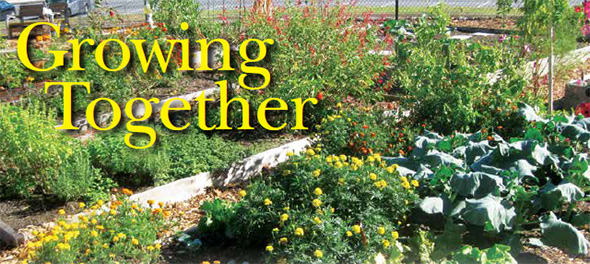 Cobb County is home to a wealth of greenspace and those who wish to preserve it, but the county's enthusiasm for outdoor living doesn't stop with parks and nature preserves. The gardening community is active and abundant as well, and V and non-profit organizations work year-round to keep residents involved in their projects.
The Master Gardeners
The Master Gardener Volunteers of Cobb County (MGVOCC) run a series of gardening projects and activities at elementary schools, the Center for Children and Young Adults in Marietta, the North Cobb High School Greenhouse, the Chattahoochee Nature Center and even horticulture therapy at Cobb Hospital. Their community gardens are the CrossRoads in Marietta, Green Meadows in Powder Springs, North Marietta Neighborhood in Marietta and the Plant-a-Row community garden in Kennesaw. The MGVOCC is comprised of 300 Master Gardeners and 75 Friends of Master Gardeners who are volunteers trained and certified by The University of Georgia in research-based horticultural practices. They promote responsible and sustainable gardening, water conservation and conduct educational programming to address environmental quality concerns in the county.
Carolyn Gentry, Master Gardener coordinator who has worked with the program for seven years, says, "With concern for food safety and rising food costs, Cobb's citizens asked the Master Gardeners to create community gardens so they could learn to grow their own food and garden using safe and sustainable practices." With support from the county parks and recreation department, the MGVOCC designed and built four community gardens. Their popularity is undeniable; all the raised beds in these gardens have a waiting list of future gardeners. The group is active throughout the community, and always willing to help those new to gardening get their hands dirty.
In 2012, the MGVOCC volunteered more than 21,700 hours throughout the county and reached more than 72,853 citizens through educational programming. They continue to maintain and teach from their 17 demonstration gardens and 26 school gardens. Demonstrations and educational programs are always free and open to the public and their annual Master Gardener Garden Tour is just around the corner. On May 11, the tour will showcase six private gardens and two demonstration gardens with information on how the owners solved unique gardening problems. Visitors can enjoy a full Garden Faire complete with presentations, garden-related vendors, a plant sale and more.
Community gardens offer more to Cobb County than beautiful flowers and fresh produce. "Cobb's Community Gardens offer a safe location for families to grow fresh and healthy food together and save on their food budgets," says Gentry. "Most importantly, they build community by providing a venue to bring local people together with a common goal."
Keep Smyrna Beautiful
Keep Smyrna Beautiful, a local affiliate of Keep America Beautiful, is a non-profit that functions as a city department. Its goal is to help the public become more aware of environmental issues. With more than 2,200 volunteers a year, Keep Smyrna Beautiful's many projects include the biodiesel plant in Smyrna, Rivers Alive cleanup in October, the Christmas recycling program and a county-wide shredding event. Keep Smyrna Beautiful utilizes many social media outlets to spread the word about their community garden as well as events and programming. They encourage all new gardeners to join their Facebook page and publicize announcements at city council meetings, in the city newsletter and other online and offline publications.
Smyrna's community garden would not have been possible without those at Keep Smyrna Beautiful and their dedication to the city and its citizens. Ann Kirk, director of Keep Smyrna Beautiful, has been involved with the non-profit for more than 25 years. She volunteered with Keep Smyrna Beautiful for six years before becoming director in 1994 and says it's been a lot of hard work, but a lot of fun. Their community garden, which opened in 2010, is at North Cooper Lake in Smyrna, and contains 95 plots of varying sizes. The basic fee to lease a lot is $1.25 per square foot per year, and with the turnover from last year, only about 20 spots are vacant for this season.
The community in Smyrna has responded enthusiastically to the garden and Keep Smyrna Beautiful's efforts. "It's developed a community," says Kirk. "There are people who go out there and know each other, and we're going to have a garden meeting as soon as I get the other plots leased. The Smyrna Garden Tour, held every May, is a great asset to members of the community as well and helped raised the funds to finish the garden. In addition to music, art and food, four to five homes in Smyrna show their gardens and are asked to give out information on their resources, such as contractors, plants and other materials." The next Garden Tour is set for May 19.
For Smyrna, Kirk believes the community garden is an asset many members of the community have been looking for. "A lot of our new developments [in Smyrna] really don't have the space for gardening in their own lots and a lot of the builders at this point have not figured in a community garden space," she says. "Gardens, especially community gardens, require quite a bit of maintenance and regular care to stay productive and beautiful, and this inspires citizens to work together for a common goal. I think everyone is really proud that we have a community garden," says Kirk.
Mableton Improvement Coalition
Mableton has two active community gardens run by the Mableton Improvement Coalition (MIC), a non-profit that supports existing neighborhoods: one at Riverview Landing and the Historic Mableton Community Garden. The MIC began as a group of concerned neighbors and has grown to a group dedicated to supporting a community that is both prosperous and attractive to prospective residents. Their many projects include Adopt-a-Stream, Adopt-a-Mile, the Mableton Farmers Market, the Community Fitness Initiative and Annual Mableton Day. Organic practices are encouraged at both gardens, and the plot fees cover a MIC membership, insurance, water supply, garden events and administrative fees.
As the weather warms, be sure to visit the local community gardens around Cobb County and see what other members of your community have been growing. Whether you've lived in Cobb County your entire life and always wanted a garden or are new to the area and in need of some greenspace to utilize your green thumb, Cobb's got the resources to make your harvest and experience bountiful this year.