Cobb County is on the map thanks to forward-thinking entrepreneurs who make everything from gelato to beer to cleaning solutions. Because of the good business climate in the county and its proximity to transportation arteries, these businesses make Cobb the epicenter for executives who have brought their ideas to fruition.
Taking a Brand National
Citrus Magic is Kennesaw's Beaumont Products' flagship brand. CEO Hank Picken was "creative shopping" at a hardware store in downtown Kennesaw in the early 1990s, when he spotted the Citrus Magic cleaning product on the shelf. With a background in consumer products and marketing, Picken knew the product had potential. "I thought it would be a good product to take national, so I called the company that was distributing it in Peachtree City and offered to buy the brand," he says. "It was good timing because we bought the brand for $1 million and have turned it into a $30 million company today."
The company's big break into national marketing came a couple of years later when Citrus Magic was featured on QVC, with Picken's wife Cheryl as guest host and spokesperson. "QVC approached us at a trade show that we attended in Chicago, and that led to Cheryl making 80 to 85 appearances on QVC," Picken says. Today, Citrus Magic is sold by major retailers in the United States, including Walmart, Target, Publix, Kroger and various hardware chains, such as Ace and True Value.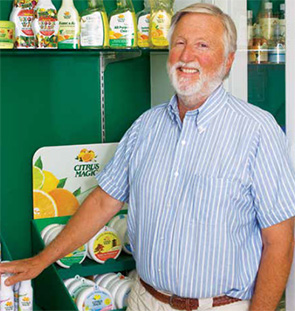 Over the years, Beaumont Products has acquired another half-dozen products and taken them to market from its facility in Kennesaw. "Cobb County has been a great location for us," Picken says. "Being close to I-75 has made a difference (because of the transportation network) and the City of Kennesaw has been very supportive to work with us as we've grown."
Picken also attributes the company's success to the workforce in Cobb. "Our third hire came to us from the Tommy Nobis Center, and we continue to find great employees there," he says. "We also have hired a number of interns from Kennesaw State University." Picken serves as a visiting professor at the business school at KSU.
Sweet Success
From a small gelateria in Dallas, Texas, Joshua Hochschuler founded Talenti Gelato & Sorbetto, which is now based in Marietta. After learning about old-style gelato processes while he worked in Buenos Aires, Argentina, he moved back to his hometown of Dallas and created hand-crafted gelatos sold from a single location to gourmet markets and local restaurants. By 2005, his brand was so popular that he closed the gelateria and shifted his business focus to making gelato for high-end retailers and restaurants.
Looking for partners to assist him with growing his premium brand, in 2008 Hochschuler connected with Steve Gill and Eddie Phillips, co-founders of Belvedere and Chopin vodkas. The two had successfully created a new category of luxury vodkas, which they later sold to the luxury goods company Moet Hennessy Louis Vuitton. Gill and Phillips helped Hochschuler enhanced the Talenti brand, taking it to national grocery stores. The company moved its plant to Marietta this year.
"Moving our plant to Marietta in 2013 would be an opportunity to continue to grow the Talenti brand, and so far that has proven to be true," says Talenti CEO Gill. "We originally chose to move to Cobb County for its central location and proximity to Talenti's biggest Northeast and Southeast markets. Along the way, we've found that Cobb County is a great place for the Talenti plant, as it has provided us with a well trained, productive workforce, and terrific and supportive local authorities."
Tapping into Creativity
Red Hare Brewery in Marietta and Burnt Hickory Brewery in Kennesaw both produce unique hand-crafted beers carefully created by their founders.
Roger Davis started out in 2009 as a home brewer, crafting beers and creating recipes in his basement. Soon friends bragged about the beer he and friend Bobby Thomas were producing, and so the two founded Red Hare Brewery and opened for business on Labor Day 2011.
Today they're located in an 11,000-square-foot warehouse near I-75 and Red Hare's distinct brews are available in pubs and restaurants in Marietta, Decatur and Atlanta. The company's flagship brew is Long Day Lager. Along with Gangway IPA, they are the first craft beers in the state to be offered in 12-ounce cans.
"It was a natural to choose Cobb County and our hometown of Marietta," says Davis. "We're close to my house and we're close to the interstate and excellent transportation. And the space we found was conducive for establishing a brewery." Red Hare products are distributed through 750 bars and restaurants in Georgia and South Carolina, and they are also available in grocery and beverage stores. This year, Red Hare will produce approximately 155,000 gallons of beer.
Scott Hedeen was an avid home brewer for nearly 20 years when he decided to step it up a notch by creating Burnt Hickory Brewery in Kennesaw. He has capitalized on the Civil War theme by choosing descriptive names like Ezekiel's Wheel Pale Ale, his flagship, plus Cannon Dragger IPA and Big Shanty Graham Cracker Stout. He also brews seasonal styles.
Buy Local
Marion Savic's new store, The Local Exchange, offers a collection of Cobb-based, Georgia-based and regional products all in one location. Opened in early September at 130 South Park Square in downtown Marietta, the store offers local foods, art, merchandise, books by local authors and artisan beers from area brewers. The Local Exchange will also be the pick-up site for a local community-supported agriculture food cooperative.
"There's not a general store or a grocery on the Marietta Square, so our goal is to provide residents and visitors with a source for locally produced, useful and sought-after goods," Savic says. "It will also be a fun shopping experience."
She'll be offering Pure Bliss organic products, foods from Bernhard's and McEntyre's bakeries in Smyrna, sausages from Patak's Meats in Powder Springs, items from Georgia Spice Company in Marietta and prepared foods from Simply Fresh in East Cobb.
"You know, I've always wanted to have a store like this," she says. "My grandfather had a grocery store, and I'm just carrying on the tradition with healthy and fresh foods."
Here's a listing of some products with Cobb County connections:
Elf on the Shelf: children's books, elfontheshelf.com, Marietta
Kenny's Great Pies: key lime, mango and lemon pies, kennysusa.com, Smyrna
Talenti Gelato & Sorbetto: gelato and premium ice cream, talentigelato.com, Marietta
Citrus Magic, Beaumont Products: beaumontproducts.com, Kennesaw
Burnt Hickory Brewery: craft beer, burnthickorybrewery.com, Kennesaw
Red Hare Brewery: craft beer, redharebrewery.com, Marietta