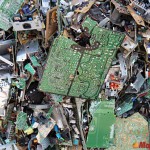 Keep Cobb Beautiful is hosting a recycling day at Jim Miller Park on Saturday, May 19, 2012 from 9am to noon.
Items Accepted
Televisions ($10 fee per TV)
Computer Monitors
Microwave Ovens
Computer Cpu's
Stereos
Laptops
Copiers
Printers
Video Machines
Alarmclocks
Disk Drives/CD Roms
VCRs
Floppy Drives
Camcorders
Telephones/Cell Phones
Testing & Networking Equipment
Digital Cameras
CB Radios
Modems
Record Players
Cd Players
Curcuit Boards
Speakers
Portable Radios
Electrical Panels
Typewriters
UPS Battery Back-Up
Fax Machines
Cables
Projectors
Keyboards
Mouse
Scanners
8-Tracks (Reel To Reel Tape)
Please note that there will be a $10 charge for each television.
Items NOT Accepted
Refrigerators
Washers/Dryers
Ovens/Freezers
Humidifiers/De-Humidifiers
Power Equipment
Tires
Household Trash
Non-Electronic Equipment
At this event, you can also donate your old shoes to the nonprofit organization Soles 4 Souls. Simply tie or tape the gently worn shoes together and your donation will be delivered to people in need all over the world. For more information about Soles4Souls, visit giveshoes.org.
Hours:
Saturday, May 19, 2012 from 9am to noon
Location:
Jim Miller Park
2245 Callaway Road
Marietta, GA 30008
For more information, please call (770) 528-1135.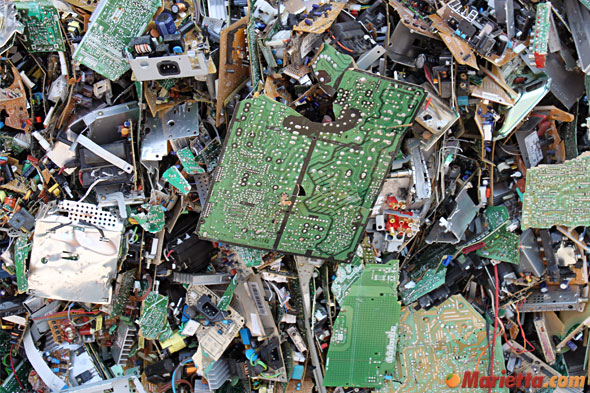 For businesses wishing to recycle quantities of electronics, please call Atlanta Recycling Solutions at (678) 566-6665 to schedule a pick-up.
Daily Electronics Recycling:
Electronics Recycling Days take place once in the spring and once in the fall of each year. If you are unable to make it to either of these events, daily electronics recycling is available at the Advance Waste Disposal Transfer Station on County Services Parkway in Marietta.
Advance Waste Disposal Transfer Station
1897 County Services Parkway 30008
Marietta, GA
When you arrive, let the scale operator know that you are bringing electronics to recycle and they will direct to a specific area on the tipping floor where you may leave the electronics. There is a nominal fee for any amount under 400 pounds.
Items Accepted
Computer Monitors/Microwave Ovens/Computer CPU's Stereos/ Toaster/ Laptops/ Copiers/ Printers/ Video Machines/ Alarm Clocks/ Disk Drives/ VCRs/ Can Openers Floppy Drives/ Camcorders/ Telephones/ Test & Networking Equipment/ Camera (Digital too)/ CB Radios Modems/ Mouse/ Record Players/ CD Players/ Circuit Boards/ Portable Radios/ Electrical Panels/ Typewriters/ UPS/ Battery Back-Up/ CD Roms/ Fax Machines/ Cell Phones/ Rechargeable Batteries/ Cables/ Projectors/ Keyboards/ 8-Tracks (Reel to Reel Tape)/ Scanners.
Items NOT Accepted
Refrigerators / Washers / Dryers / Ovens / Freezers / Humidifiers – Humidifiers Power Equipment / Tires / Household Trash / Non-Electronic Equipment. Televisions will not be recycled and are subject to regular tipping/floor fees.
For more information regarding the daily electronics recycling program, please contact ADS at (770) 485-8940.