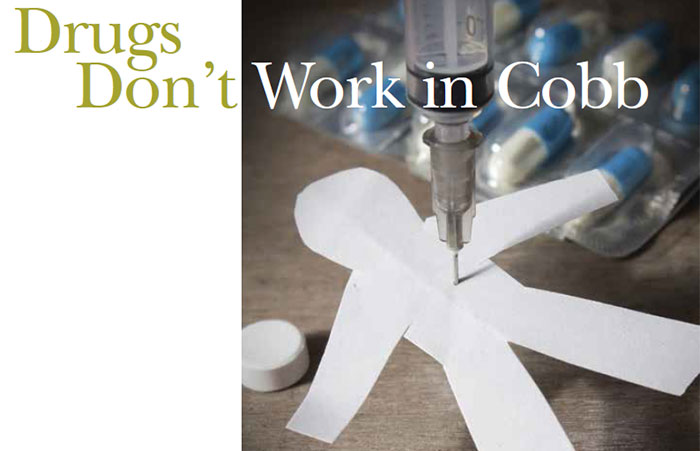 While alcohol is the leading cause of death among working adults and it remains the leading cause of premature mortality worldwide according to the U.S. Center for Disease Control and Prevention (CDC), illicit drug abuse continues to be a problem. It causes considerable damage in the workforce, particularly in terms of crime, lost productivity and health care; according to the National Institute on Drug Abuse (NIDA), illicit drugs alone cost the nation a whopping $193 billion every year.
The most recent data on the prevalence of illegal drug use from the CDC is from 2012, and it shows that 9.2 percent of persons 12 and older have used illicit drugs in the past month. "There are many factors that go into the development of drug abuse and, ultimately, addiction," says Chad Husted, director of business development at Ridgeview Institute in Smyrna. "[Users'] brains provide enhanced rewards for substance intake, which make them vulnerable to compulsive usage."
The Damage of Drug Abuse
Husted says the cost associated with addiction in the United States economy alone is roughly $600 billion dollars per year. "The impact of addiction is staggering," he says. "The personal impact of drug abuse is that addiction causes individuals to become singularly focused on obtainment and use of the addictive substance. Oftentimes, addicted individuals lose their financial assets, their families and their careers. The impact of addiction on one's health is equally as devastating. Currently in the U.S., overdose of prescription pills is the leading cause of accidental death—more than car accidents!"
Ridgeview Institute is a nonprofit behavioral health hospital that has served Cobb County since 1976 and provides a full continuum of addiction and psychiatric treatments. Hospital-based inpatient care is available for those who need detox and stabilization, while day and extensive outpatient programs provide tools and coping mechanisms for individuals in need of recovery. "When drug abuse in a home environment is normalized it is far likelier that an individual will experiment and ultimately abuse drugs and alcohol. Individuals who suffer emotionally and psychologically are also at greater risk for addiction," explains Husted. A very real risk to continual use of drugs or alcohol is the possibility of developing a physical dependence. "Drugs and alcohol can provide respite from emotional stress and trauma, and while the relief is temporary and ultimately harmful, the behavior often becomes compulsive. Individuals often no longer want to continue habitual substance use but become incredibly ill when they discontinue usage," Husted continues.
WellStar Cobb Hospital's New Vision is a voluntary inpatient service with a stay of three to five days. Patients receive counseling and are medically stabilized before being connected into the community for continual care. "My role as service coordinator [at New Vision] is to link community providers that know people who will benefit from our services to the New Vision Program, in an effort to provide services to individuals in the community struggling with substance abuse," says Christine Rivera. "By referring patients to our services, community providers participate in extending the lifeline for recovery."
Drugs in the Workplace
"Drugs Don't Work" is a Cobb Chamber of Commerce program that helps increase productivity and reduce companies' workers' compensation premiums by 7.5 percent by educating employers about prevention, intervention and elimination of all substance abuse. Those enrolled in the program gain access to training resources, free legal advice from their drug-free workplace attorney and more.
Beaumont Products, Inc., which is headquartered in Kennesaw and offers a broad range of products including natural cleaning products, lotions, shampoos and metal polishes, is enrolled in the Drugs Don't Work program. With a staff of approximately 100 employees, Beaumont has each new hire undergo a drug screening, as well as anyone who has been involved in an accident while at work. "We believe a drug-free work environment is essential in maintaining a safe work environment for all employees," says President Hank Picken. "All employees understand that our work space is drug free … and receive a Beaumont Products Handbook, which clearly states that our company is a drug-free workplace and that drug use is strictly prohibited."
With past incidents involving drug use or suspected drug abuse, Beaumont works with individuals directly through counseling in order to address issues and allow employees the opportunity to return to work. "Small businesses employ roughly half of the workforce in Georgia and the U.S.," Picken says. "With small business demanding a drug-free workspace and a zero tolerance toward drug use, hopefully the workforce understands the importance of being drug-free." Learn more about Drugs Don't Work at cobbchamber.org.
Prevention is Key
Just as with alcohol, all drug abuse is, thankfully, a preventable matter. While drug education is touted at a young age, awareness is important in all stages of life. "The most effective form of prevention is education," Husted says. "Oftentimes, prevention programs attempt to prevent drug and alcohol abuse by warning the youth of legal and social ramifications of drug and alcohol abuse. These campaigns are often ineffective because they provide extrinsic motivation rather than intrinsic motivation while further stigmatizing the disease of addiction."
Rivera adds, "There is hope for recovery for individuals suffering with substance abuse. When dealing with a person using drugs, it is important to understand the person is being responsive to drug cravings with less and less choice over their actions. That is why the addicted person needs to seek help; the addicted person needs a lifeline provided by experts and others in recovery who understand treatment needs."
By reaching out for help with local resources like Ridgeview and New Vision, as well as help and support from local employers, Cobb is well prepared to keep drug-related problems in the workplace at a minimum. Work with your company and community to learn more about how you can help further prevent drug abuse in Cobb.