Learn how some Cobb County residents have taken to competitive ballroom dancing — all for a good cause.
Competitive ballroom dancing still is quite popular in America — or at least watching it on television is. In 2019, ABC's "Dancing With The Stars" broadcast its 28th season, and many of the dancers from the hit series now are household names. This classical form of entertainment has proven so popular, in fact, that it has spawned regional and local dancing events around the country — many of which are tied to local fundraising. This year, two such events have been well received by Cobb County residents: Dancing With The Stars of Marietta, and MUST Dance from MUST Ministries.
Dancing With The Stars of Marietta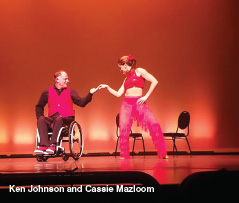 Each year, the non-profit Georgia Metropolitan Dance Theatre (GMDT) in Marietta holds a fundraiser to help continue its programs of providing quality performances and to further its mission to inspire young dancers to become the next generation of artists and leaders. In January of 2018, the GMDT hosted the fifth-annual "Dancing With The Stars of Marietta" competition, pairing 12 "celebrities" from Marietta with choreographers to perform high-energy dance numbers on-stage at the Earl & Rachel Smith Strand Theatre on the Historic Marietta Square.
Among the six competing teams in 2018 was Cassie Mazloom, director of Cobb Emergency Management Agency; and Ken Johnson, clinical director and licensed professional counselor for East-West Psychotherapy. "While I wanted to support [GMDT], I also saw this as an opportunity to share how those with disabilities can overcome obstacles and not be bound by what we think we cannot do," said Johnson, who has been wheelchair-bound for the past five years. "That goes for everyone, really, not just me in a wheelchair. Everyone is paralyzed in some way that keeps them from moving forward in their life. My wheelchair is just more visible."
Johnson and Mazloom first got to know each other through their participation in Leadership Cobb. Johnson said he knew right away that they would make great dance partners. "What we came up with was a storyline in dance of overcoming obstacles and being your very best. That mindset personalized the dance and helped us win the Judges Choice Award," he said.
"Just knowing Ken is a blessing and his outlook on life is infectious to all who have the opportunity to meet him," Mazloom added. "Aside from my lack of skill, one of the biggest challenges was maneuvering Ken's chair with grace and not force. Ken always encouraged me when I felt discouraged and Ashleigh [Whitworth, artistic director of GDMT and the pair's choreographer] was understanding when I was my worst critic. We practiced about six hours a week until competition time and even more the week of the competition. … What joy and relief I felt when we received the coveted mirror ball for Judges Choice! It was one of the most special moments I've ever had in my life."
The other Dancing With The Stars of Marietta teams in 2018 consisted of: Amber Byrd (owner of Markay Gallery) and George Warren (realtor with Sotheby's); Jan Galt (director of operations at Marietta History Museum) and Joseph Goldstein (incoming councilman/Ward 7 for Marietta City); Katelyn DeRuyter (assistant solicitor general for Cobb County) and Allen Aschwege (Cobb County firefighter); Paula McVicker (administrator for Marietta High School) and Thomas Sherrer (pharmacist/owner of Poole Pharmacy); and Kristin Moffett (Lower School counselor at The Walker School) and Elizabeth Nesmith (physician at The Kaufmann Clinic).
The 2018 judges were Joanne Feldman (FOX 5 Storm Team meteorologist, Good Day Atlanta – FOX 5 Atlanta); Victoria Hill (Miss Cobb County 2018); and Earl Reece (former director of The Strand and the Cobb County Center for Excellence in Performing Arts). This year's competition will be held Feb. 9, 2019. For more information on the competition, visit Dancing With The Stars of Marietta.
MUST Dance
When the Fred Astaire Dance Studio of Marietta wanted to help MUST Ministries serve more people in poverty, MUST Dance was born. On July 21, 2018 at the YANMAR Evo Center in Acworth, you can see for yourself how it all comes together, but in the meantime, let's learn how it got started.
This particular fundraiser will be a new experience for MUST Ministries, which typically raises money to aid the less fortunate in more conventional ways. "We are reaching a new audience and receiving donations from people who are just now learning about MUST Ministries," says MUST Ministries Special Events Manager Angie Bolton. "The dancers are assisting us with fundraising, even pulling in donations from other states. Our goal is $50,000 for this first year."
Bolton says the 300-seat event includes a silent auction with saxophone music during cocktails, heavy hors d'oeuvres, a dance competition among six local "celebrities," a Pro Show, and open dancing with the stars and guests. The professional coaches at the dance studio are working tirelessly to train the guest celebrities and create an exciting atmosphere and memorable event. Speaking of dancers, the local celebrities expected to dance include: Martha Parker, client intake coordinator at MUST Ministries; Aaron Collier, children's pastor at Piedmont Church; Wezley Barnard, commercial lines specialist with Snellings Walters Insurance and Ambassador for the Cobb Chamber of Commerce; Eric Baker, Keller Williams First Atlanta; Emily McMillan, GM, Nothing Bundt Cakes Kennesaw and Ambassador for the Cobb Chamber of Commerce; and Valerie Jordan, accounting and HR, Heath and Lineback Engineering.
"We are anticipating a sellout crowd," Bolton said. "The crowd will be energized. Each dancer will have their own VIP section made up of family, friends, and coworkers — their personal cheering section. Knowing the personalities of our celebrities, this will be a lively bunch!"
"We already have celebrities who have asked to be a part of the event next year," Bolton continued. "We hope to include a sit-down dinner next year as well. MUST is recognized for hosting fun-filled events like the Gobble Jog, golf tournament, and Spring gala party. MUST Dance is a new event that is right in line with our efforts to provide enjoyable ways to raise funds that help our neighbors in need."