It may still feel like summer outside, but it is time to prepare your children for the new school year. That transition from spending the day at camp or the pool to hitting the books can be challenging for students, especially those who will be entering a new school. Of course, the fun part is back-to-school shopping, but what else can be done to get your child ready for the new academic year? Cobb County's independent schools offer many opportunities for you to meet your children's teachers and explore their new learning environment so the whole family will feel prepared and excited for the next chapter in their education.
An Active Summer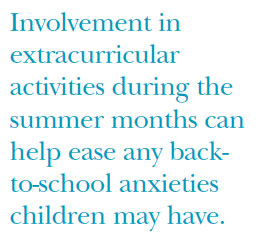 Involvement in extracurricular activities during the summer months can help ease any back-to-school anxieties children may have. At Mt. Bethel Christian Academy, summer camps are available to all new and existing students in all grade levels and are taught by their own teachers, offering students a chance to get to know them prior to the start of school. They also offer Eagle Choir, an athletic program and community service and mission work to keep students engaged in service and outreach throughout the year. The Wood Acres School also has a wealth of after-school activities to engage new students such as glee, chess, drama and beta clubs. Along with ongoing summer camps and sports teams, the Walker School's preschool and lower school libraries are also open during the summer.
Another way to ease kids' anxiety is to engage them through back-to-school shopping. Picking out supplies and new clothes can help students feel excited about going back to school. Cobb has plenty of stores, like Abbadabba's, to help students feel fashionable yet stay comfortable during the day. "Being physically and mentally comfortable ensures the most successful school year possible for the youngsters," says Bo McAfee, store manager at Abbadabba's East Cobb. "That comfort level is highly contingent upon how comfy your shoes, outfits and accessories are. Staying comfortable is essential to performing well mentally. We like to help with that."
Transitioning to a New School
Whether your family has recently relocated to Cobb or your child is advancing to a new school, the first day can be nerve-wracking for students who don't know what to expect. Many schools try to ease that fear long before students walk in the door. At Mt. Bethel, every teacher mails a personalized postcard to their incoming students to introduce themselves. Prior to the first day of school, there is a new parent reception followed by a meet and greet for students, parents and teachers. During the first week of school, students can enjoy Screen on the Green, where families gather for fellowship, dinner and a movie on campus. "Our teachers make a special effort to help new students relax and will pair them with a veteran student who will act as their mentor," says Jackie Grasty, director of advancement at Mt. Bethel. Children in kindergarten have two opportunities in the summer to attend summer play dates for refreshments and playtime on the campus playground. To make the transition easier, kindergarteners follow a half-day schedule for a two-week soft start into the school. "For new first through eighth grade families, we also assign a buddy in the same grade level and have them reach out to each other over the summer to answer any questions or concerns that might arise," says Grasty. "Shortly after the start of the school year, all middle school students go on an overnight retreat where they will participate in outdoor activities that are designed to help them bond and develop a healthy level of respect for one another."
Wood Acres also hosts a meet and greet the Sunday before school begins during which kids and parents meet their teachers and new classmates and reunite with old friends. "Each student brings something new for the playground. It is a great time for everyone!" says Nicole Hankamer, admissions and marketing coordinator for Wood Acres. Teachers send welcome letters to all their incoming students, and parents are encouraged to attend either a coffee talk, or rallies and class functions held on campus to become immersed in their child's new school environment.
At the Walker School, new parents are always in the loop. A new parent session held each May helps parents get a head start for the upcoming year. All parents new to Walker, or parents of students rising into a new division, receive information packets and an explanation of what to expect, and also have the opportunity to ask questions. Director of Communications Kristy Helms says, "Our lower school, middle school and upper school divisions assign buddy families or parent mentors to help ease the transition for families new to the division. The middle school also assigns student mentors for our new students." When it comes to helping children adjust to their new school, Helms suggests attending one of the school's social events during the summer months. "Our current families love getting to know new families, and they can help share
all of the ins and outs of school life," says Helms. "At our Walker Orientation and Welcome Day, new students have an opportunity to visit their classrooms before school starts. Since our class sizes are so small, there is ample opportunity to ask teachers questions, reach out to new friends and find what most interests your child."
Embracing a New Routine
Transitioning back to a school schedule from the flexibility of the summer months can be difficult, so begin taking the steps to get ready for the new school year sooner rather than later. Plan for weeks, rather than days, to get children readjusted to going to bed and waking up earlier. Making sure they eat on a regular schedule will also help ease the transition. Hankamer agrees that getting the kids to bed early is key, and says, "Reading is the best way to stay on track during the summer months." This will help keep children focused on learning even when school is not in session, and get them in a positive mindset for the first day of school.
Preparation is key for both parents and students. "Middle and upper school students will need to prepare supplies and books prior to the start of school, so shopping well in advance of August is advised," says Helms. "This will eliminate last-minute rush orders on books and trips to the store for supplies." At Mt. Bethel, summer reading and math requirements encourage academic preparedness to ensure students retain as much information as possible from the previous academic year. "For students, the most exciting part about returning to school is meeting your new teacher[s], seeing your classmates, facing new and exciting challenges and receiving love and support from a caring community of educators who care deeply about their students," says Grasty.
Encouraging your children to get active in something that interests them will help them become acclimated in their new learning environment. So get involved, set a schedule and get ready for a new year of learning.