The All 4 Kids Children's Consignment Sale (East and West Cobb location) takes place at Jim Miller Park's 25,000 sq ft event facility (Cobb County Fairgrounds). The All 4 Kids consignment sale is billed as "Atlanta's Biggest and Best Children's Consignment Sale!"
The sale features items from over 750 families. You can also join as a volunteer for a shift and shop first for the very best bargains. Sellers make 70% and can shop early opening day.  Volunteers can earn up to 80% on the first $500 of their sales.
This year due to the Coronavirus, new All 4 Kids Safe Shopping Policies have been established.  These include masks for all sellers, shoppers, and workers, as well as capacity limits, social distancing measures, and more.
Dates:
Wednesday, August 12, 2020 from 9am to 8pm
VIP Presale: $20 for 9am entry, $15 for 10:30am entry, $10 for noon, 2pm, and 4pm entry.  Adults only, tickets and masks required.
Thursday, August 13, 2020 from 8:30am to 8pm
$5 early entry fee at 8:30am, free entry 10:30am to 8pm.  No ticket needed, kids welcome, and masks are required.
Friday, August 14, 2020 from 9am to 6pm
Free entry from 9am to 4pm, kids are welcome, no ticket needed. $2 VIP half off sale from 5pm to 8pm, ticket required, many items half off.
Saturday, August 15, 2020 from 9am to 1pm
Free entry from 9am to 1pm, no ticket required, kids are welcome, masks are required.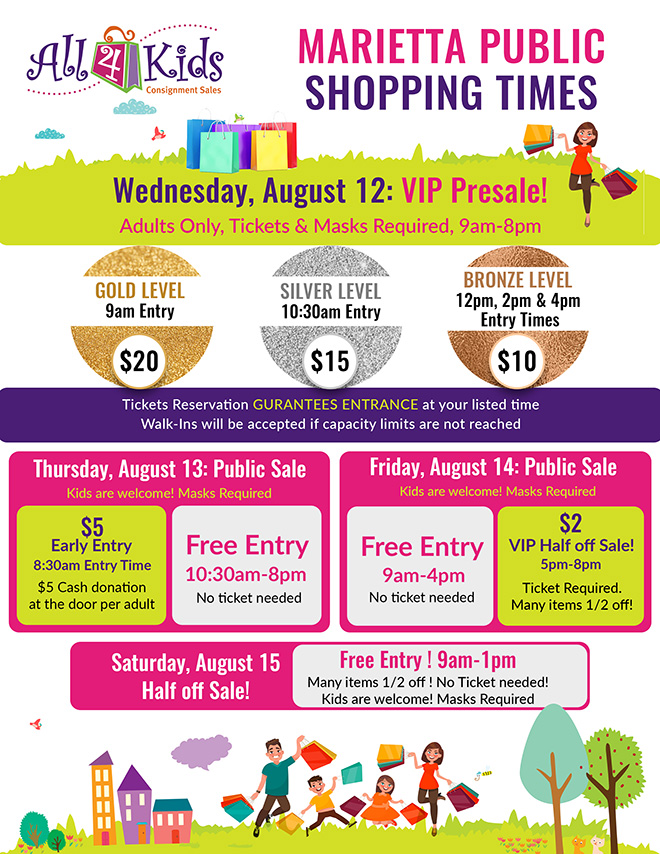 Accepting Cash, Debit ($1 fee), MasterCard and Visa ($2 fee). No Amex or checks.
All 4 kids offers shopping bags for in-store use.  They recommend that you bring a laundry basket, upright wheeled laundry basket, etc. to carry your goodies while you shop.
Admission:
Free
Address:
Jim Miller Park (Cobb County Fairgrounds)
2245 Callaway Road
Marietta, GA 30008
Parking:
Free parking