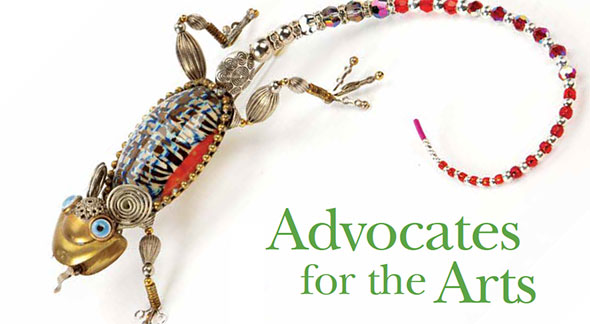 Spring means the scent of blooming flowers in the air, more time spent outdoors and the inevitable ritual of spring cleaning. Once the detritus of the winter has been cleared from your home, you may find a shelf, nook or cranny that could use some sprucing up with an eye-catching objet d'art. Cobb County has just the venue to both celebrate the season of rebirth: The American Craft Council (ACC) Show at the Cobb Galleria. For more than 70 years, the ACC has been committed to promoting appreciation of American crafts and this year's show promises an experience like no other.
Quality Crafts
With more than 200 of the nation's top fine craft artisans descending on Cobb for the March 15–17 show, there is sure to have something for everyone. As the Southeast's largest juried craft show, visitors can be sure the quality of the products is top-notch. "Since our artists undergo a rigorous juried selection process, they are considered master artisans, and many have their work on display in museums and in some of the finest art and craft galleries in the nation," explains Pamela Diamond, director of marketing and communications for the ACC. "We also find and discover progressive, new artists through our invitational path (which constitutes up to 20 percent of our show artists) and introduce them to the fine craft community."
The rigorous process artisans go through in order to participate in the show means that each craft that comes into the show is unique and well made. Every August, artists apply to be part of the show, then the jury process—made up of museum curators, designers, professors and other design professionals—takes place the following month. Those with the highest scores receive invitations to the show. Each year represents a clean slate, so previous participation in the show does not guarantee placement. "The work must speak to the jurors and we rotate juries each year to avoid favoritism," Diamond says.
Recognizing the achievements of the country's most gifted artists has long been the mission of the ACC. Founded in 1943, the council's work goes far beyond craft shows. The ACC currently hosts four annual shows—held in Baltimore, Atlanta, San Francisco and St. Paul—as well as workshops, seminars and leadership conferences throughout the year. "We also host the prestigious Aileen Osborn Webb achievement awards recognizing those artists whose work has consistently enriched the craft field, [and we also] house a physical and 15,000-volume digital library and publish our national award-winning bi-monthly magazine, American Craft," says Diamond.
Staying Fresh
Much like technology changes from year to year, so does the field of craft. Artisans continue to innovate and find new ways to express themselves through various media. To keep up with the times, the ACC continuously changes its submission categories. This year, new categories such as holiday, the great outdoors and upscale (objects valued at more than $5,000) will make their debut. These categories join handmade under $100, greencraft, foodieware, bride-to-be, the men's department and local as well as many other categories. "While some specialty categories have stood the test of time, others seem to come and go based on customer feedback," says Diamond. "The categories do not influence the number of submissions, or requests from new artists—they merely mirror how artists at any given time are interpreting culture."
In addition to the new categories, the ACC is teaming up with 10 local interior designers for a new area called "Make Room: Modern Design Meets Craft." The designers will transform the show floor into a setting of room designs centered around the character of select craft pieces. With the recent proliferation of design and renovation shows on TV, people may be overwhelmed by the options for decorating their home. The ACC's goal with this new program is to help visitors easily integrate craft into their home design. "Each year, we try to create a new theme or focus to help our existing patrons view craft though a different lens and attract new audiences who may not be aware of what the ACC has to offer," says Diamond. "Our selection process included polling Atlantans with an interest in design, or who had used designers to help them with home or commercial space, walking the showrooms of Atlanta Decorative Arts Center, visiting design-centric stores, browsing the pages of local magazines and reviewing the major rosters to see which area designers are interested in giving back." The ACC put together a list of more than 50 designers, of all ages and design aesthetics, which was then trimmed to 10 by ACC staff and the council's local PR firm.
Local Connection
Cobb County artist Carr McCuiston has been involved with the ACC for many years. She has served on the artist selection panel and has co-chaired the show's preview party. As the owner of Signature Contemporary Craft in Buckhead, McCuiston considers herself a lifelong craft lover. Her gallery offers a wide range of distinctive handmade objects that combine innovative design with each artist's individual passions and concepts. As a native Atlantan who has attended many ACC shows and a business owner in the craft industry, McCuiston knows how important it is to stay in touch with the community. "When I first began … The ACC was one of the few venues to meet a large number of artists at one time," she says. "The ACC shows are an important resource for finding new artists and watching as their work develops and grows and for staying in touch with artists who have a long association with the gallery."
The connections McCuiston has built over the years have been beneficial to her business. "Every year our gallery artists who participate expose Signature to new customers," she says. "Being more involved with last year's show increased awareness of the gallery to new customers throughout the Southeast." In 2012, McCuiston was honored by the ACC as a Style Maker, which turned out to be a great networking opportunity. "Getting to know how all the other Style Makers incorporate creativity into their lives was surprising," she says. "Everyone came from a very individual perspective." She is particularly excited about this year's design aspect. "It is so important to educate the public on good design and to demonstrate how to use art and craft in the home and in corporate spaces," she says. McCuiston notes that this year's show features quite a few local artists, including some who are making their ACC debut, like ceramists Barry Gregg and Nancy Green, fiber artist Karen Tunnell and furniture maker Stephen Evans.
The ACC show promises something for everyone, from arts aficionados to the casual shopper. With a wide variety of artists displaying their wares, you may just find the perfect object to display in your home for years to come.