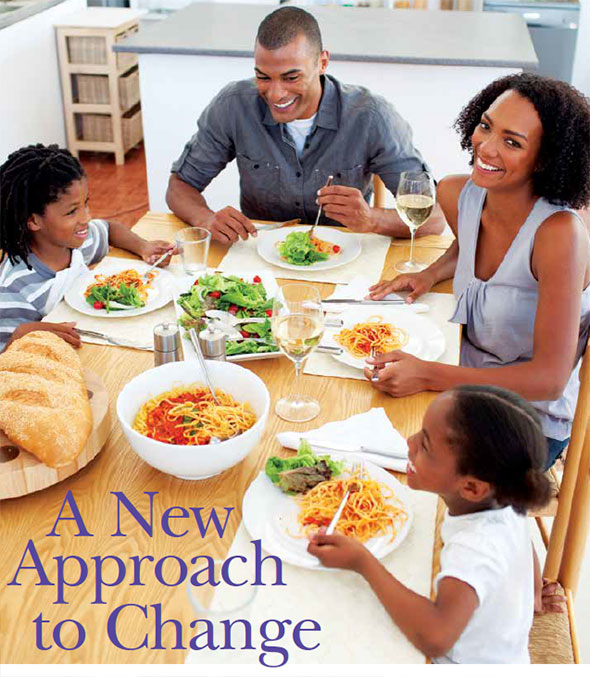 Over the past few years, statistics on obesity and its related health problems have been well documented in the media. According to the Centers for Disease Control and Prevention (CDC), 64.8 percent of Georgia adults can be classified as overweight, while almost 30 percent of adults are obese. Among children ages 2 to 5, 15.8 percent are overweight and 13.5 percent are obese. The toll this health epidemic takes on individuals and families transcends economic boundaries and county lines. In Cobb County, for example, nearly 24 percent of adults are considered obese. With the dawning of a new year, many people will make resolutions to lose weight, go to the gym more and eat less. Having a strong support system in place can make the difference between achieving your health and wellness goals and slipping back into old habits. Facing down temptation and building up the motivation to work out is often easier with someone by your side to encourage you, so think about what you could accomplish if you had the entire community cheering you on.
The Power of Community
A variety of Cobb County activists, government officials and health care providers have come up with a way to make that happen: the Cobb2020 Health Improvement Initiative. The collaboration is supported by a Community Transformation Grant awarded by the CDC to Cobb & Douglas Public Health. The grant facilitates a multi-layered plan to make healthy living easier and more affordable, says Lisa Crossman, director of Clinical & Prevention Services at Cobb & Douglas Public Health. The business and community leaders involved with Cobb2020 are working to create a plan to identify the county's most prevalent health problems and implement initiatives to create change.
Crossman and her colleagues believe that building healthier communities is essential to future generations. "Chronic health conditions are the health care challenge of this century," she explains. "Obesity, cardiovascular disease, diabetes, chronic respiratory disease and cancers are quickly eroding life expectancies in our community, and for the first time in our history, today's children and young adults may have shorter life spans … than their parents." Due to a combination of unhealthy diets and sedentary lifestyles, these preventable diseases are robbing many children of a healthy future. Crossman says that through education, policy improvement and proactive advocacy, Cobb2020 hopes to shift the county in a more positive direction.
When it comes to health, some people may have a misconception that intervention on the part of corporations or governments eliminates choices and results in a "Big Brother" atmosphere. But those involved with Cobb2020 note that the initiative is all about increasing choices for county residents. "This isn't about telling you how to live your life, and it's not about banning fast food or super-sized sodas," explains Jay Dillon, Cobb2020 chair and director of communications for the Cobb County School District. "It's about giving you the information you need to make healthy choices, to help those around you make healthy choices and improve the health services for those who need it the most."
Cobb2020 Takes Shape
Nearly two years ago, the Cobb2020 Partnership began building collaborations with a variety of individuals and organizations on both a local and regional level. The partnership formed a steering committee, under the direction of Dillon and Dr. Jack Kennedy, district health director for Cobb & Douglas Public Health. "This steering team, comprised of key leaders in the community, is charged with establishing local strategic health goals, securing resources and promoting sound health policy to improve the health status of Cobb," explains Crossman. Using a process called Mobilizing for Action Through Planning and Partnerships (MAPP), the all-star roster of organizations, from the American Cancer Society and the Cobb Chamber to Kennesaw State University and WellStar Health System, assessed the county's current health status and set about creating a health improvement plan.
According to Crossman, MAPP is a process created by the CDC that has a proven success rate, so Cobb2020 will not become another well-meaning program that does not accomplish its goals. "The first step involved getting organized by developing a charter, vision and values," she explains. The second step was to determine the state of health and health care in Cobb. "The third step … involved using the data to identify the key strategic issues impacting our community, and then establishing goals and strategies to address them," says Crossman. "Based on our assessments, the steering committee identified two main areas of focus: healthy lifestyles and access to health services. These two areas are the main focus for our Cobb Community Health Improvement Plan."
Putting the Plan to Work
Cobb2020 has done their due diligence in figuring out where the county's residents need help. Now it is time to put their plan into action. "Specifically, we would like to reduce death and disability due to tobacco use by 5 percent among Cobb County residents; reduce the rate of obesity through nutrition and physical activity by 5 percent; and reduce death and disability due to heart disease and stroke by 5 percent," says Crossman. These goals require commitments of time and money from Cobb2020's community partners, both of which the organization has in spades. "Although this is just the beginning of our process, collectively we have received a multi-year commitment from the CDC resulting in $1 million for our county, and we secured more than $43,000 in sponsorships for our Cobb2020 event," says Crossman.
In an effort to officially introduce the plan to the community, Cobb2020 organized an event called "The Weight Is Over," which took place this past October at Marietta's Strand Theatre. "The main goal of the event was to raise community leaders' awareness about the growing health problems, particularly obesity and barriers to health services in Cobb County," explains Crossman. "We also wanted to inspire them to collectively take action and join the Cobb2020 Partnership's Health Improvement Initiative." Three hundred and fifty attendees from around the county enjoyed a program emceed by WSB's Condace Pressley and a keynote address from Georgia Attorney General Sam Olens. The program also featured clips from an HBO documentary film series entitled "Weight of the Nation." At the end of the evening, nearly 200 community leaders had pledged to become involved with Cobb2020. Cobb2020 does not intend to let this momentum and excitement about change go to waste. "From January to March, Cobb2020 will reach out to community organizations like the Cobb Chamber of Commerce, the Cobb Business Associations and local civic groups to present how we can partner to reach the community health goals," says Crossman.
Looking Ahead
In the coming months and years, Cobb County residents can expect to see a shift in the way the community approaches health and wellness. While Cobb2020 finalizes its strategic efforts to make these changes reality, it is already making information available to the public to help with those New Year's resolutions. The initiative's website, cobb2020.com, offers information and resources on nutrition as well as suggestions on ways you and your family can have fun while getting fit. You can also sign a pledge for change through the website—an important first step in building a healthy foundation for life. "The best way to create a healthy community is to get everyone involved and take responsibility," says Crossman. "From large organizations to families and individuals, everyone in the community needs to become involved with our effort to make Cobb a better place to live." As 2013 kicks off, don't let a lack of support derail your efforts to get healthy. Sign the pledge, engage with the community and enjoy the journey.