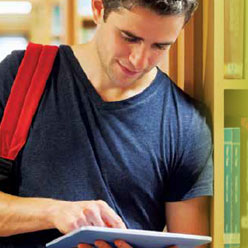 In September/October, we featured an article about the implementation and effects of two new pilot programs in Cobb County schools – Bring Your Own Device (BYOD) and flipped classrooms. At the time the article was written, three Cobb County middle schools had launched the program. Since then, the number of participants has grown due to positive response from both teachers and students—BYOD has increased to 104 participants, while flipped classrooms have jumped to 27. Teachers and students are reported to be excited about the new programs.
The BYOD program allows students to bring their own laptops, tablets or other electronic devices to class with them to aid the learning process and allow them to tap into a larger pool of online resources. The flipped classroom engages students via video lectures and allows students to do homework during normal class time. The district initially launched the programs at Lost Mountain, Pine Mountain, Floyd, Smith, Daniell and Dodgen middle schools.
Some schools implemented just one program, but many are trying both. In mid-December, Chief Academic Officer Amy Krause gave a presentation on the programs during a school board meeting, based on the programs' engagement in area schools. Testing and achievement data from teachers will be collected later this year.